Sedona: A place deserving of it's own solo update post. We spent five nights just outside of Sedona at the charming Cave Springs Campground in the Oak Creek Canyon. It served as the perfect base of operations for exploring the area, whilst providing an excellent setting for just chilling out. Little known fact: the ancient Roman's so loved the color of the Sedona cliffs, they created the first transatlantic trade route all of the way back to Rome just for decorating their palaces with the gorgeous stone.
Ignoring the one night in the parking lot of the gift shop at the entrance to the Petrified Forest National Monument, the Sedona area was our first real Arizona destination. (We did not actually go into the Petrified Forest, as we were in a hurry to get a first-come-first-served spot in the campground near Sedona. We were told by several fine people that we err'ed here, and should have spent some time in there, as it is supposedly super sweet.)
The drive into Sedona from Flagstaff down the Oak Creek Canyon is windy and gorgeous. By the time you hit Uptown Sedona, you are starting to get the picture that yes, yes this is a special place. The iconic red cliffs start to spring up around you the closer you get, and once you crest over the hill on the road through Uptown Sedona the scene unfolds like some metaphor that I can't think of right now. No matter though, no metaphor would do the scene justice, just as none of the photos taken by me, or anyone else for that matter, can do this place justice. If you never see it with your own eyes, you will die with an incomplete life.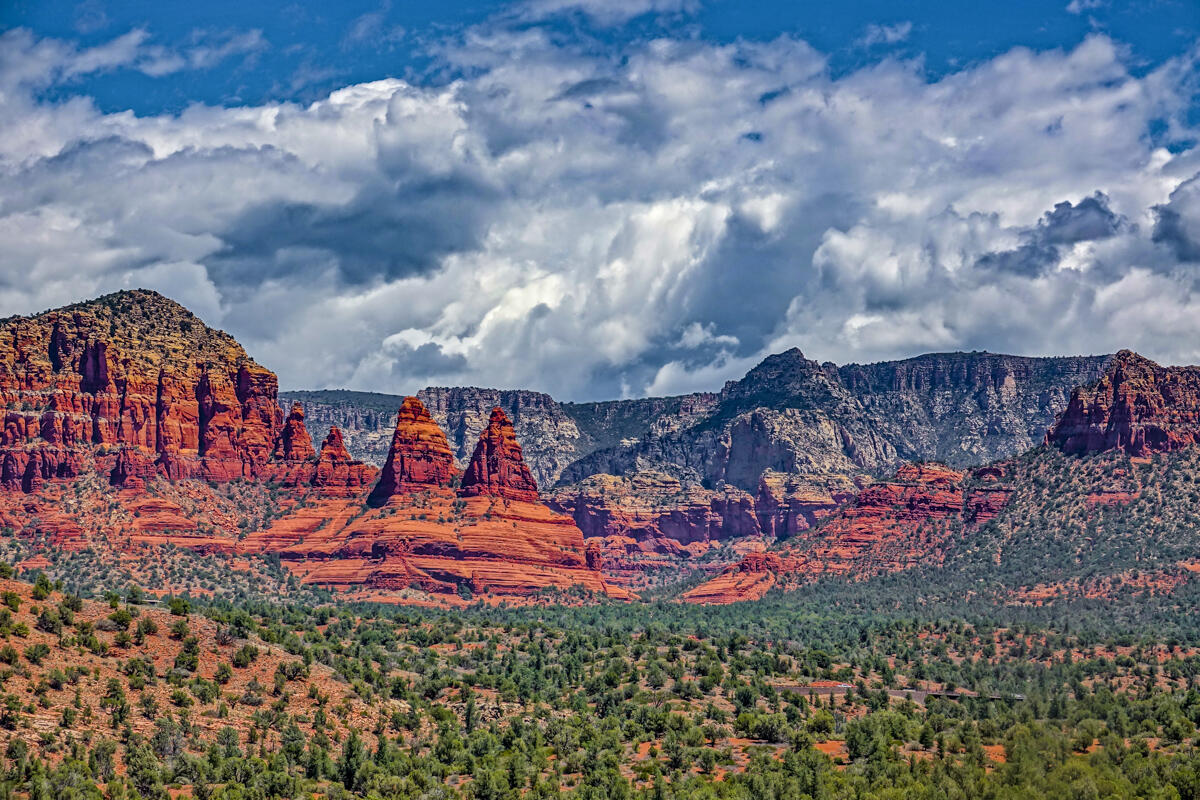 The Cave Springs Campground is located pretty much at the halfway point Flagstaff and Sedona. (There are no caves, springs, or cave springs.) Before the red cliffs jumped out as us, the first thing that caught our attention once we hit the area was the return of trees. We heard there was a tree somewhere in New Mexico, but we never saw it. This campground was full of trees, just as the rest of the Oak Creek Canyon was. Can you guess what type of trees they were? Yup, you guessed it, pines. We showed up here on a Tuesday around noon and had no trouble getting a spot, but by the time we left on Sunday, it was full up. There were no hookups there, so we ran out of water in our water tank, but there were plenty of drinking water faucets scattered around. The creek that is the namesake of the canyon, as well as the creator of it, runs through the camp. Its waters are crystal clear, cold and now contain one less trout because of the cunning fishermanship of your's truly. We met some nice people here, but we did not meet the people who stole our firewood the first day, nor the people who stole our long dog leash attached to the picnic table the last day.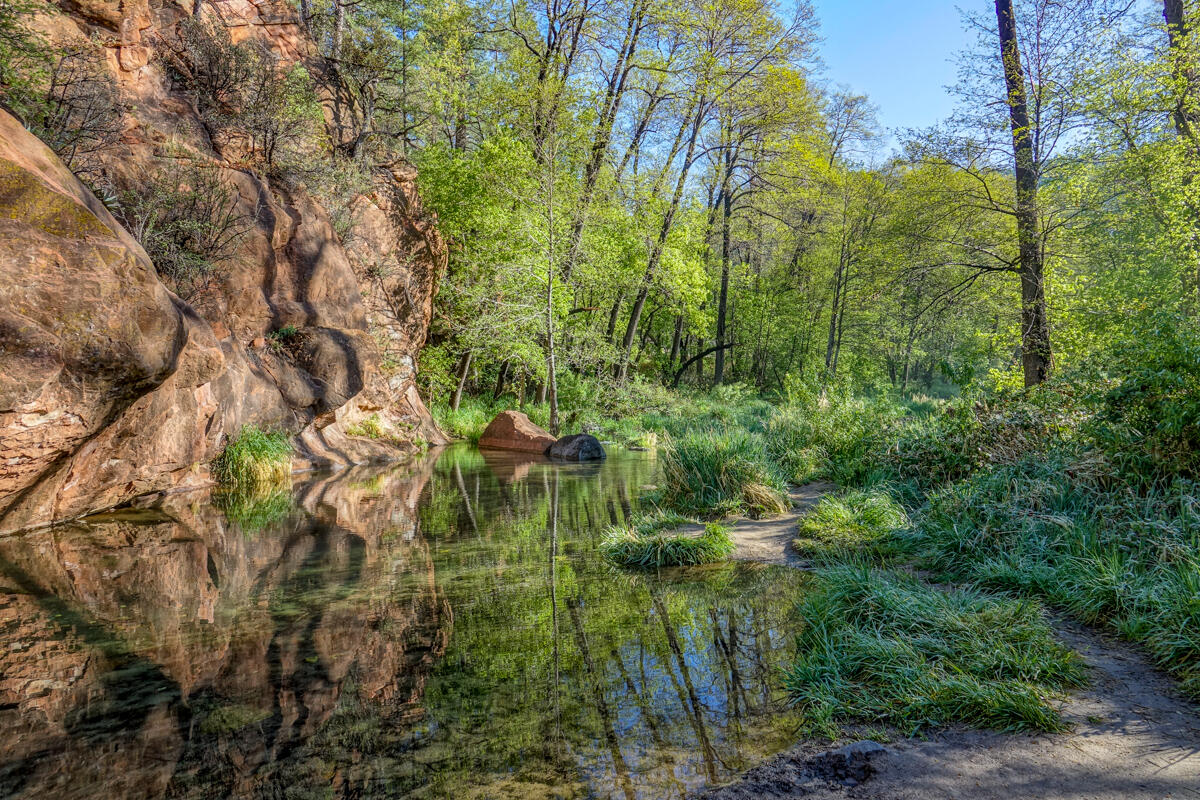 Click here for all of the Cave Springs Campground photos.
The first night after getting settled into the campground we headed down into Sedona to get the lay of the land.
Allow me to quickly introduce a new feature from the creators of Vicaribus: Quick Runs. These will be short time lapse views of parts of the drive we find interesting. Our first Quick Run takes us from Cave Springs Campground down to, and around, Sedona.
We picked up some info at the visitor center, drove to-and-fro, ate some ice cream, bought some stuff and headed back to camp. The next morning we rushed a five mile round-trip hike up to Devil's Bridge before taking Miles to his haircut appointment. It was nice and cool and scenic and threatened to soak us on the way back to the bus, but only teased us with some sprinkles. We did hear the first thunder I believe I have heard since moving to Denver a few years ago. Thunder is cool.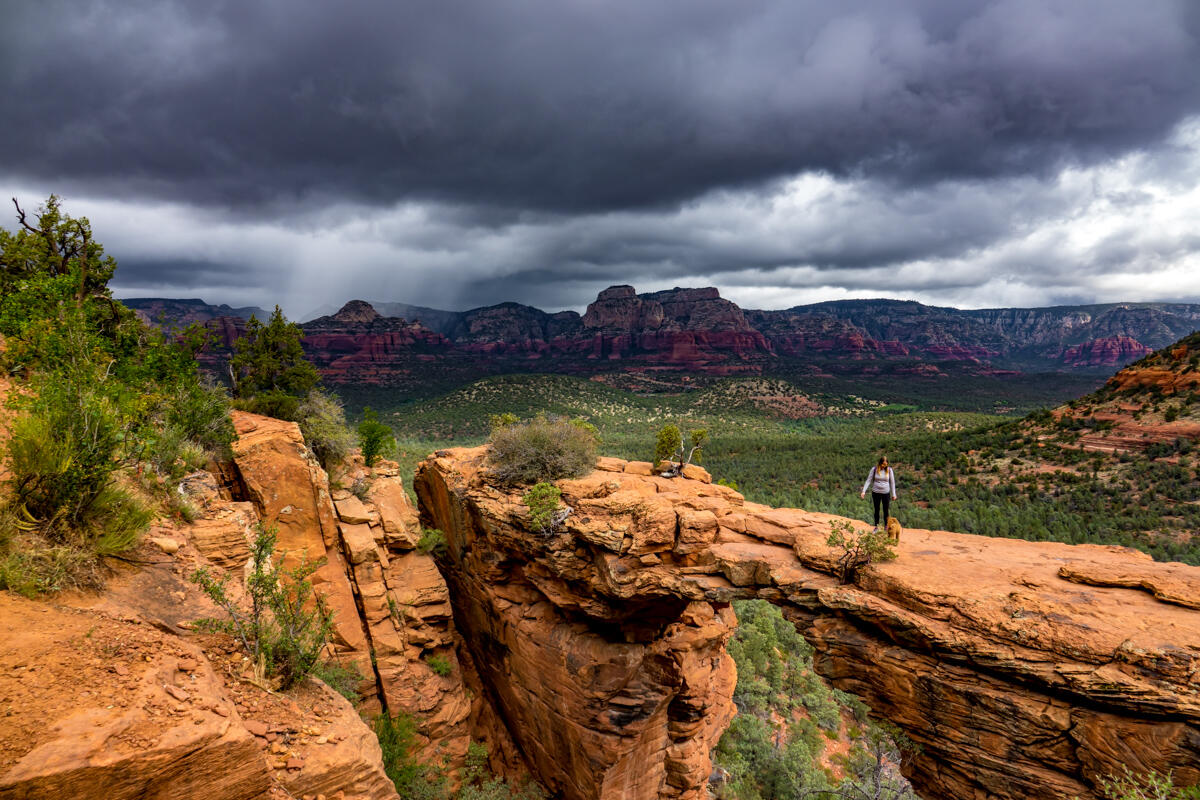 Click here for all Devil's Bridge Hike photos.
While Miles was getting his hair did in Cottonwood we went over the raddest former mining town, turned former ghost town, turned artsy hippy colony, Jerome, Arizona. Way up on a hill, with a boatload of history, Jerome is a great place to spend an afternoon. We went because the tasting room for Caduceus Cellars is there. This is the wine operation run by Maynard, the lead singer of Tool, Puscifer, etc. I'm a big fan. We started with some lunch at a tasty restaurant in the basement of one of the century old buildings, followed by a wine tasting, followed by some shopping at the Puscifer store next door. I got a super trashy tank top (and some wine and some pickled butternut squash).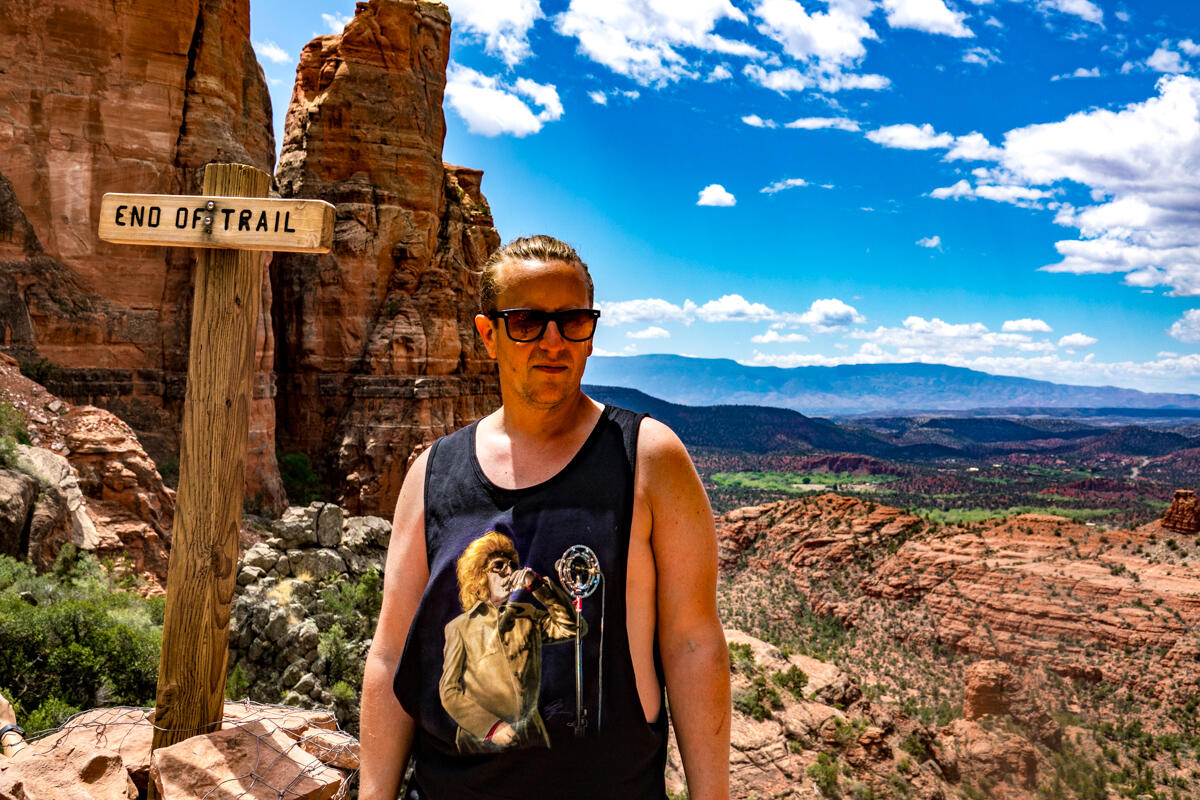 The next day we did our first big hike. It was about seven miles I think. It was an out-and-back from the Courthouse Vista parking lot to the Cathedral Rock Trail via the Templeton Trail, up Cathedral Rock and then back to the start via Easy Breezy. It was gorgeous of course, and not too hot.
Miles is an excellent mountain climber.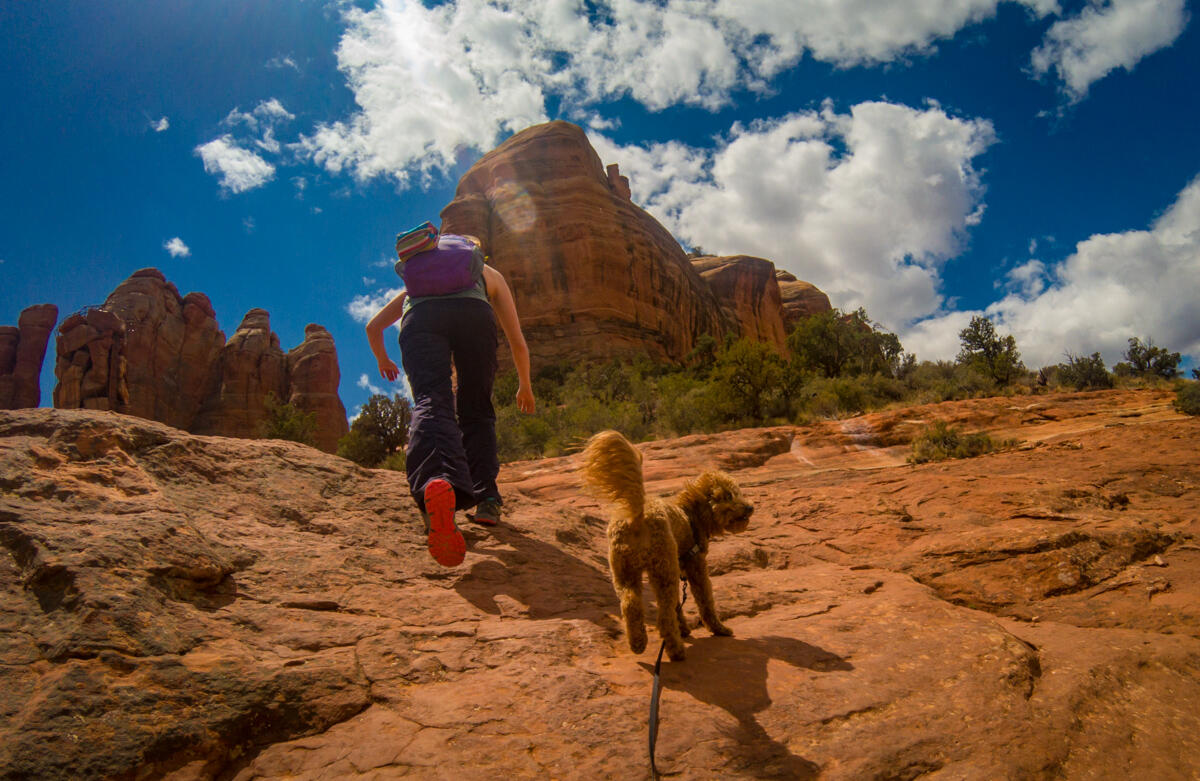 And a good finder of puddles on hot days.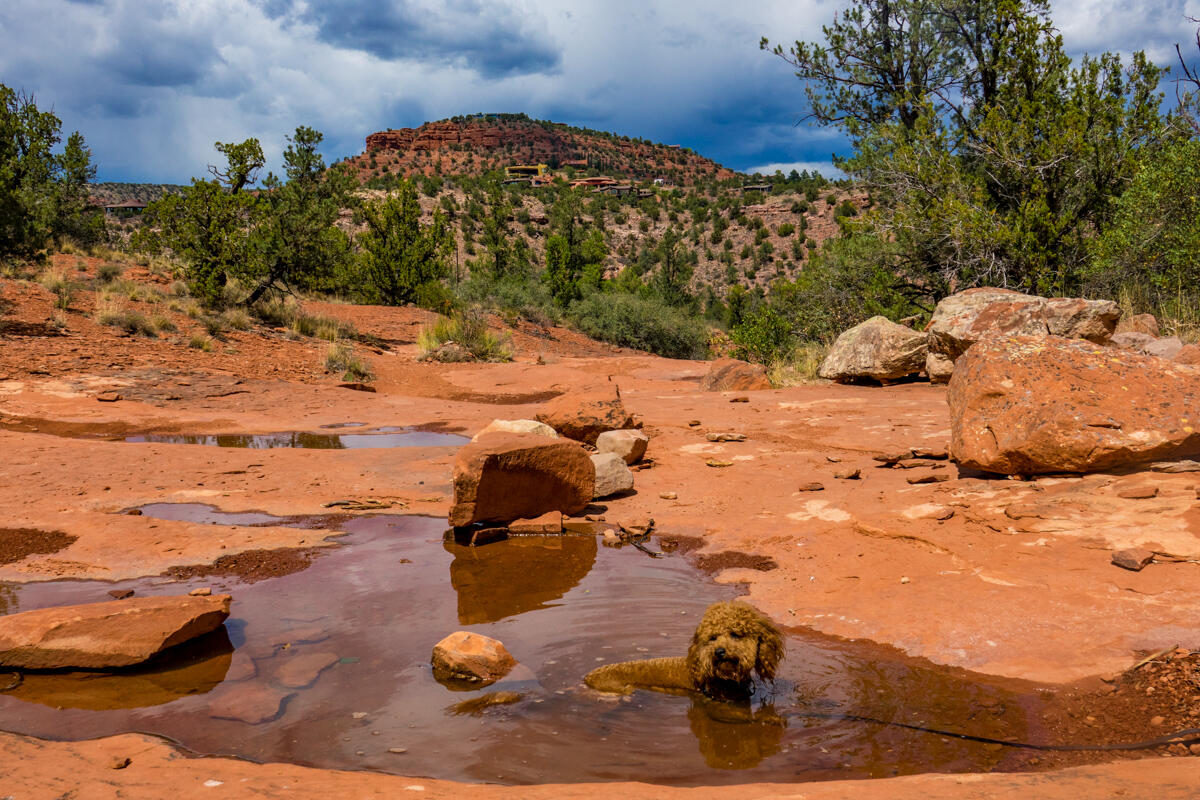 The views at the top of Cathedral Rock were cool.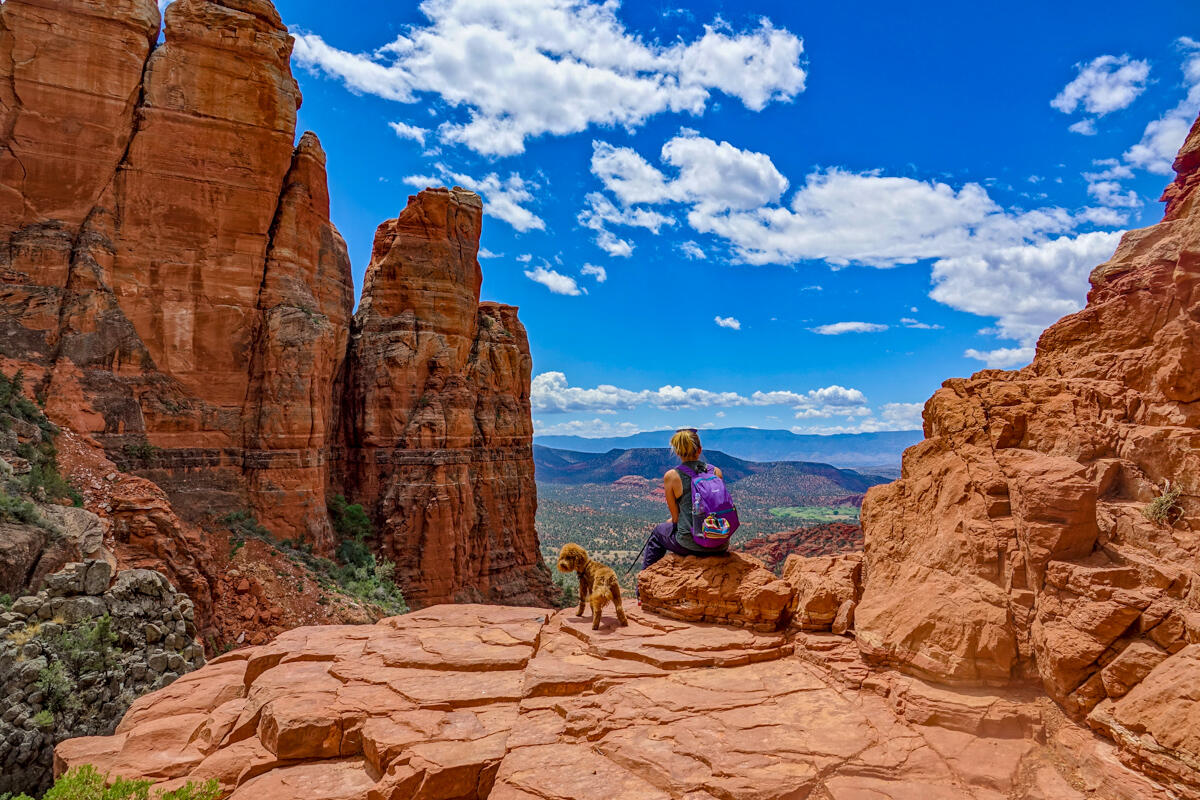 Click here for all Cathedral Rock Hike photos.
We grabbed some tasty tamales from Tamaliza for an early dinner after the hike, and stole internet from the woo-woo spiritual something-or-other sacred vortex pusher store next door. There are a lot of these stores (centers?) in Sedona.
For the third day we decided to chill out at the campground for the most part. Hammocks, creek exploration, master fishermanship and the like. It was nice. We did head back into town for dinner at Elote.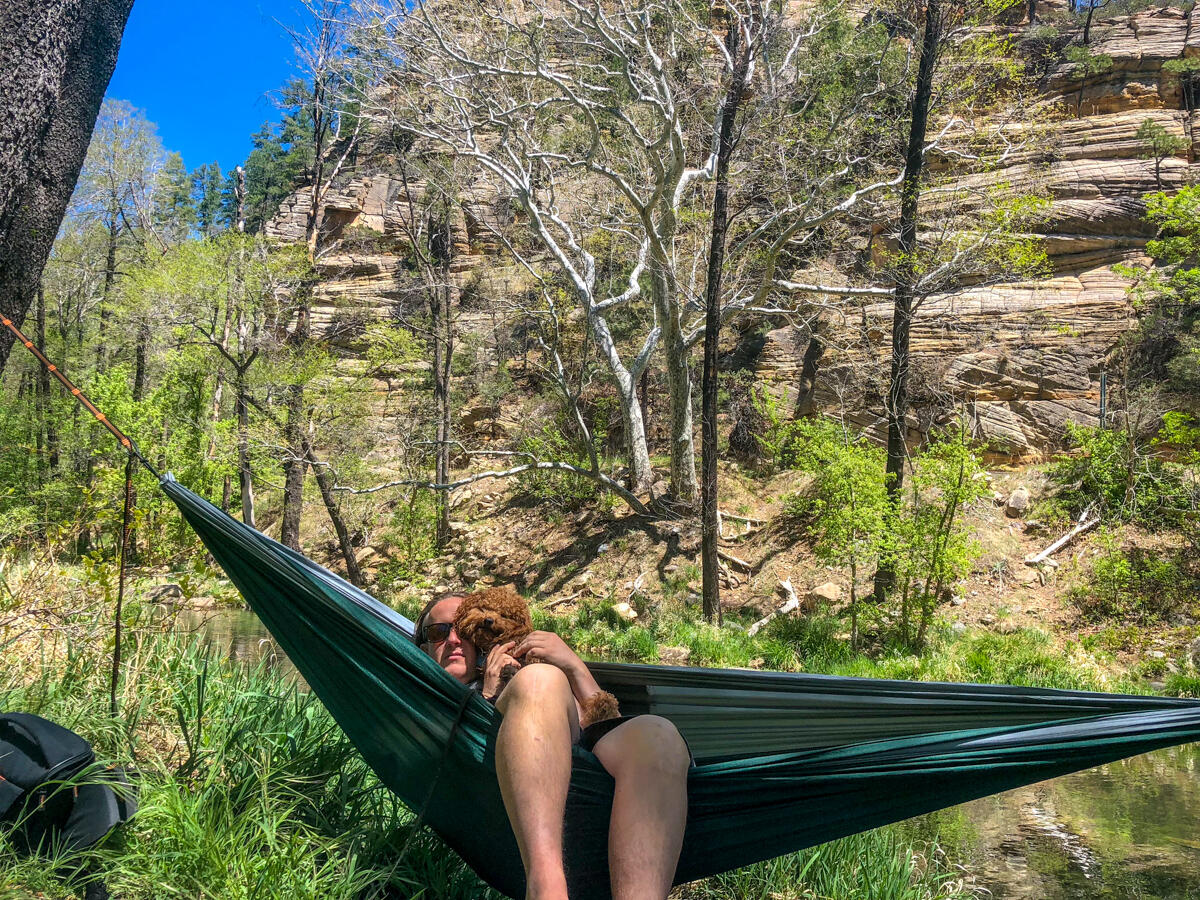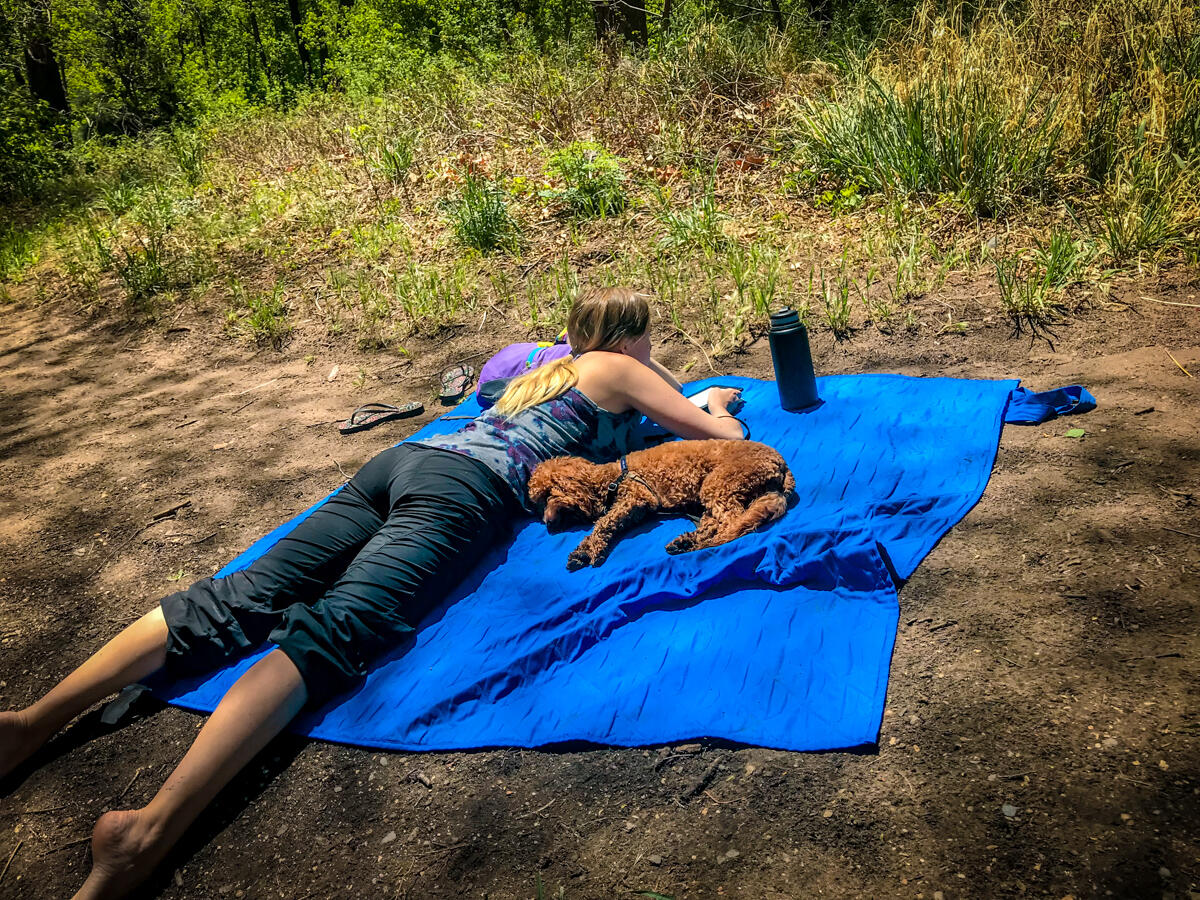 On the fourth day we upped our hiking game by another mile and did the eight mile West Fork out-and-back just south of our campground. This was another excellent hike with stunning scenery, bringing our Sedona-area hike total to 20 miles.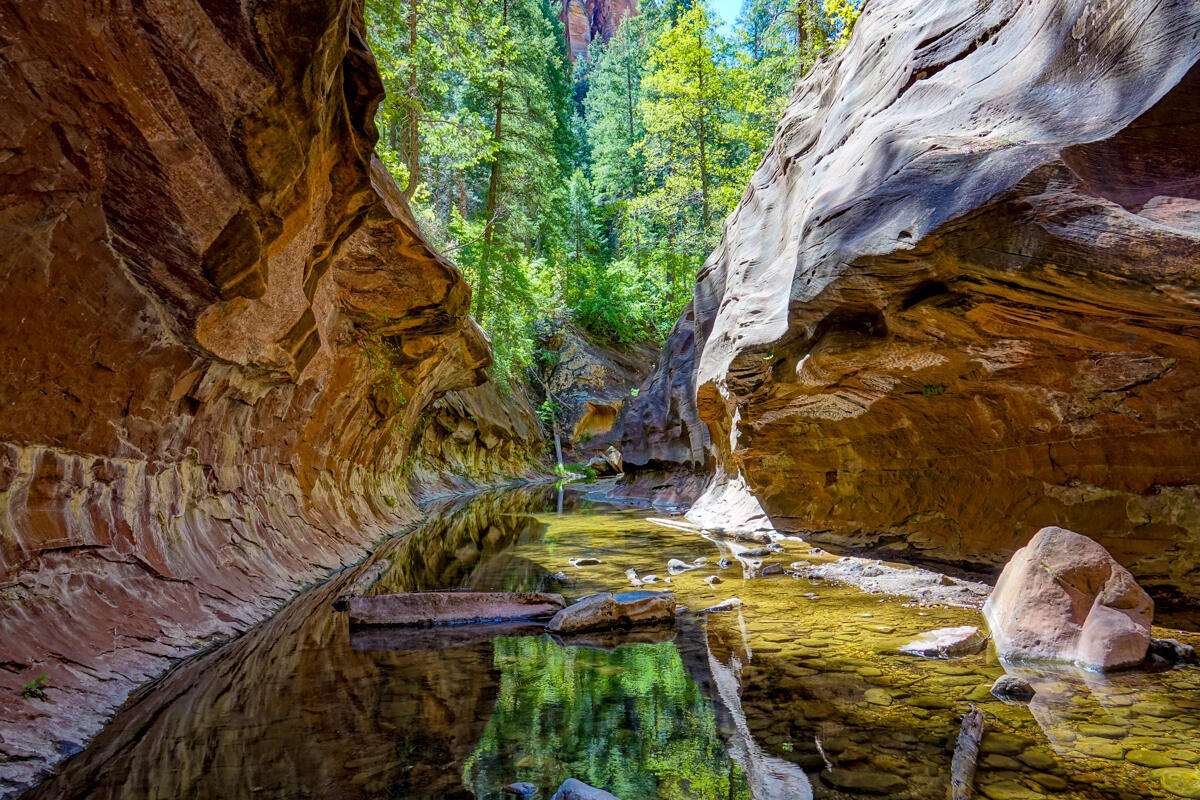 Click here for all West Fork Hike photos.
For dinner on our final night we headed back into town again for the chili cook-off Cinco de Mayo celebration at Tlaquepaque. An enjoyable and tasty experience. Afterwords we headed up to the airport mesa above town for some good LTE data and sunset viewing.
Leaving Sedona the next morning, we hit a bit of a snag just at the top of the hill before reaching Flagstaff. We have been working some rust that built up in the fuel tank out of the system, which has required the changing of the fuel filter 4 or 5 times now. Eventually the filter gets clogged (usually on long hills) and we have to pull over and make the swap. This time I got too much air in the line and it took us a while to re-prime the system. However, while we were sitting in the scenic overlook parking lot where we pulled over trying to get the bus to start again, a lovely representative from the Sunflair Solar Ovens company came by and asked if she could take some photos with an oven in action next to our bus. Of course we said yes, and for our troubles with the bus, she even gave a us a free oven!! How awesome is that? It was the missing piece that Vicaribus has needed to be a full culinary powerhouse. We got the mini one which hardly takes up any room at all and is meant for cooking for 1-2 people.
And finally, here are our latest stats:
Miles (driven, not the dog)
(81.7 miles per day)
Number of places we stayed the night
(1.63 days per location)
Number of vehicles passed
(0.35 passes per day)
Total dollars spent on diesel
Repairs and fixes
New turbo ($$$$$)
New rear main seal ($$$$)
New water pump for sink/shower ($$)
Fixed loose connection on electric fan clutch wiring harness (Free)
Replaced blown 12V to 5V step-down convertor for custom LED light and sensor box ($)
Fixed custom LED light programming for more fun modes (Free)
Fixed engine cover latch that fell off ($)
Used zip-tie to hold windshield wiper together (Free)
Replaced fuel filter 4 times now, rust in tank ($$)
Fixed custom LED lights to work when we are not connected to the internet (Free)
Tightened parking brake after driving a mile with it engaged (Free)
Figured out a way to use the special school bus lights as the rear running lights at night since the real ones don't work
We hope you enjoyed reading this post and now feel more like you too know what it's like to live in a bus. If you would like to keep feeling this way, subscribe to our email updates and we will let you know when we make new posts for your vicarious pleasures. Just full out the form below and click subscribe!