Sometimes you just get lucky – is probably not the way you would describe spending four nights and lots of dollars in a mechanic's parking lot just a week into your year-long journey, but I think it applies here. Little known fact: Willie Nelson has never been inside a bus.
This is our first official "on the road again" post. I feel like it must be a right-of-passage for those who document such a journey. We knew the post was coming and the timing feels about right. So here's the deal:
After our two nights in a hotel in Santa Fe, escaping the brutal cold, we head up to Bandelier National Monument for some camping and hiking and stuff. We checked out the visitor center in Frijoles Canyon and the small hike behind it to some fascinating Anasazi ruins, and then headed up to Juniper Campground up above the canyon. We drove around for about an hour looking for the exact right spot in the nearly empty grounds. After settling in, we explored a bit, worked on some bus projects, and got a good night's sleep.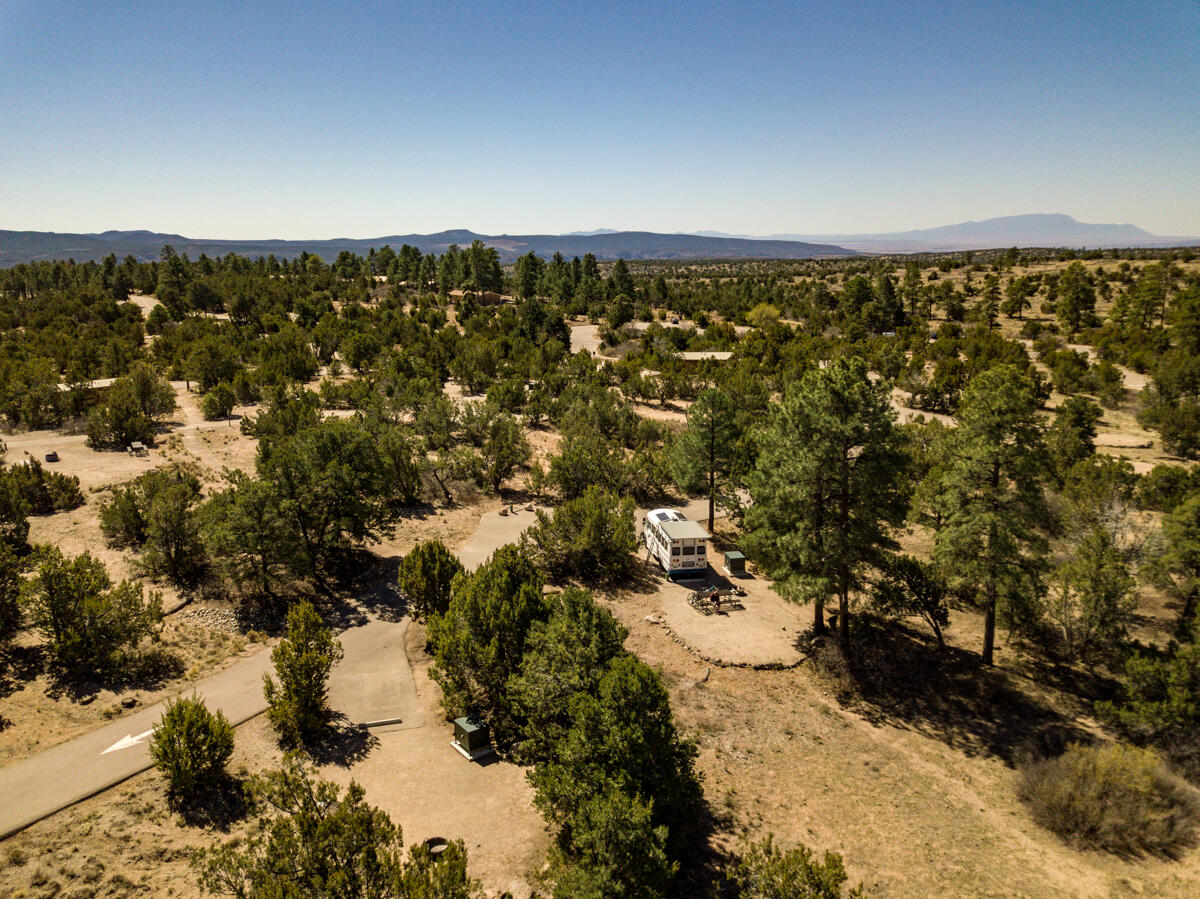 In the morning Miles and I took a trail out to an overlook over the canyon, while Heather explored the limits of beauty sleep. In the afternoon we attempted to head up the hill to Los Alamos, but the on the steeper parts (and then the flatter parts) the bus kept intermittently loosing power. It definitely felt like a fuel delivery issue and not a mechanical issue, and was gradually getting worse. Eventually I pretty much lost all power, so we pulled over in a trailhead parking lot and I replaced the fuel filter with a spare we had and followed up with a test drive. Unfortunately that did not solve the issues, so we headed back to the campground.
After a little more staring at the engine, I remembered there was a fuel strainer before the filter and pulled it off. It was 100% clogged with rust from the fuel tank. "Nailed it," I thought as I cleaned it, replaced it and again headed back up the hill. The power felt great, but the growing cloud of stinky white smoke did not. I pulled over in the same trailhead lot again and a quick glance under the bus revealed the culprit. Oil everywhere, including all over the exhaust, creating the smoke. Not something you really want to see. Back to the campground we went.
Fearing something catastrophic we made the call to head to the closest town, White Rock, and stay there for the night. We ended up in the White Rock Visitor Center, which doubled as an RV parking lot. In the morning I got on the phone to try to find a reliable mechanic somewhere. After getting the run around for a while and finding nowhere to go, we decided to try the only shop on the map in White Rock, Herman's Automotive. It was just about a block away, so we left our parking lot (and a puddle of oil), and went straight there. This is where the luck comes in.
I parked on the curb, as the shop was pretty full. A cowboy in a mechanic's jacket came out to meet me as I got down from the bus. This was Herman, who I later learned to my surprise was half Spanish, half German. I explained the situation and he explained the these diesel's were right up their alley and told me to pull in. Jason, his mechanic, crawled under and took a quick look and decided we needed to first clean off all the oil to find the real leak. He directed us a couple hundred yards up the road to a car wash where I pressure washed the whole underside of the engine and transmission. Back in the lot, it only took Jason a couple minutes to identify the problem. The rear main seal had let go and was providing a steady drip of oil to the ground below. For those of you who don't know what that is, its a very simple part at the back of the engine where it meets the transmission. The problem is that you have to take the transmission off to get to it. That equals money.
We also decided to take a quick look at the turbo, as their was a small leak coming from it as well. We pulled the intake boot off and felt the motion of the impeller. No bueno, it wiggled a little bit and a had a rough spot when spinning it. That pretty much meant that one day it was going to go boom and take the engine with it. In a way, it was lucky we caught it now. In another way, it equals more money.
Herman and I talked prices for a bit, and then he got busy finding the parts while we got busy heading back up to Los Alamos. We wanted to make sure the fuel delivery problem was cured before they got to work on the bus the next morning. The bus ran just fine up the steep hills to Los Alamos, where we walked around for a bit, taking in the history and oddness of the place. After our self-guided tour around town, a stop at the grocery store and a stop by the Verizon store to get a sim card and plan for our hotspot (we've been using AT&T until now), we decided to take the windiest, hilliest road out of town to hike at the foot of Pajarito Ski Area. Miles and I headed out on the Guaje Canyon Trail while Heather got some social media-ing done in the bus. It was a pretty decent hike that both and Miles thoroughly enjoyed.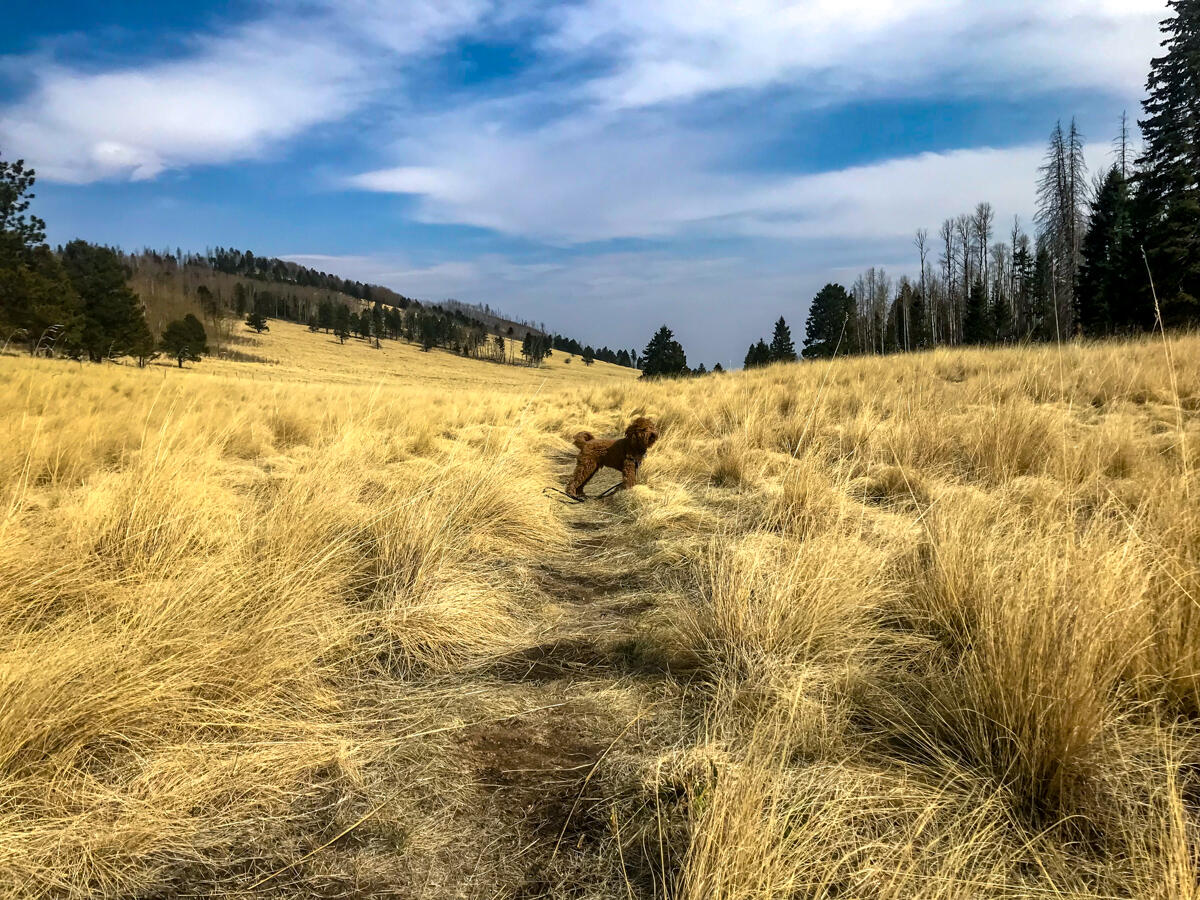 After a pretty decent day, we made our way back to Herman's lot where he graciously offered to lets us stay while they worked on the bus. It turned out that we weren't only customers "camping" out in his lot. The old (very old) RV next to us also had a human (and dog so we're told) in it. We never met. The plan was to get the transmission off day one, day two get the new seal in and transmission back on, day three replace the turbo. You know what they say about plans.
The guys got started after lunch on day one pulling out the transmissions. Progress was steady with the bus half pulled into one of their service bays.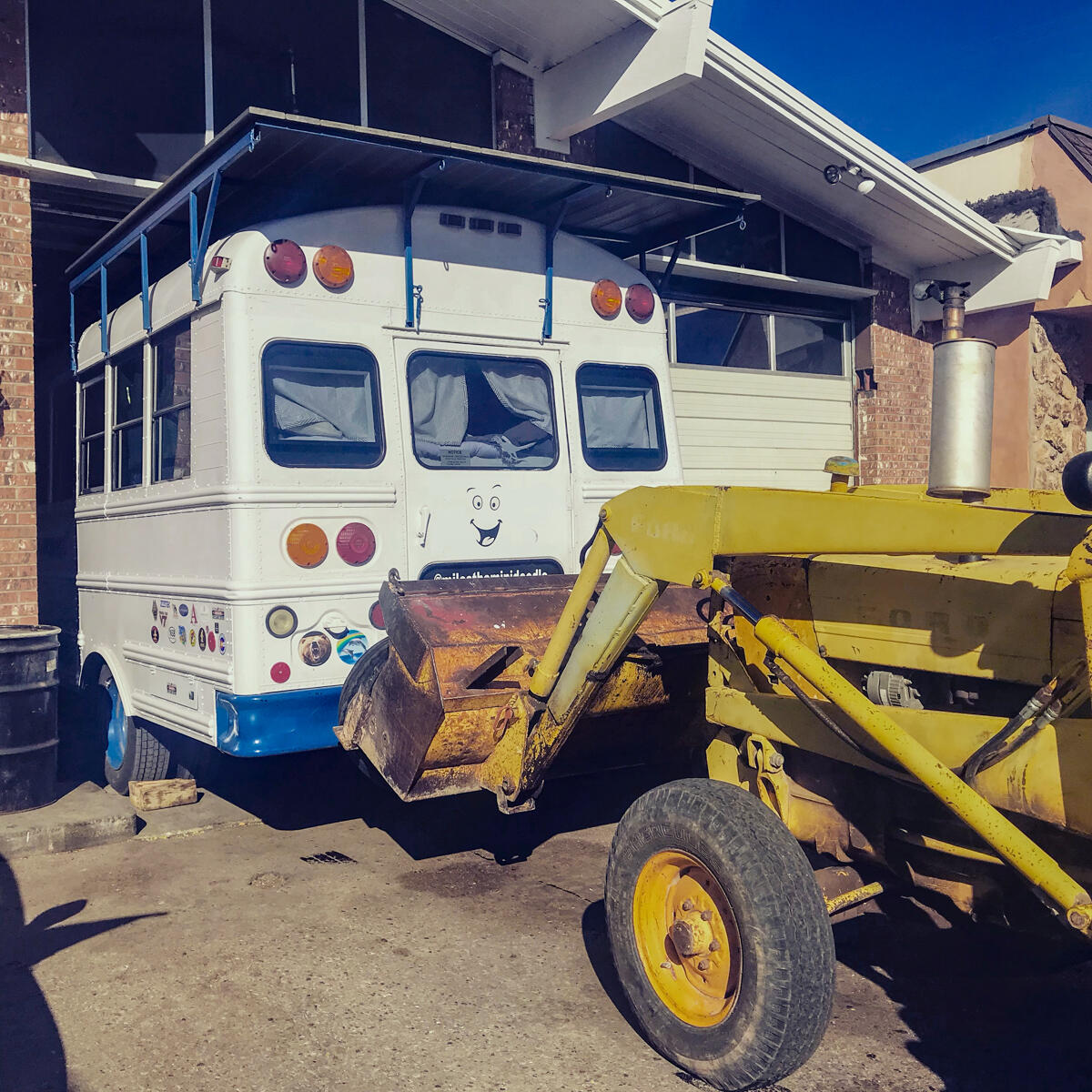 While they worked, Heather, Miles and I made a day out of walking out to the White Rock Overlook, which was nothing short of spectacular. We took the Canyon Rim trail back to town, walking about 5 miles in total before grabbing a late lunch at the only "real" restaurant going in town, Pig + Fig, which was pretty damn good.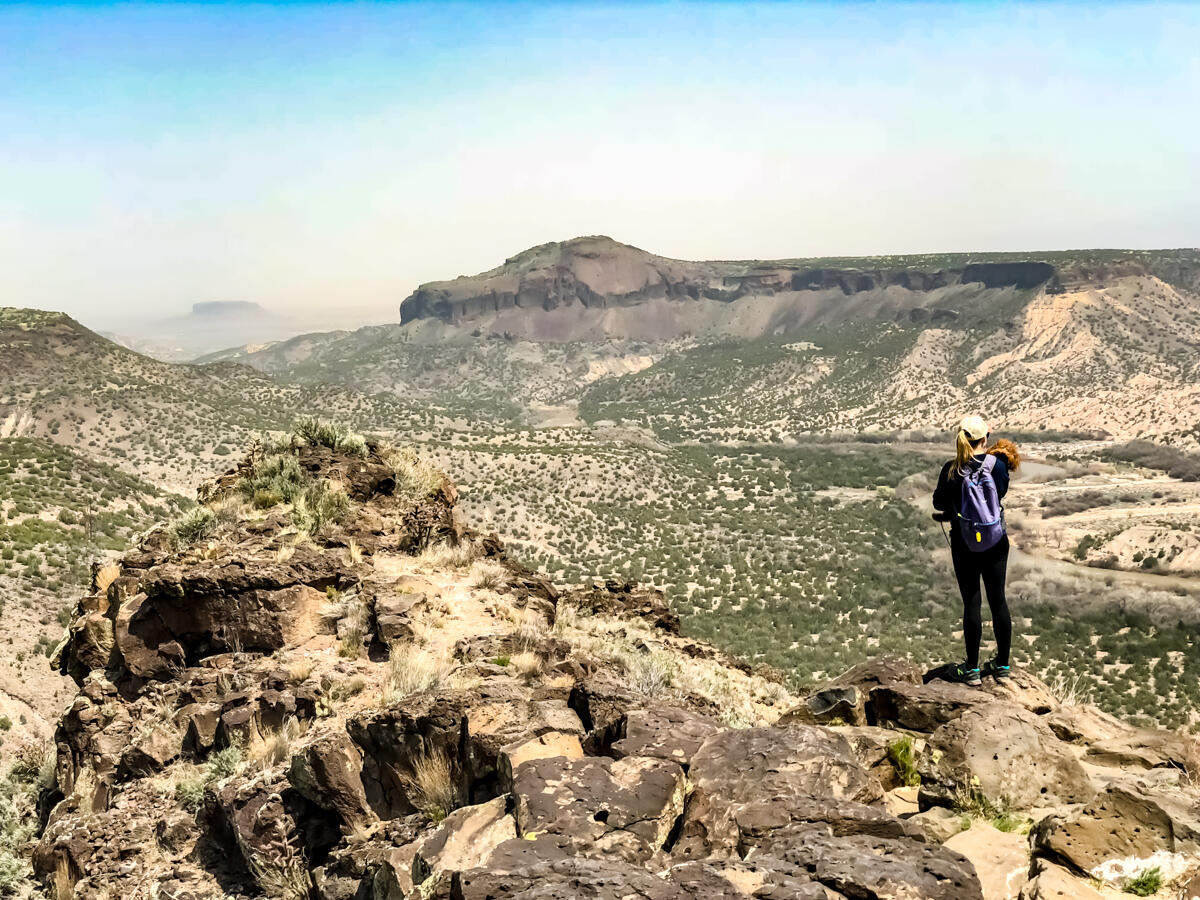 Everything was on track and we settled in for night two at Herman's. The next day the guys got to work on replacing the seal, and Herman let me know that after considerable effort and consternation he had finally located a replacement for the unique turbo and that it was being overnighted to Albuquerque from Atlanta. The bad news is that it was about 3-4x more expensive than our initial guess, but what ya gonna do.
Day three is where things got a little (more) complicated. The new turbo made it to Albuquerque and Herman sent his tech Ryan on the two hours each way drive to go get it. Unfortunately when Ryan go there they would discover, through the modern miracle of picture texts, that it was the wrong damn turbo. By the time Herman let me know the bad news he had already spent another few hours tracking down the right part for sure and that it was already being overnighted from Las Vegas, straight to the shop. It was also a little more expensive than the first one.
By now Herman had already extended his hospitality to include the sharing of his electricity and WiFi and had let us even know there was a shower we could use the next morning. We battened down for, what we would hope to be, our final night. "Batten down" is the correct term here, as that night a biblical wind-storm came through, rocking us and battering us with the shingles getting ripped off of Herman's roof all through the night. There was no serious damage to us, but Herman will need a new roof.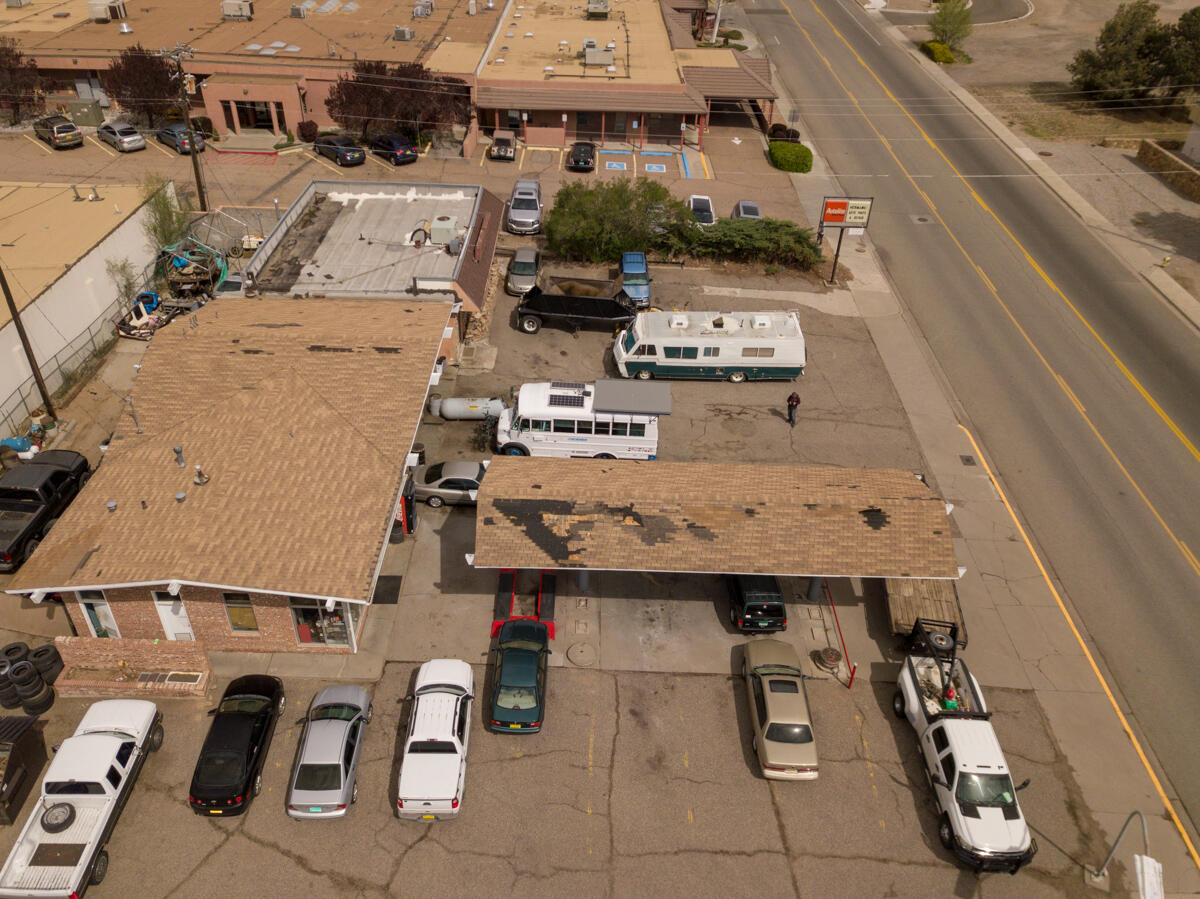 Day four. The guys buttoned up the rest of the transmission work and we began the process of looking for the UPS guy. He supposedly usually arrived by 10:30, but today decided to show up around noon thirty, much to everyone's frustration. It didn't bother me too much, because it gave me a chance to sit around with the guys for third of fourth session of shooting the shit. Everybody there would qualify as "good people" in my book, and I got to learn a lot very interesting things about them, White Rock, and what's really going on at Los Alamos these days. I can't tell you about the last one, or I would have to kill you.
After a brief scare that we again had the wrong part, it did turn out to be correct. It didn't take them long to get it on and a after few test drives and tuning, the bus was running smoother, quieter and more powerfully than ever. Afterwords, bills were paid, hands were shook and we were again on our way. It did feel like a bit of an abrupt goodbye, since I got to know them all pretty well over our time there, but the reality is that we hope to never see them again, as that would mean more trouble on the bus front. Either way, thanks Herman, Jason, Ryan and Ben!
Last night we treated ourselves to very fancy and nice night at a Japanese spa just outside of Santa Fe. Roughing it, as they would say. Right now we are sitting at Santa Fe Skies RV Park, catching up on this, that and the other. Next we head to an alpaca farm for the night, and then further down into New Mexico after that.
In Other News
We have the Our Maps page and Gallery up-to-date, and have added just a bit of info to the Live Data page. Enjoy!
We hope you enjoyed reading this post and now feel more like you too know what it's like to live in a bus. If you would like to keep feeling this way, subscribe to our email updates and we will let you know when we make new posts for your vicarious pleasures. Just full out the form below and click subscribe!