If you like amazing national parks, stunning geological wonders, dinosaurs, hiking, mountain biking, rivers, off-road vehicling [sic], heat, Memorial Day shenanigans with friends from Denver and/or tasty foods, ten days in Moab is just about enough time to scratch the surface of this giant adult playground. While we didn't get to do any off-roading or mountain biking (which is ridiculous since Moab is the birthplace of the mountain bike), we sure got in plenty of the other stuff – and it was glorious. Little known fact: Moab got it's name either from an area east of the Jordan River in the Bible, or from the Paiute word for mosquito, and over the years two petitions were created to attempt to rename it to, first, Vina and then Uvadalia. Those petitions failed, obviously.
Memorial Day Weekend
Even though it is generally pretty dang hot by this time of the year, Moab is extremely popular destination for Memorial Day weekend, making the few prime camping locations very hard to come by. We hit town on the Wednesday night before the weekend, playing the role of the forward scouting and location requisition party in charge of identifying, securing and/or stealing enough super-sweet camping space to accommodate our large crew coming in from Denver over the next few days. This was our burden since we live in a bus and can go pretty much anywhere we want at any time, and the pressure was on to not disappoint.
We made it into town around dusk that first night and made a couple laps through our second choice target, which was the free boondocking land just north of town,  since it was on our way. The gravel road had a couple dozen small to very large spots dotting both sides, and they were all occupied by at least one vehicle – this was not a good sign. There was one large spot that only had a single full-sized Skoolie tucked into one corner. Figuring they probably wouldn't mind if we shared the spot with them, at least for the night, we decided to make a quick run down to scout our number one choice area before calling it a night. That area being the six or seven pay BLM campgrounds right on the Colorado River just on the edge of town in a beautiful canyon.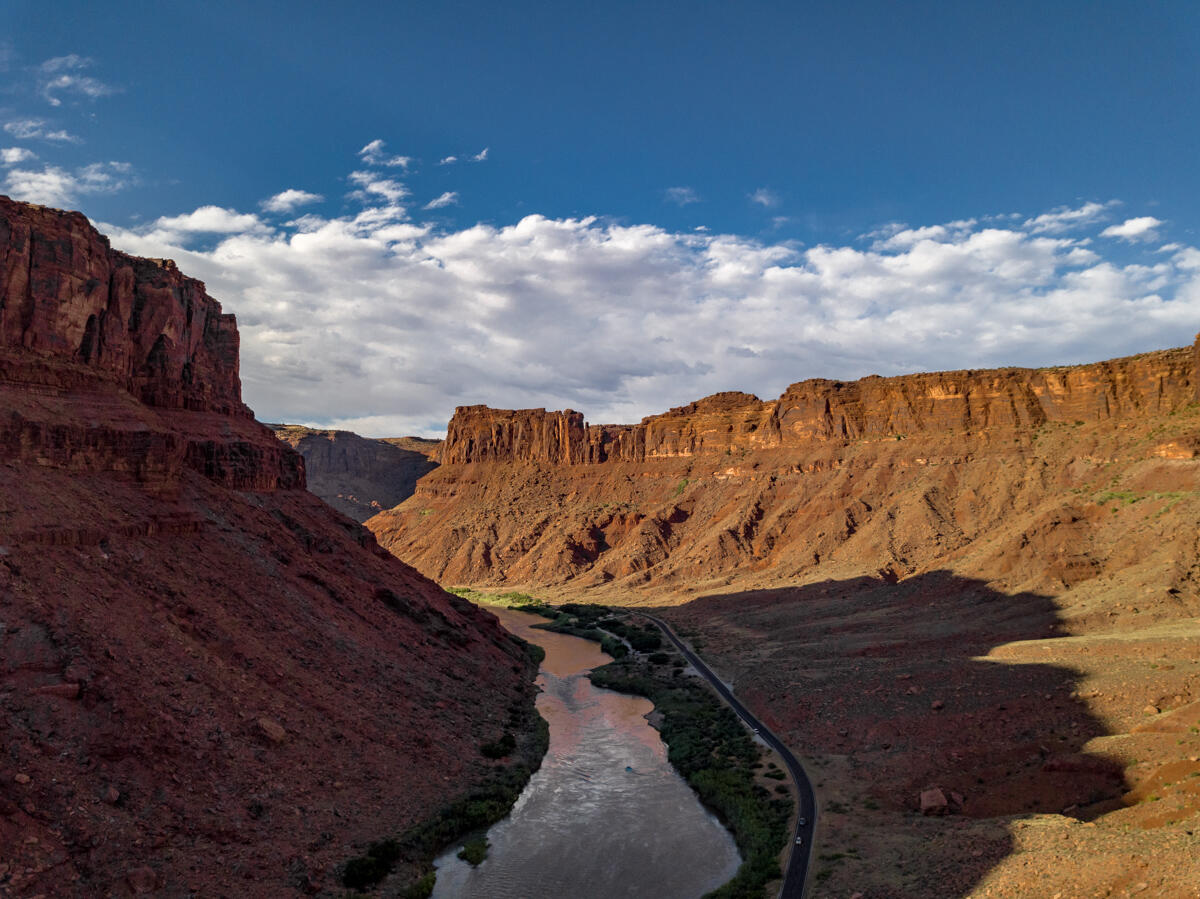 We made laps through the first four or so campgrounds on SR 128 paralleling the Colorado River, confirming our suspicion that they were all full already, but also discovering that many of the spots were scheduled to come open in the next day or two. With this knowledge in mind, we headed back to take our spot next to the big Skoolie just for the night with intentions of rising early in the morning to stalk the campgrounds for folks leaving, only to find that someone had already popped a tent where we wanted to park. So we parked right next to them. They were gone in the morning before we even woke up, and we never saw any movement in the other Skoolie.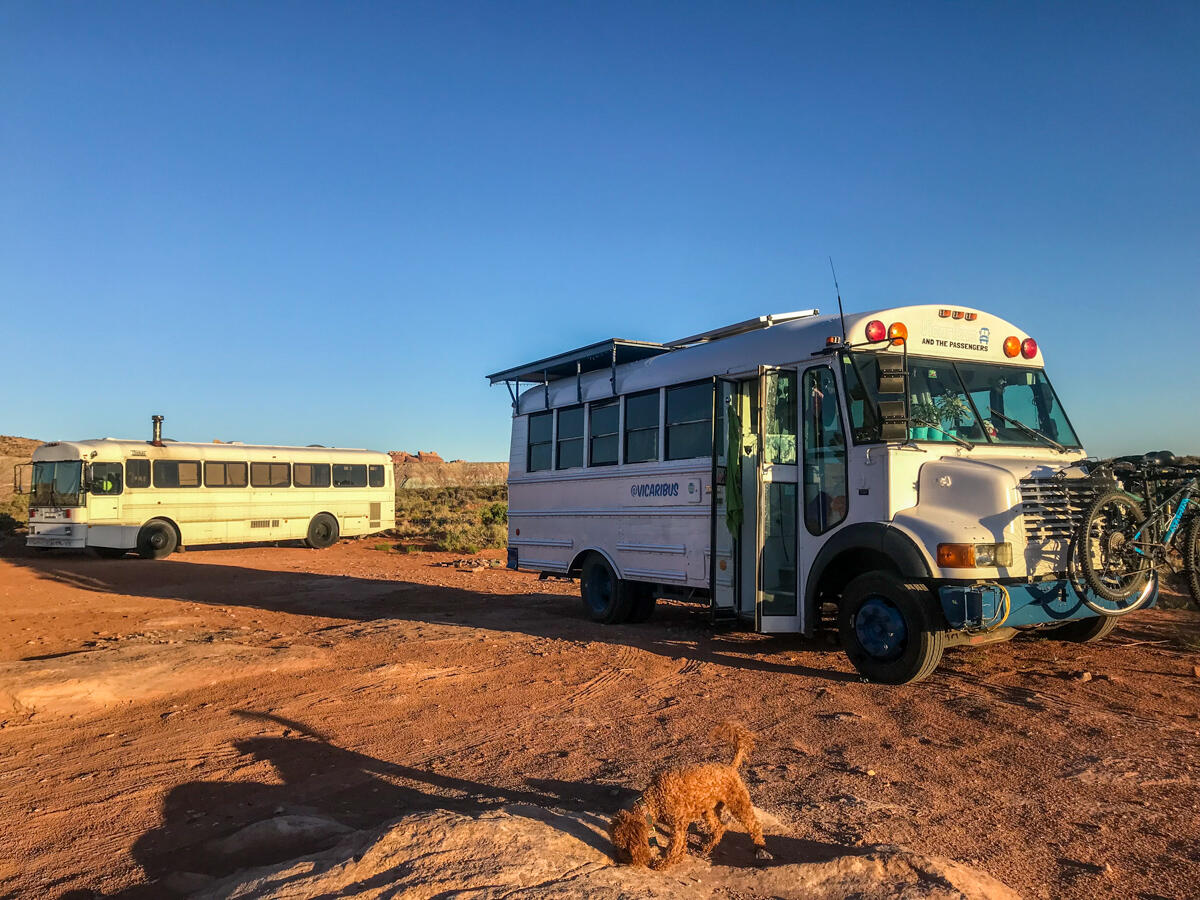 The next morning, Thursday to be precise, we started our low hopes hunt around 8:30. We made a lap through each of the first two riverside campgrounds again, finding no open spots and no obvious soon-to-be open spots, and were about to head to the  campgrounds on the other side of SR 191 to see if they faired any better, but made a gut call to at least check the next campground on this side first. Sweet providence! From the road we spotted a large site at the end of the Middle Drinks Canyon Campground and pointed Vicaribus right to it. After spending a few minutes investigating away the too-good-to-be-true paranoia, we staked our claim and then started chatting up the young couple in the spot right next to it. Along with many useful tidbits about the town, they also informed us that the spot we had just claimed had only moments before been vacated, that we weren't the only vultures circling the area for that spot, and that (holy smokes!) they were about to vacate their spot. Before our conversation with them was over, we had already staked our claim and paid for that spot as well.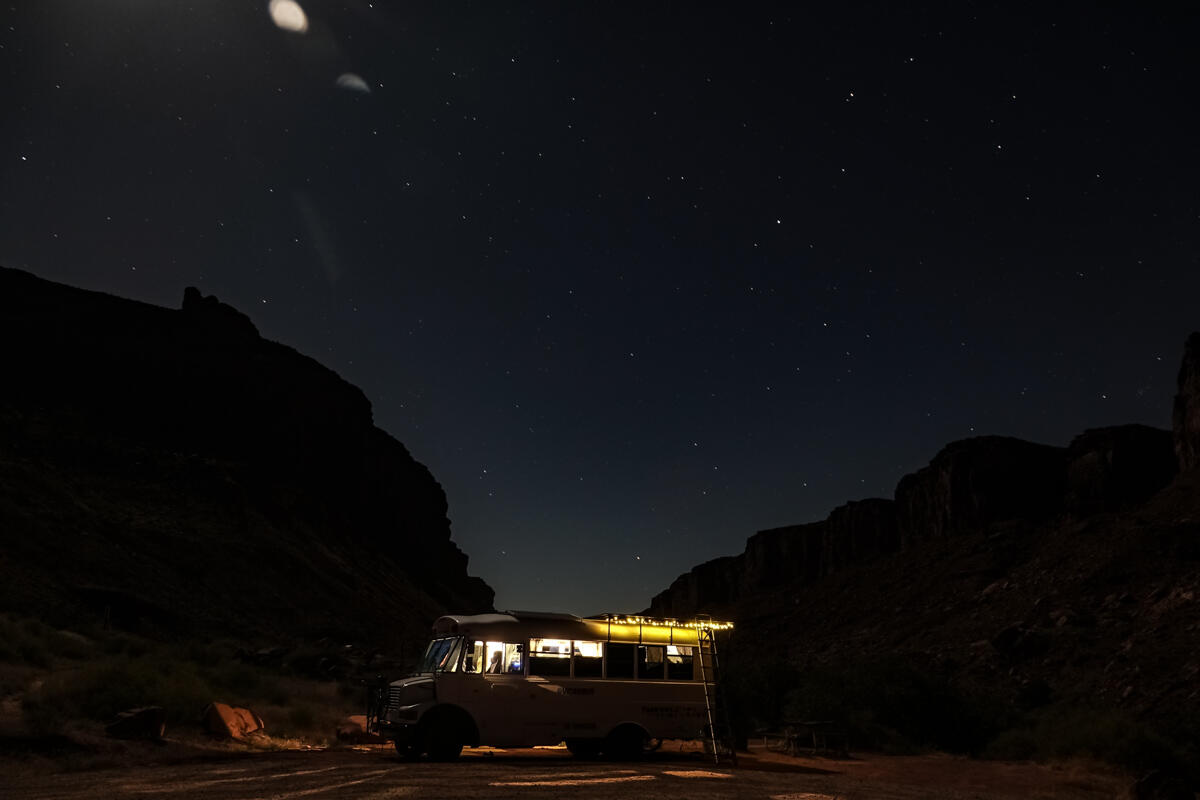 Our first compatriots to join us weren't scheduled to arrive until midnight, so we setup our backpacking tent in the second site, along with some camp chairs to give it more a of a presence of active use, and then spent the rest of the day marveling at just how lucky we had been, coming to terms with the fact that we may have gotten the best two spots in the area as far as our purposes were concerned, and fending off the dozens of other vultures desperate for such a score.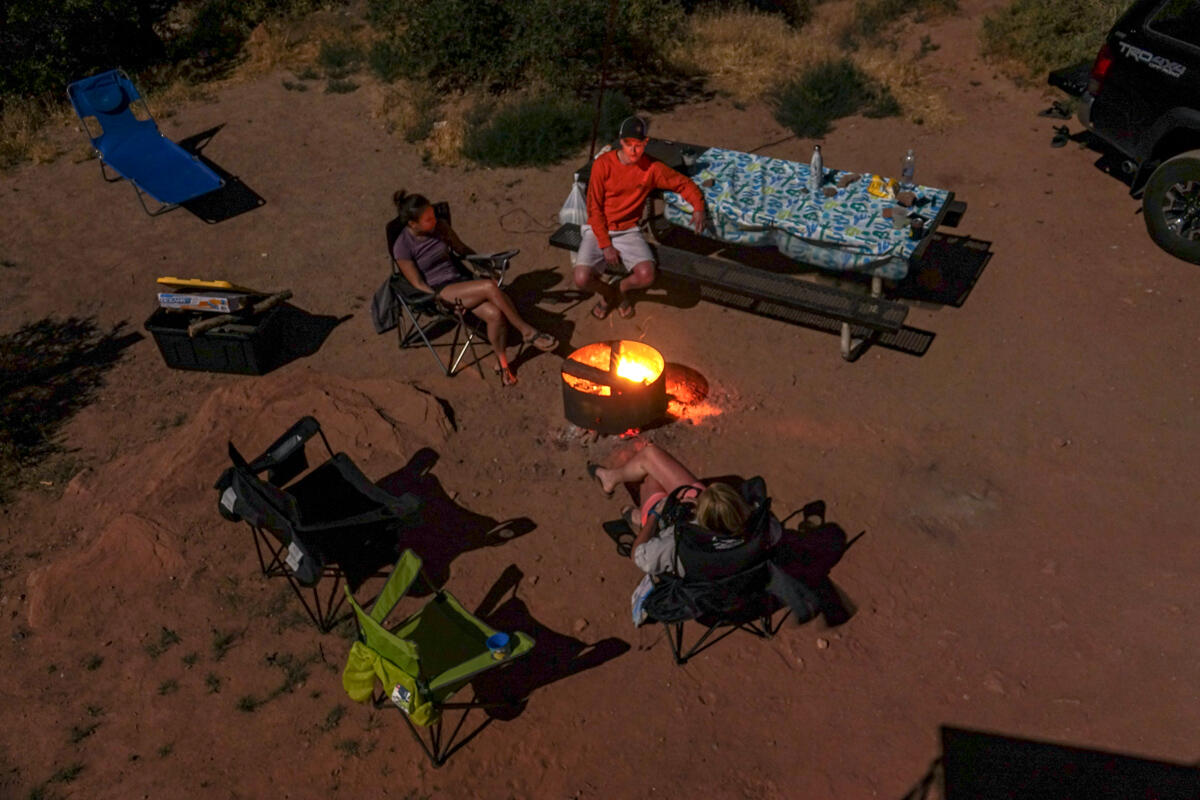 The first group of three to join us at our super spot made it in that night. We chatted for a little while then hit the hay in anticipation for next three days' good times. The next morning we chilled out for a while and then that afternoon, the five of us, plus Miles, filled up our tubes and rafts and hopped in the river to float the six miles down to the main road. Little did we know that wind would turn our supposed two-ish hour journey into a nearly six hour one on this placid but steady moving segment of the Colorado River. This miscalculation lead to an early depletion of our beer stash and a few sun burns, but all-in-all was an excellent way to spend a hot day.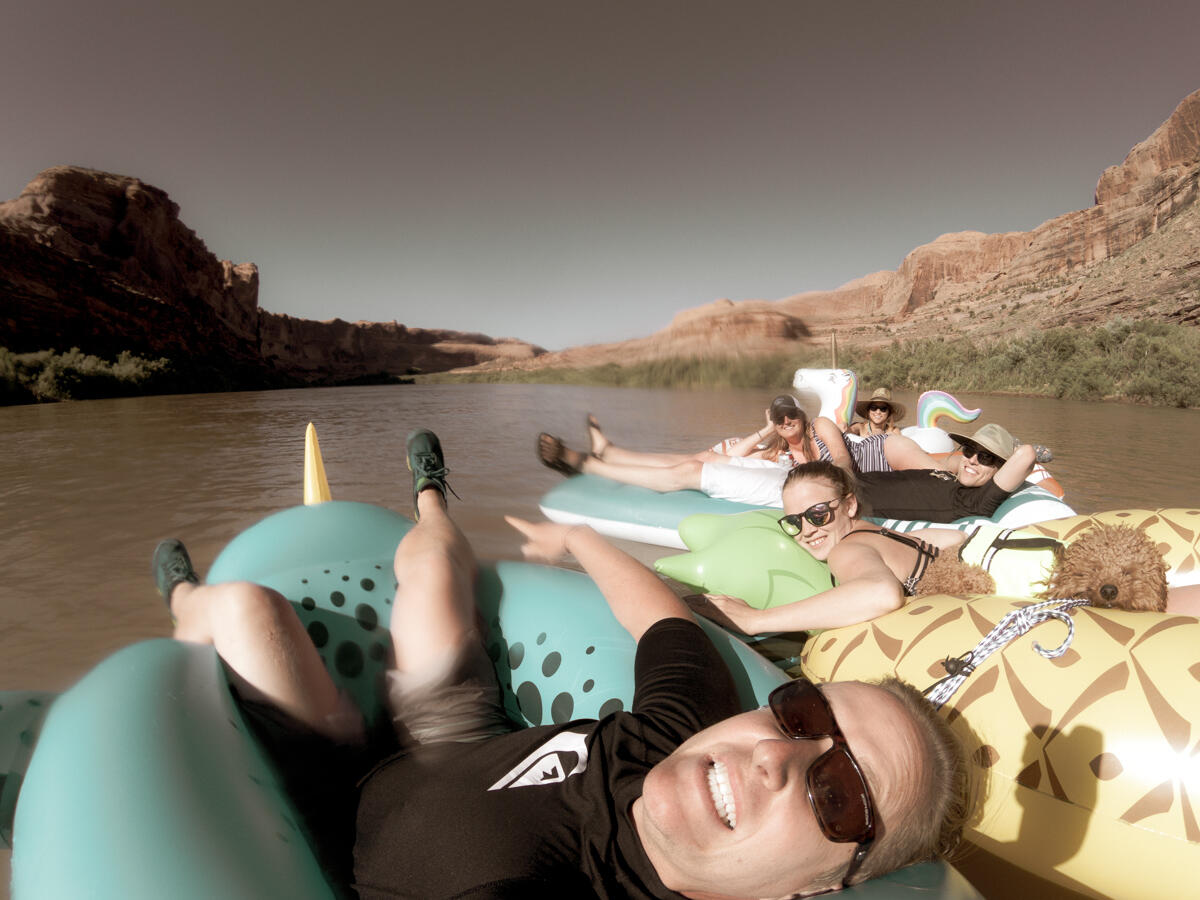 Over the next 24 hours the rest of the crew trickled in, swelling our numbers to around 15 people total. We did some group hikes, sat around fires, drank a plethora of beer, played in the water, learned a new game called Butt Quarters (not as bad as you are imagining, but at least twice as interesting and entertaining as you might think), and generally had an epically good time. It was great having some good friends to hang out with after nearly two months with just the three of us and the occasional chatty stranger. We certainly unleashed our pent-up vocal cords on anybody who would listen (and/or could not escape). Who knew we were so chatty?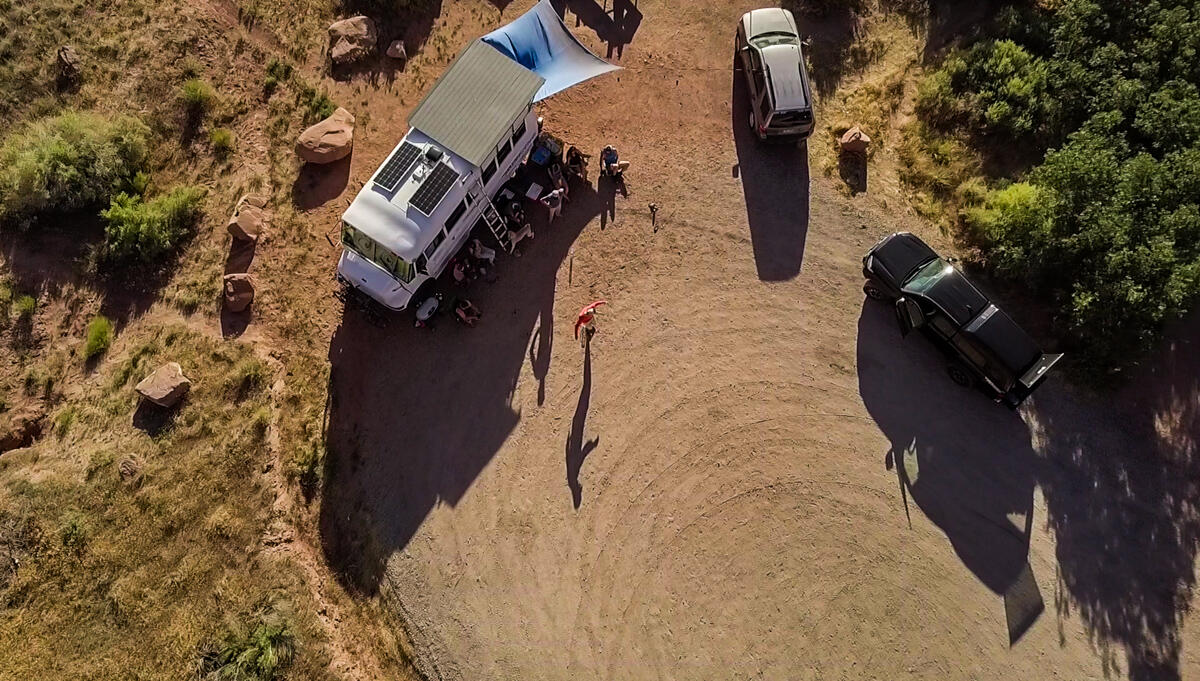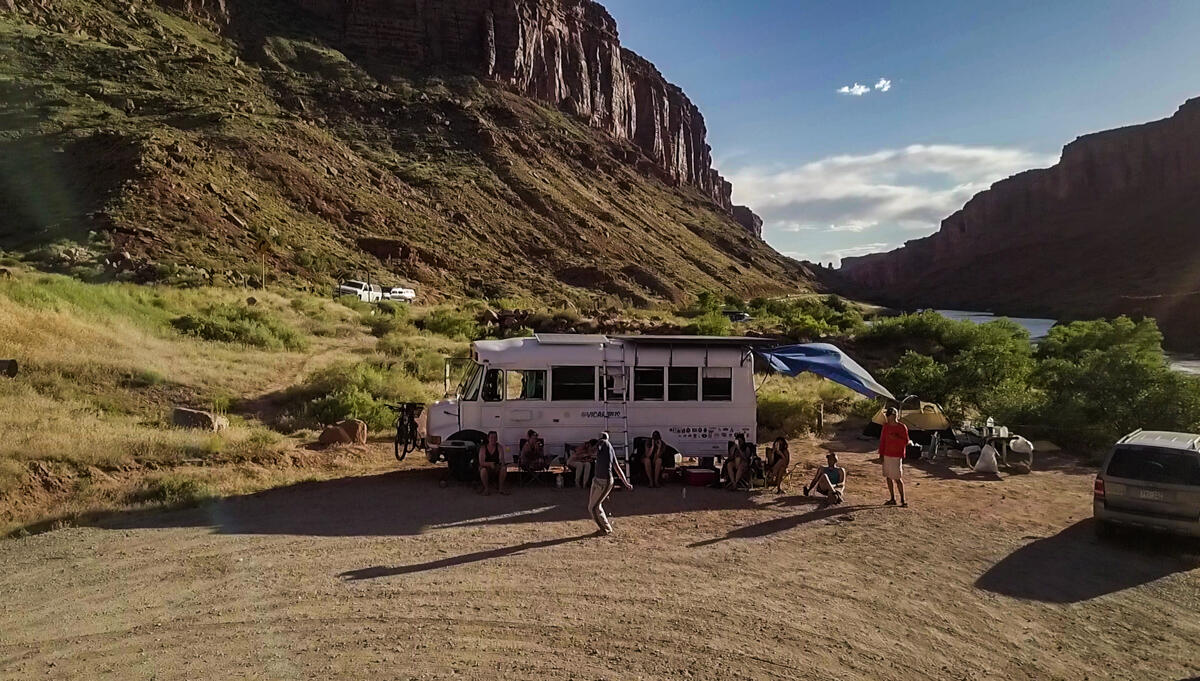 Eventually Monday rolled around and everyone else made their unfortunate returns to Denver, thus returning us back to our new status quo. The first thing we did was get a room at the Motel 6, because we were dirty, hot and in need of some serious internet time. After taking care of all of those things, we spent another four nights in the Moab area. We camped in a few different boondocking spots near where we stayed the first night with the other skoolie – the options really opened up after the holiday weekend passed. We spent our days eating all the foods (and shave ice), hiking several trails and exploring all of the parks, as described in subsequents sections.
As a side note, one great little surprise was the fresh cold spring water coming right out of the side of the canyon wall right where the Colorado River crosses the main road. Just don't get any of the rock in your new water jug, or your water will turn red.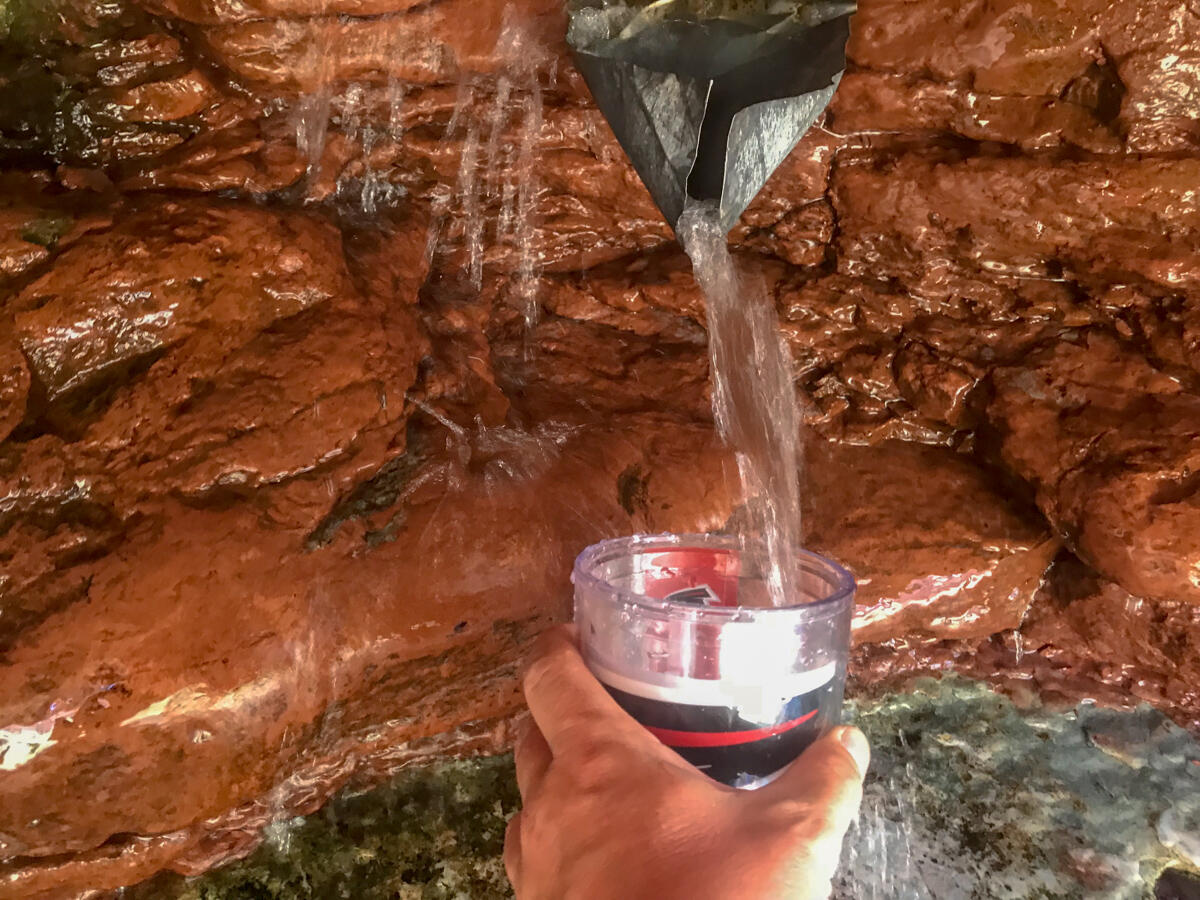 To peruse all of our river camping and Memorial Day Weekend based photos, click here.
Arches National Park
During our ten days in Moab, we made three visits to this park. It is truly one of the greats and we could have easily gone back for more. We did a group hike with the Denver crew on Saturday morning around the Devil's Garden Loop at the northern end of the park. It was around eight miles total and provided some quite spectacular views. It started of pretty busy and crowded, but the crowds eased up a lot after we made our way past the first big arch where most people turned around.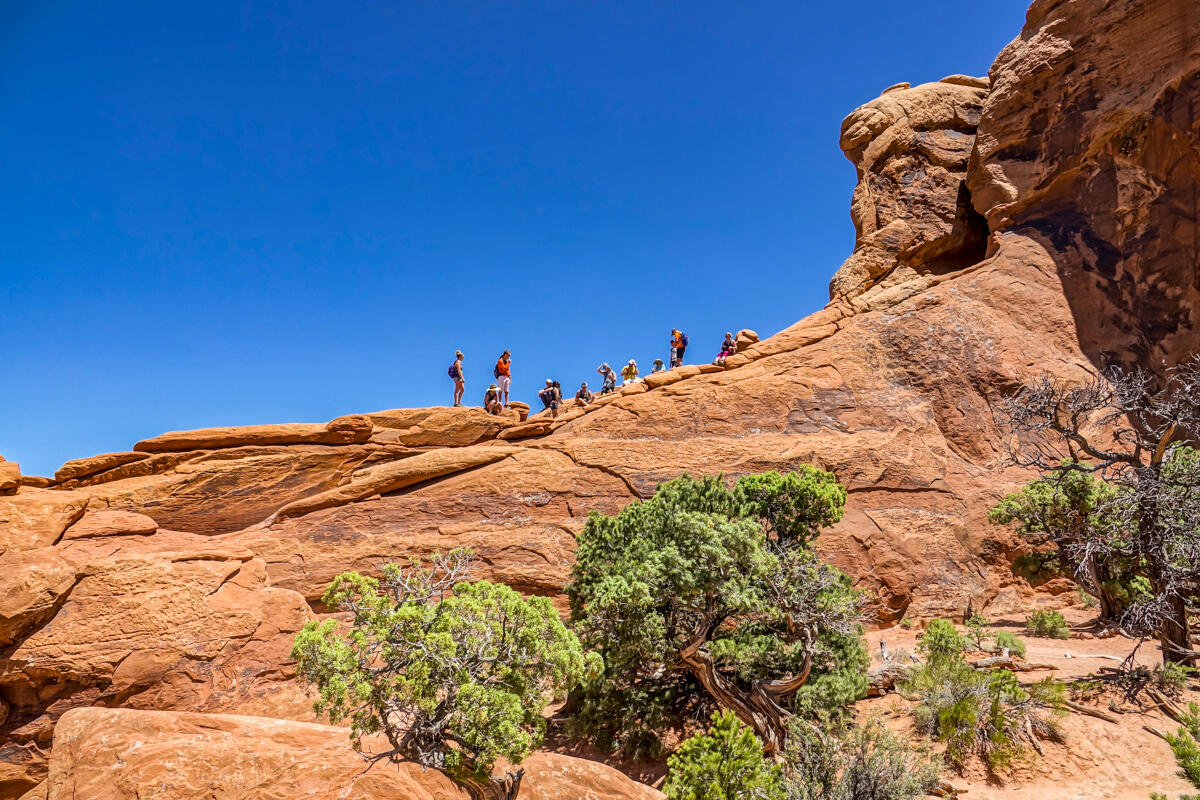 While we were there that first day, we learned about a special permit area called the Fiery Furnace. A couple days later we came back to see if we could get one of these limited permits and scored a self-guided permit for that Friday. The other option was a ranger-led tour through the wonderland, which we would have done if that was all that was available. When getting a permit you also have to watch a 20 minute video on how to not die in and how to not destroy the maze-like and fragile splendor that is the Fiery Furnace (named after it's appearance at dusk and not because of the heat). We spent about three hours exploring in there before heading back into town for some lunch and to replace yet another butt-torn pair of cargo shorts.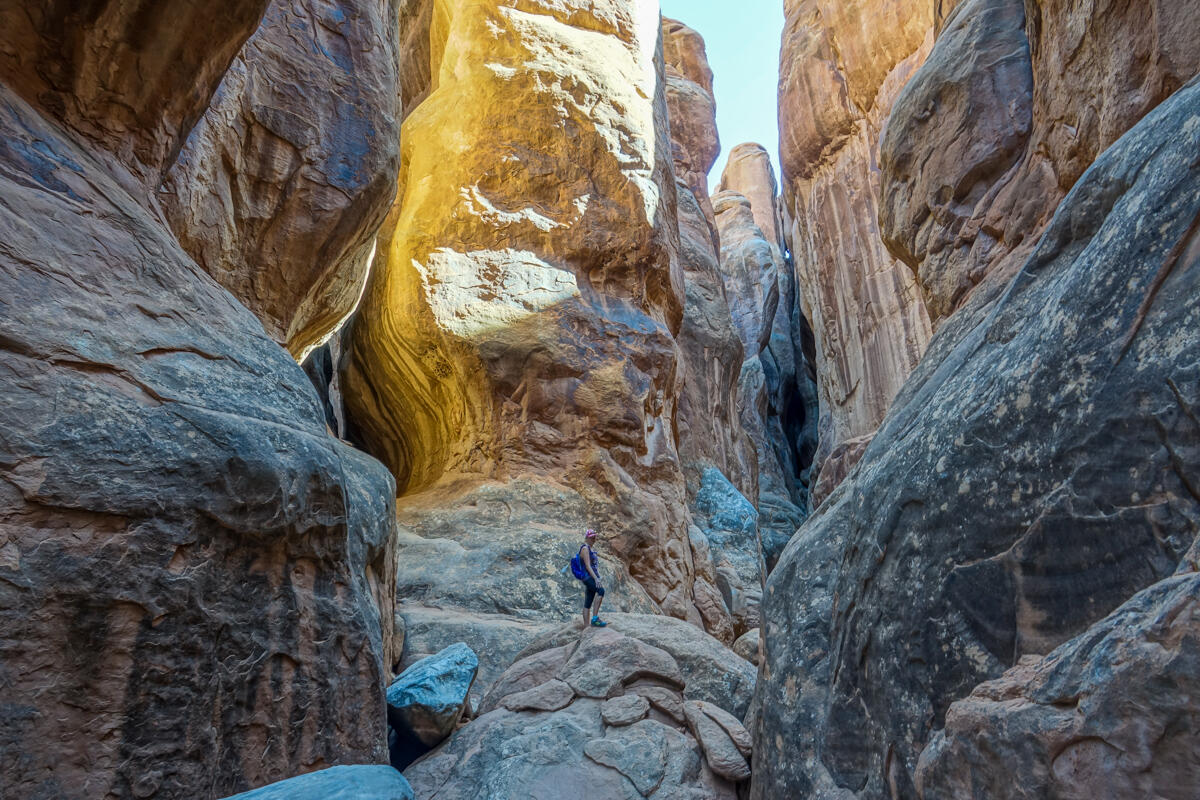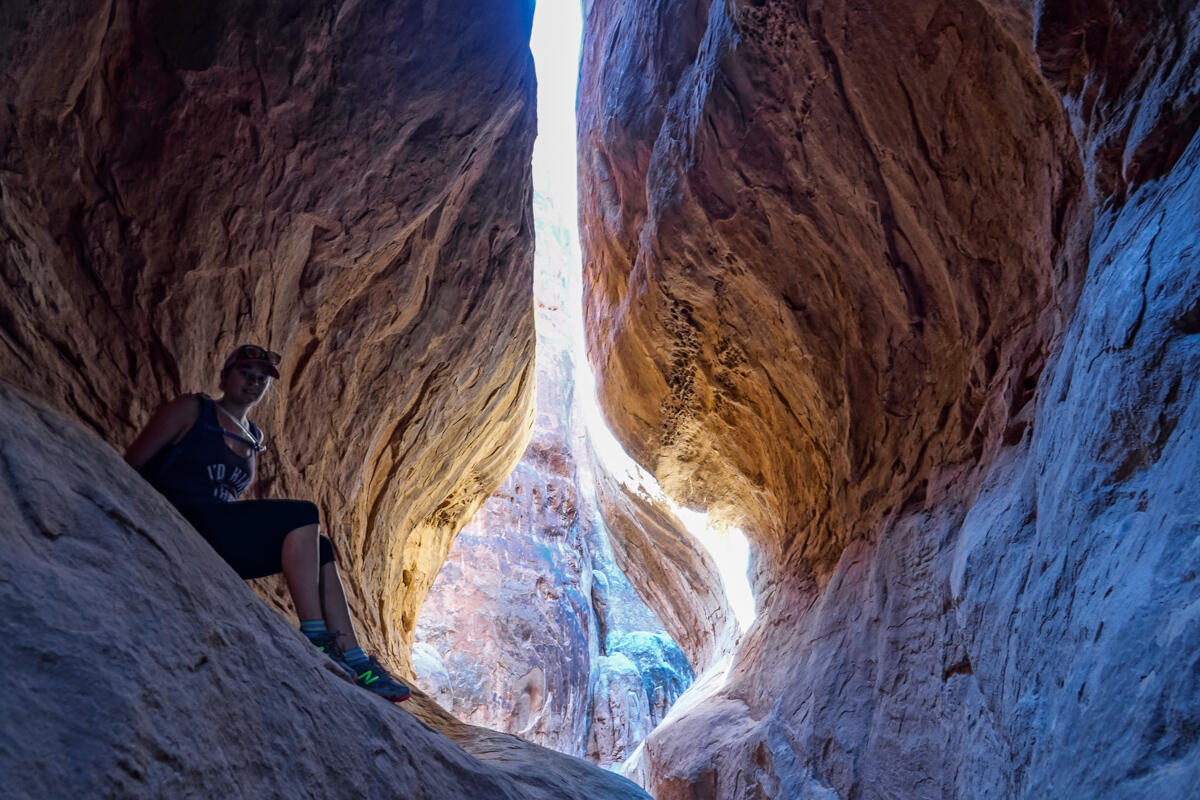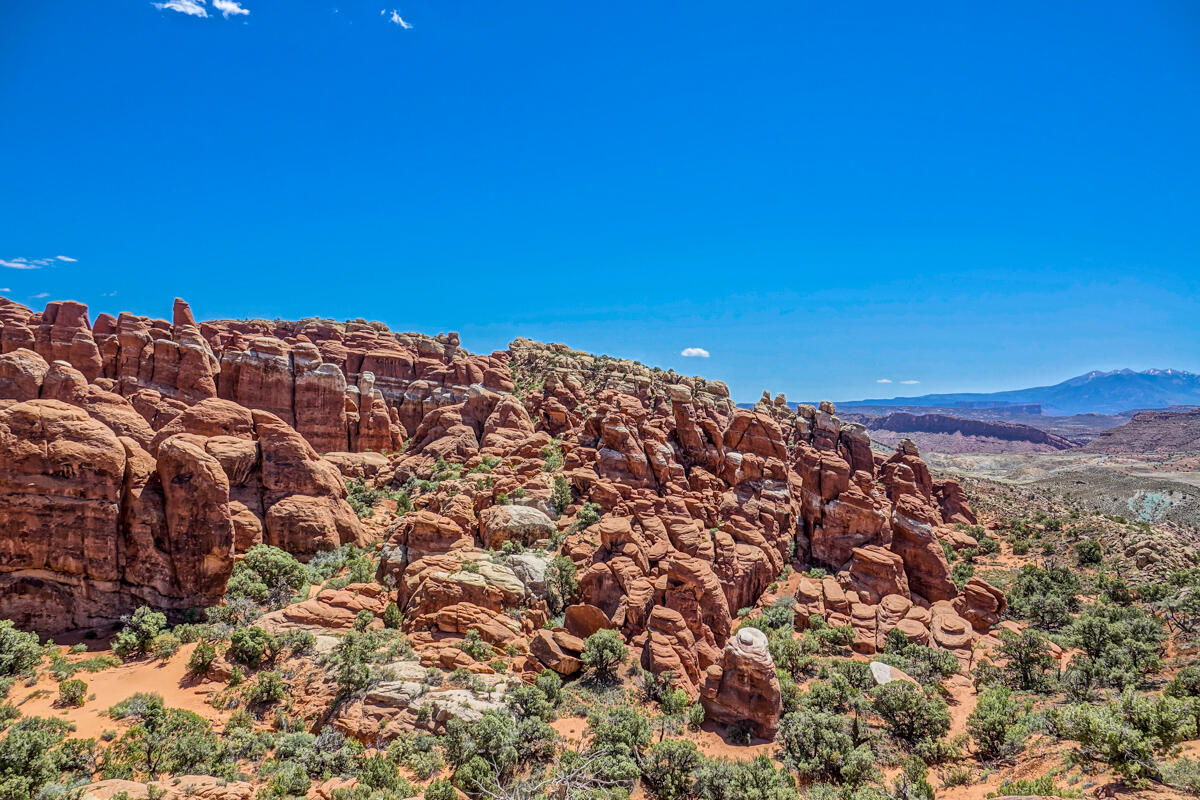 We then returned that evening to do the Delicate Arch Trail, waiting at the arch for the sun to go down and to finally get in some stargazing. We got pretty lucky with a late rising moon and a pretty clear sky, showing us just the faintest hints of the Milky Way. We hiked back from the Arch in the dark and drove over to the Windows area to take some night photos. It was awesome.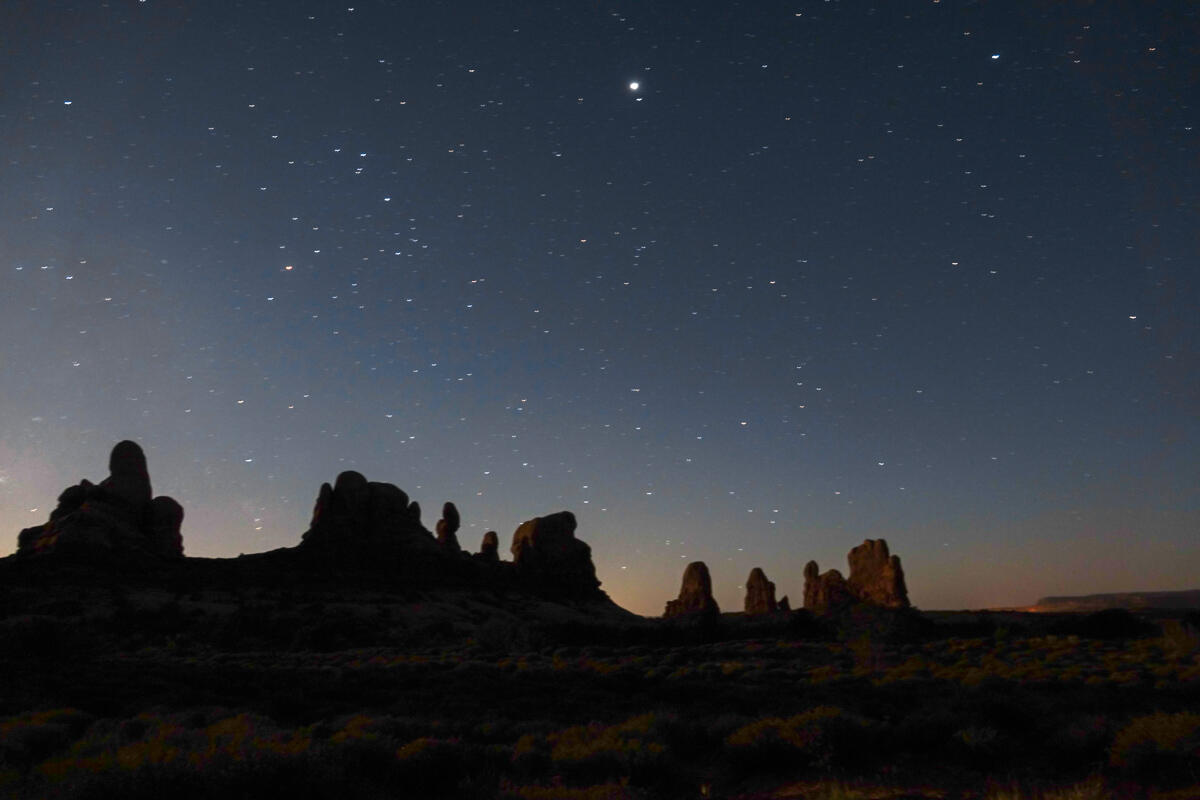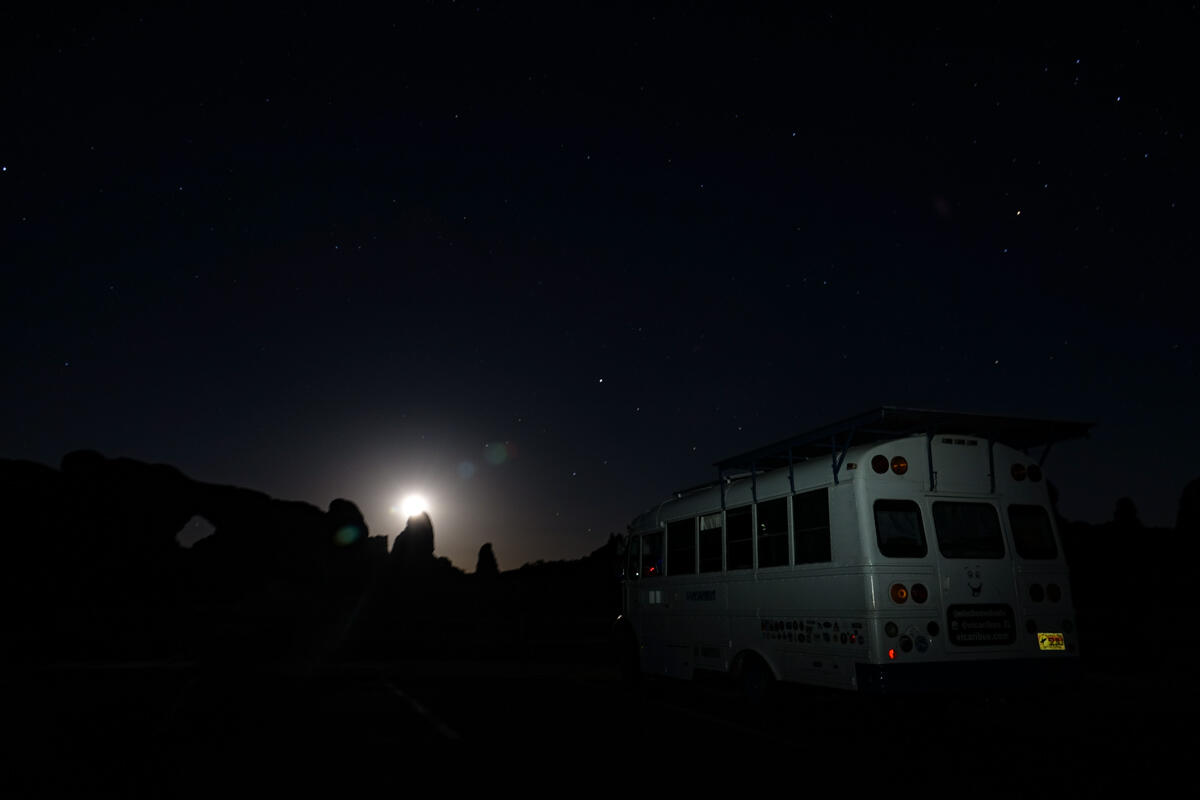 For all of our photos from Arches National Park, click here.
The drive through Arches is also the subject of our 11th Quick Run Video.
Canyonlands National Park
Arches is right next door Moab and super accessible. Canyonlands is about 30 miles down the road and is many times larger, but much less accessible. We spent a few hours on our last day in town driving the scenic roads on the Island in the Sky section at the northern end of the park. There were some pretty amazing views just in the small part we saw, but to really experience this park, I think you need a few days and a 4×4 vehicle.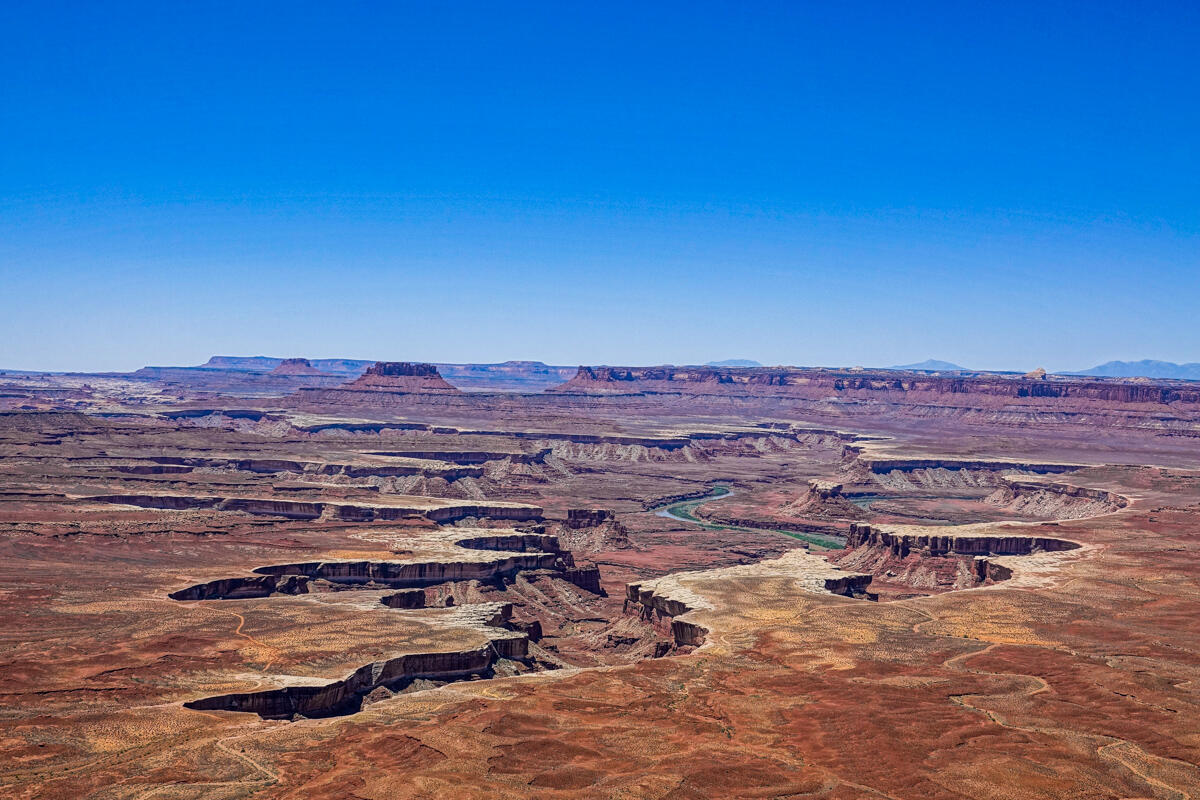 For the handful of photos from Canyonlands, click here.
The drive through Canyonlands makes up our 12th and most boring Quick Run Video.
Corona Arch Trail
This was a short three mile round trip hike starting from the Colorado River a few miles down Potash Road. The payoff was the massive Corona Arch at the end. The trail had a little bit of scrambling to do up some steep areas, but was otherwise not tough at all. There was a very tempting natural cave (the beginnings of a new arch which should open up in a few million years or so) right off the trail with about a ten foot slick steep section right before reaching its mouth. Of course I had to get up there, which wasn't too bad, however on the way down my feet could not find purchase and I slid that ten feet on my butt. Fortunately, no cargo shorts were harmed in this incident. Unfortunately, the bathing suit I was wearing just moved out of the way at let my skin provide the only friction for the slide. A nice road rash was my prize.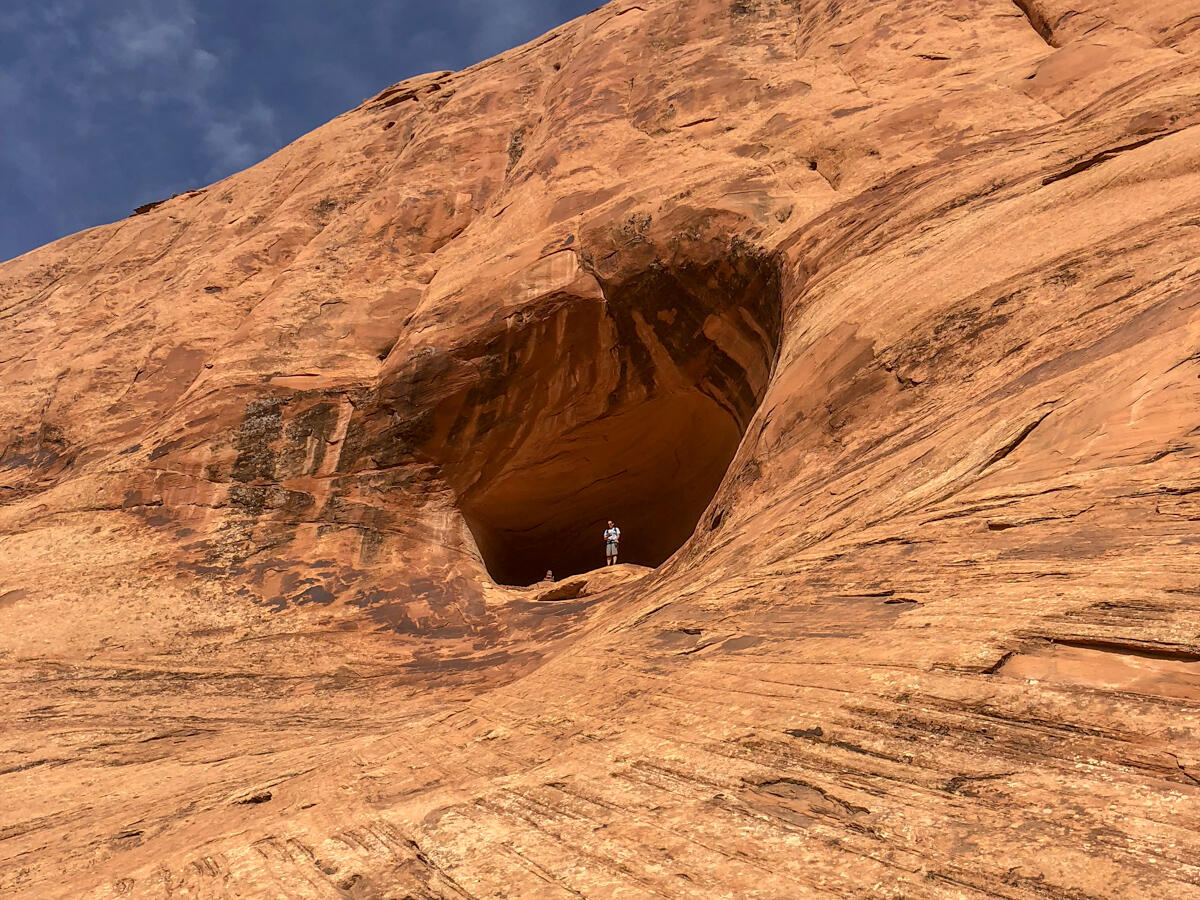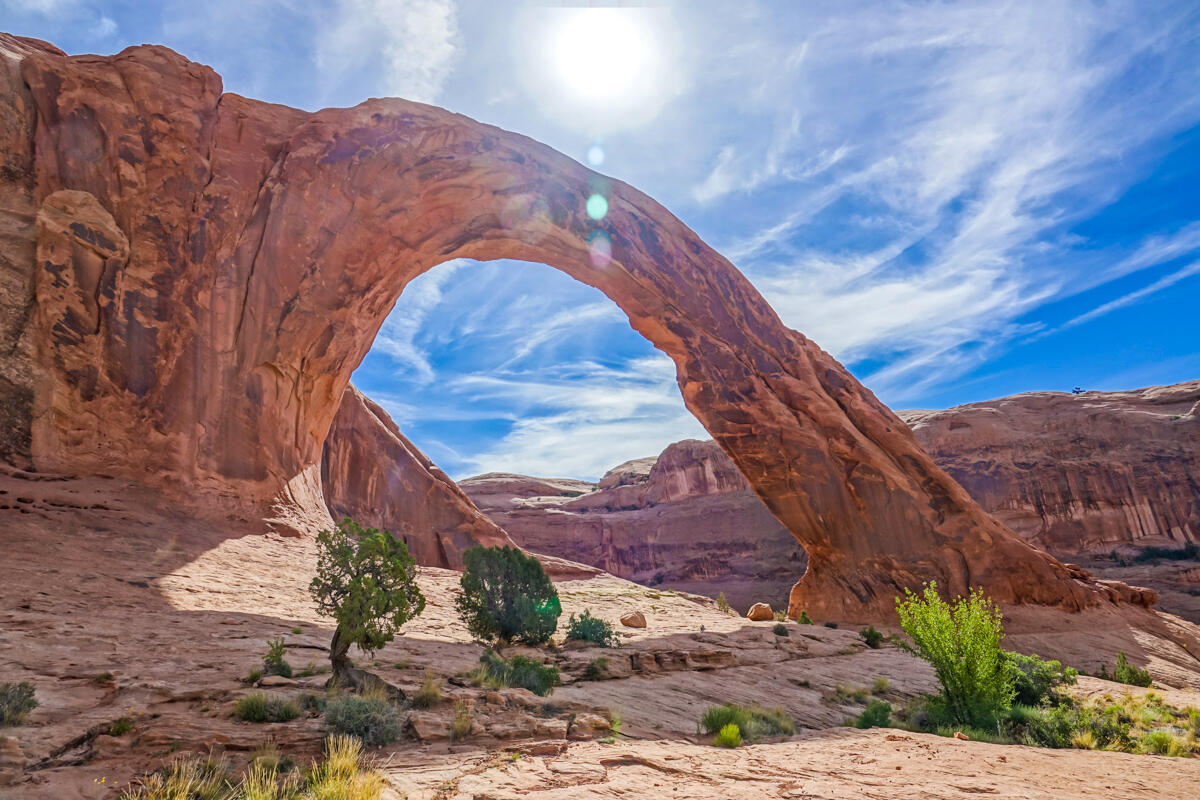 For a few more photos from the Corona Arch Trail, click these words.
Secret Canyon Trail Hike
I have been sworn to secrecy about the location of this hike, but man was it a good one. I will say it is in the greater Moab area and features a small creek that you cross dozens of times, a slot canyon, and stunning views that rival any of the big popular hikes we've done so far. Had we completed it it would have been an eight mile round trip. However, since this is a slot canyon, one has to be weary of flash floods, and unfortunately for us the skies got dark and scary. Even though we only had a few sprinkles, we played it safe and called it quits about 2.5 miles in.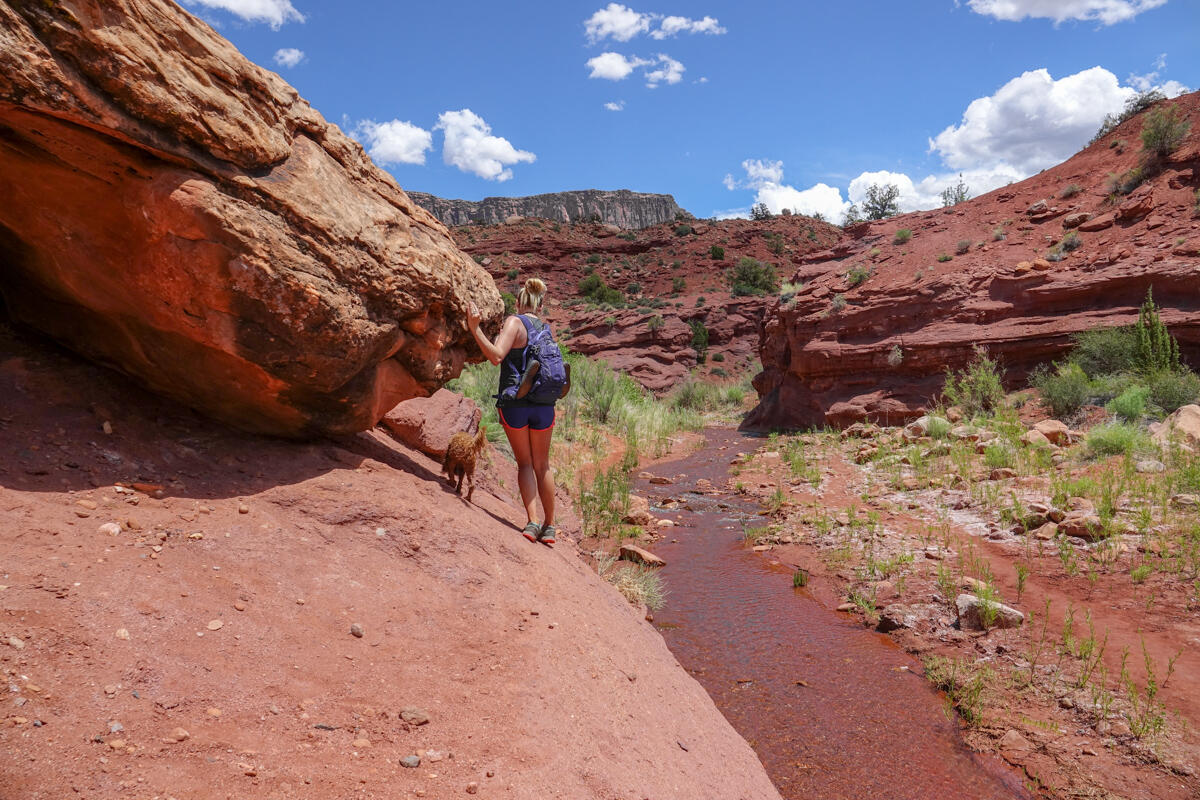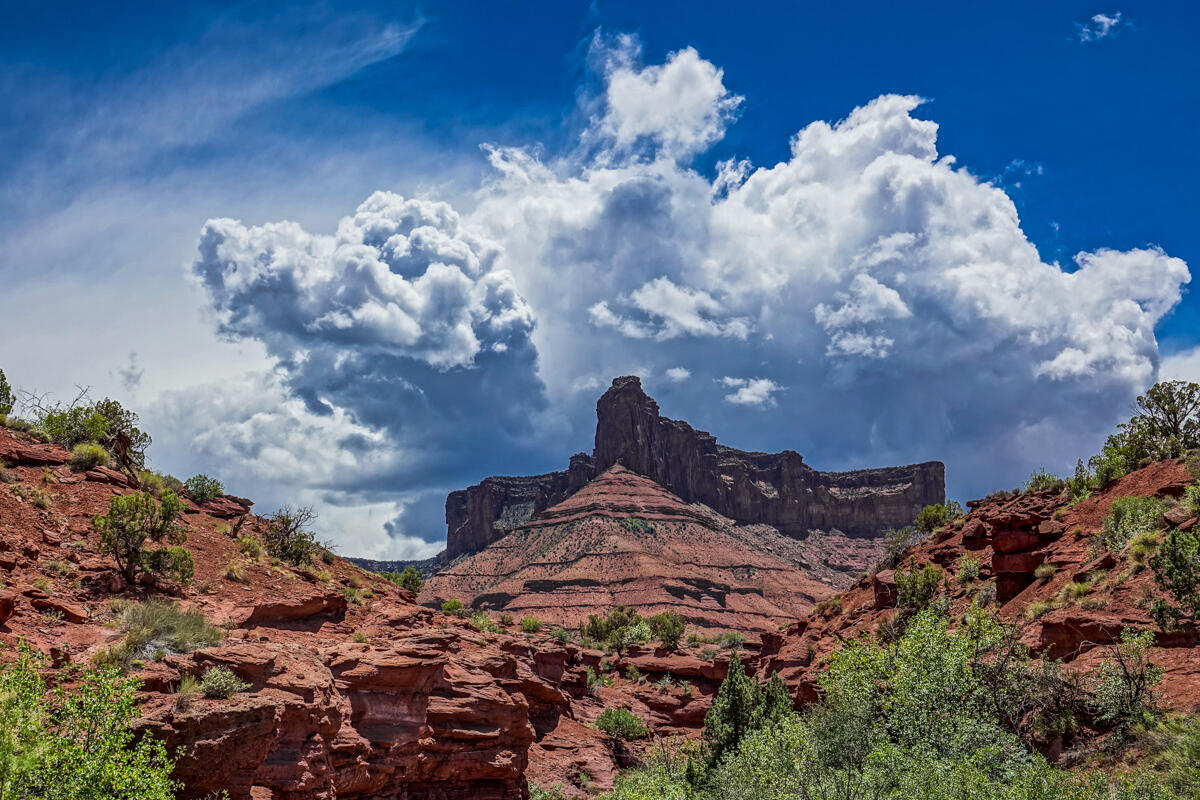 For the rest of the photos from this secret location, click right here.
Moab VLOG
We (as in me) did throw together another quick edited, noisy, half-hearted vlog for our time in Moab. We (as in me) are still deciding whether or not to put serious effort into these vlogs. I did get some better audio equipment just in case. Watch it if you dare.
Up Next
This is a new segment I'm adding to the Vicaribupdate called Up Next. In this section we will mention what is coming up in the next Vicaribupdate. Without further ado, up next: Park City, Salt Lake City and the Bonneville Salt Flats.
And now, here is your moment of zen (our latest stats):
CURRENT INTERESTING STATS
Miles (driven, not the dog)
(72.6 miles per day)
Number of places we stayed the night
(2.07 days per location)
Number of vehicles passed
(0.36 passes per day)
Total dollars spent on diesel
(24.20 per day)
We hope you enjoyed reading this post and now feel more like you too know what it's like to live in a bus. If you would like to keep feeling this way, subscribe to our email updates and we will let you know when we make new posts for your vicarious pleasures. Just full out the form below and click subscribe!