When converting a bus, one must prioritize the order in which things get done. Without a doubt, building a rooftop deck is one of the highest priority steps on the path towards a safe, comfortable and livable bus. Right?
Actually, we ended up prioritizing this step early in the build because we thought it would involve putting holes in the roof – screws, bolts, something. Turns out the design our fabricator came up with didn't require an holes in the body, but hey now we have a deck!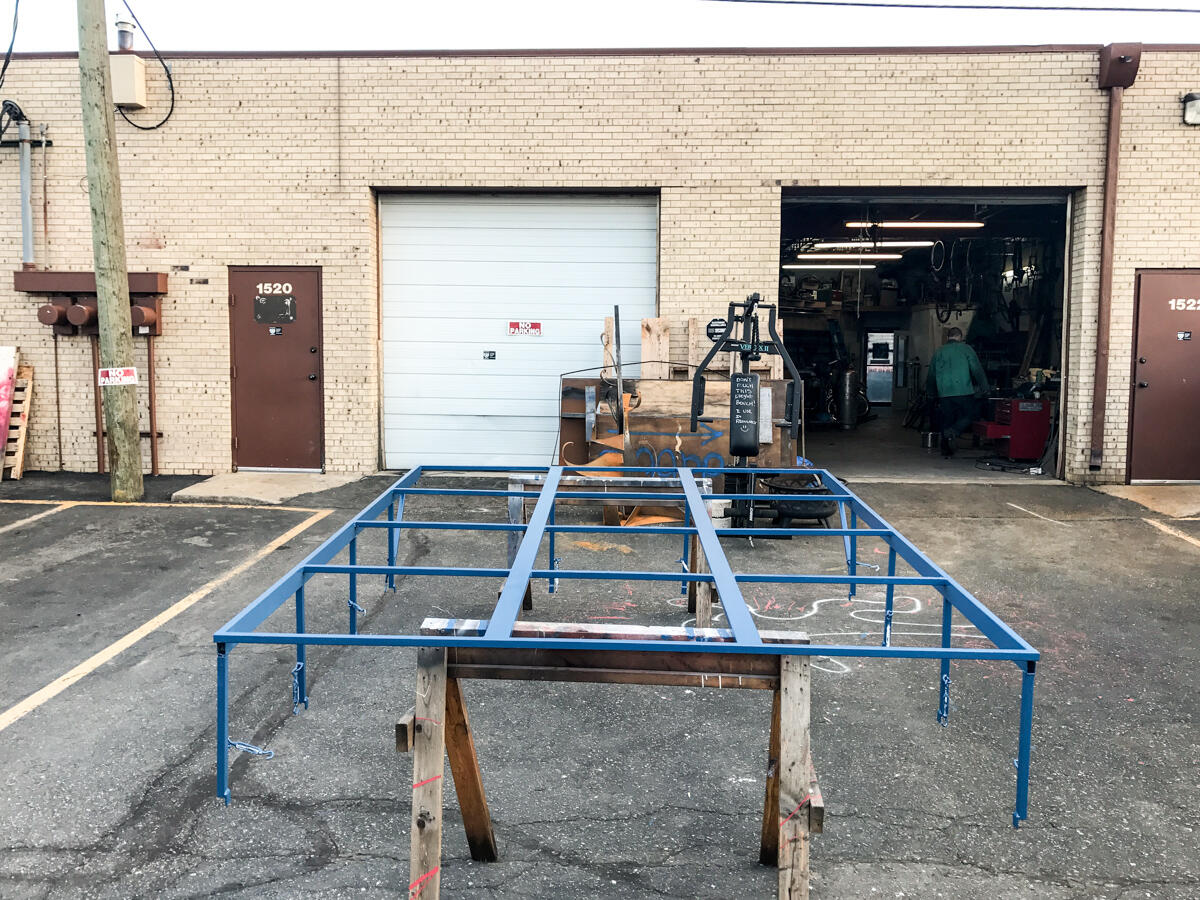 The deck ended up being 8 foot by 10 foot, and hangs off the back of the bus by a couple feet, providing a nice owning over the back door, and a sweet spot for some hanging chairs/hammocks.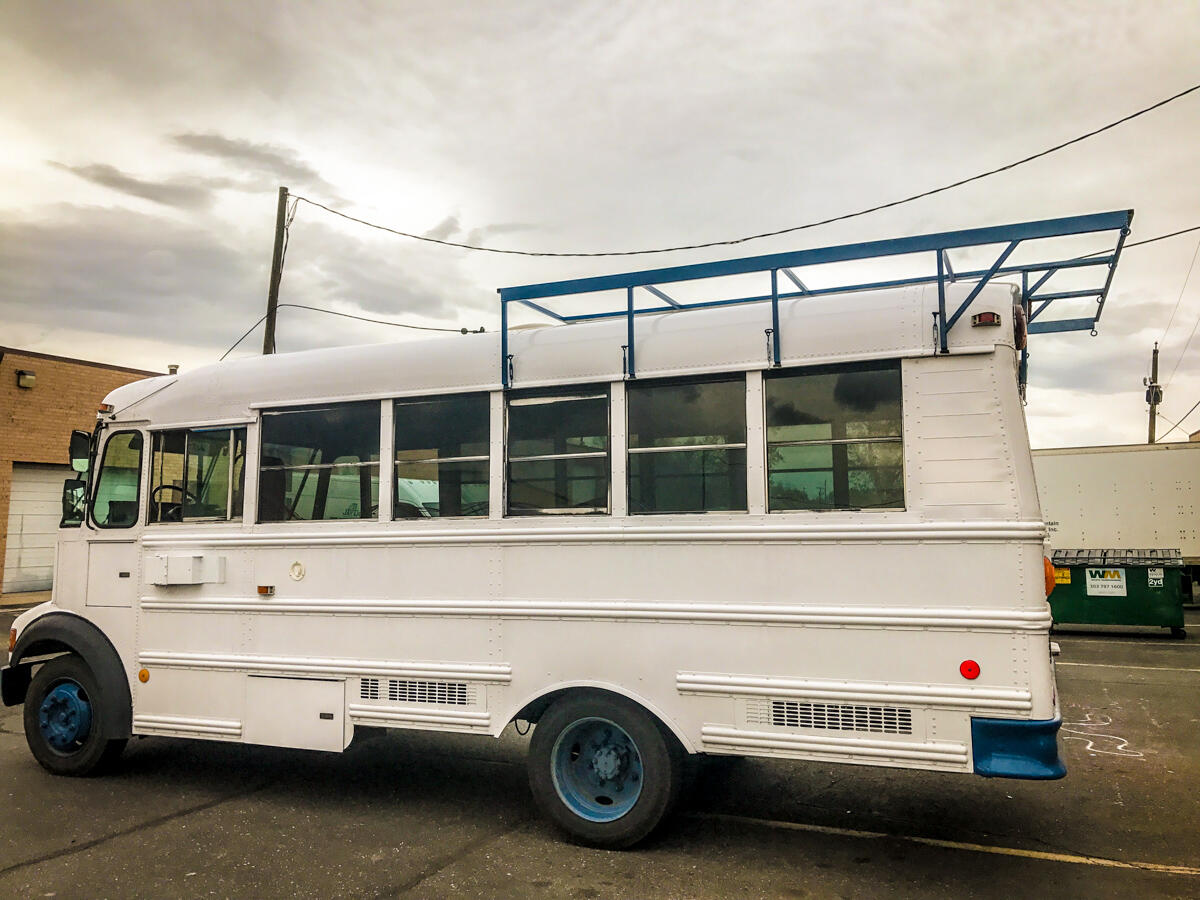 It consists of a metal frame made of 1×1 and 3×1 square steel tubing. On each side there are four legs that come down and rest on the rain gutters, with turn-buckles attached to the frame for cranking the frame tight to the gutters. There are also two rain gutter legs on the back over the door. The theory is that it would be possible to remove the deck without tearing apart the bus or leaving any open holes in the process. I don't know why we would ever remove it, but we can!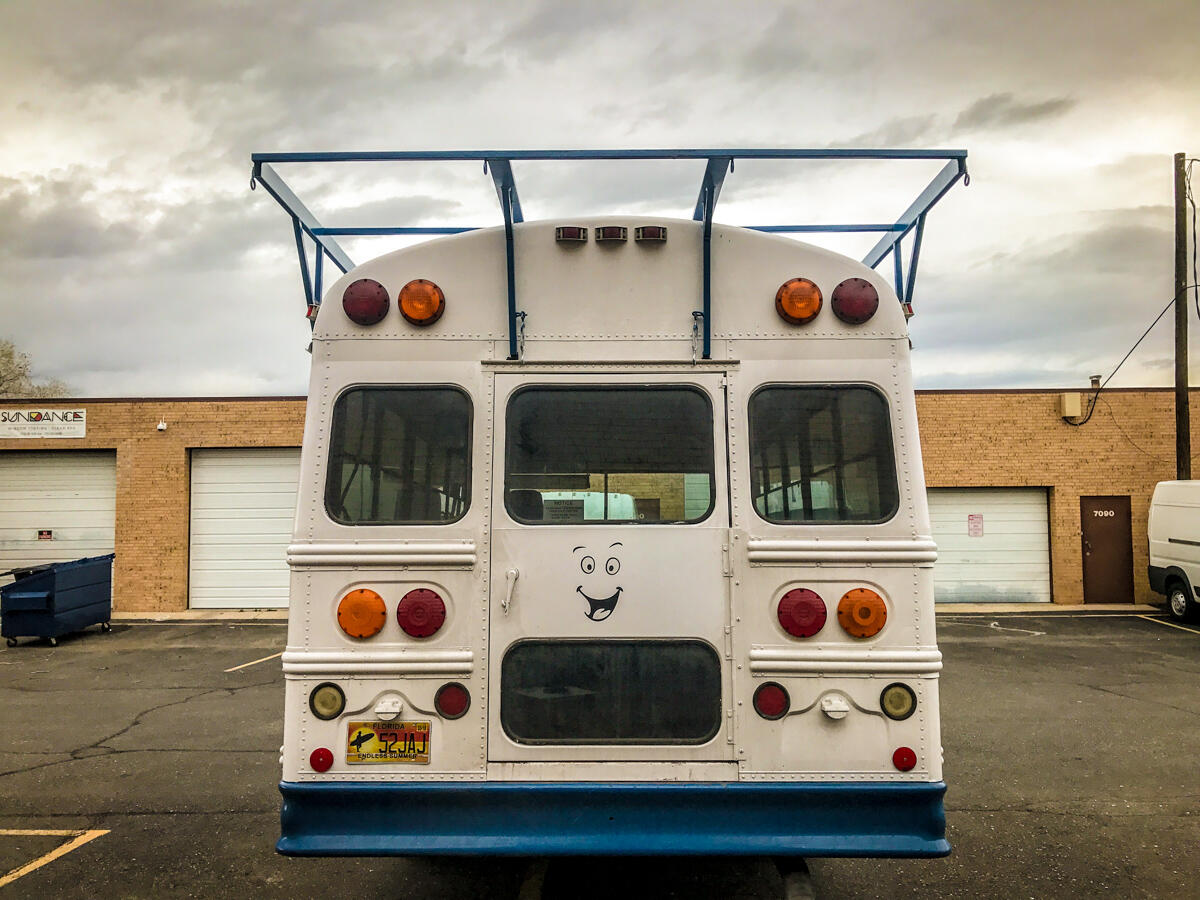 With the turn-buckles nice and tight, the deck is super stable, but to be safe, we also screwed the frame down to the top the bus. What, you calling me a liar? I did say that we didn't put any holes in the roof. Well, it turns out there are two raised support runners on the top of the bus that we were able to tap into instead of the actual roof itself. Take that, stickler.
As far as boarding up the deck, we contemplated several different approaches. These included standard wood planks, something with ugly plywood, astroturf, putt-putt turf, and composite decking boards. In the end, we decided that since we had so many arms and legs between us (4 arms, and 8 legs – figure it out), that we would spend an arm and a leg and get some nice Trex boards. We went with a grey color.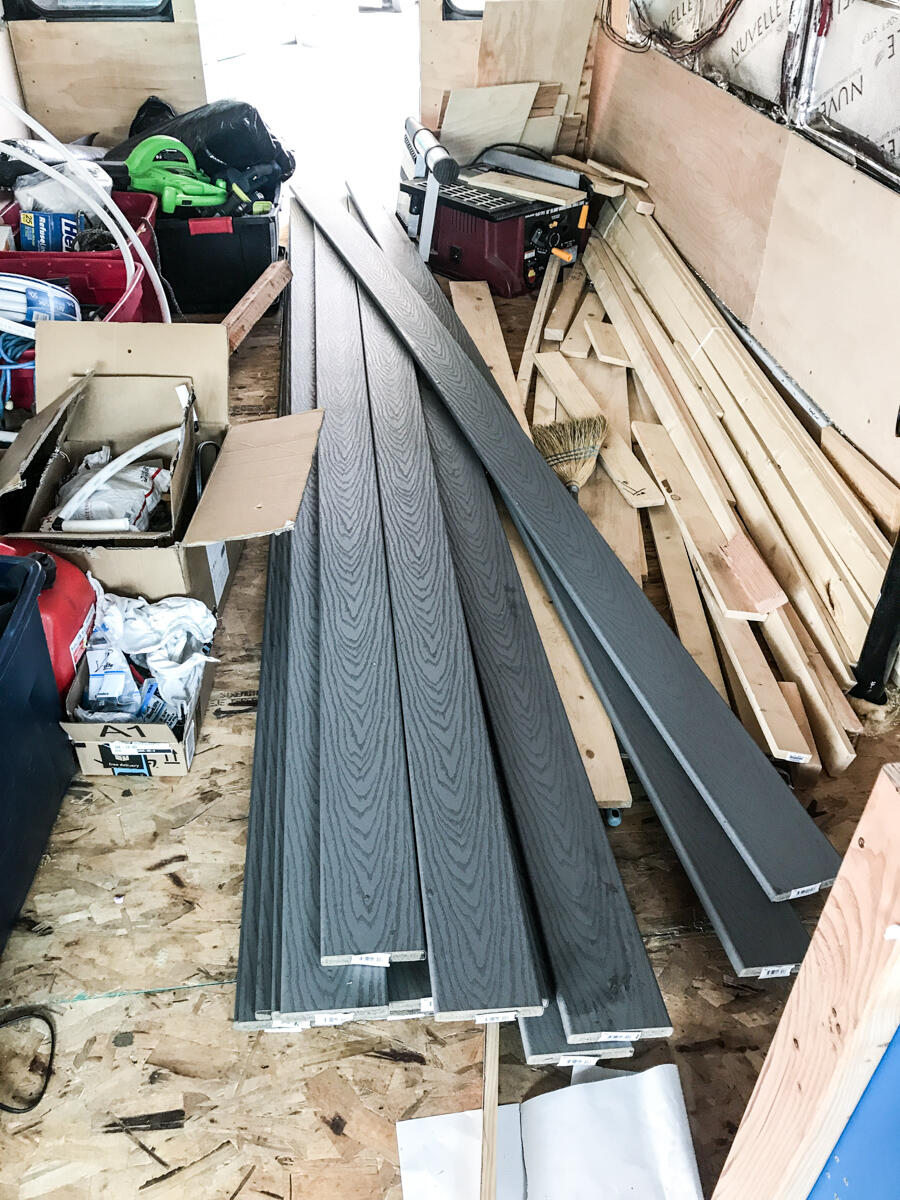 We initially ordered 2 too few, because maths. Aaaanndd… when I ordered the remaining two, I sorta kinda got a different grey, because memory. However, we are considering a happy accident, because they visually border the deck nicely and provide a nice "Hey, you're at the edge!" warning.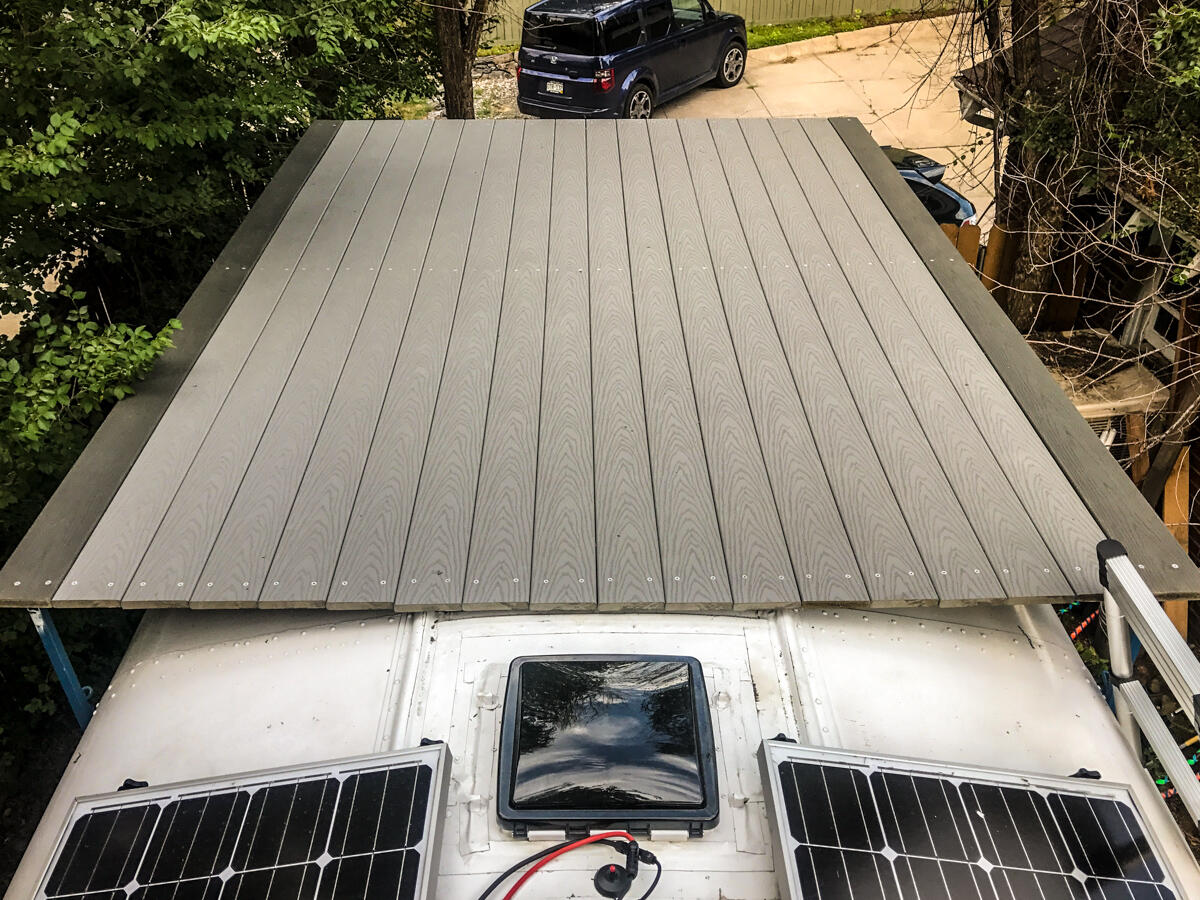 We will not have any railing system, so lets all keep our fingers crossed that everyone who falls off only ends up with minor injuries. Also, if you're wondering about Miles, we will have a tie-down spot centered on the deck and a 3 foot leash that will keep him away from the edges when lounging with us up there.
Here's Chad at C Squared Studios doing we're done with the frame and it's installed dance.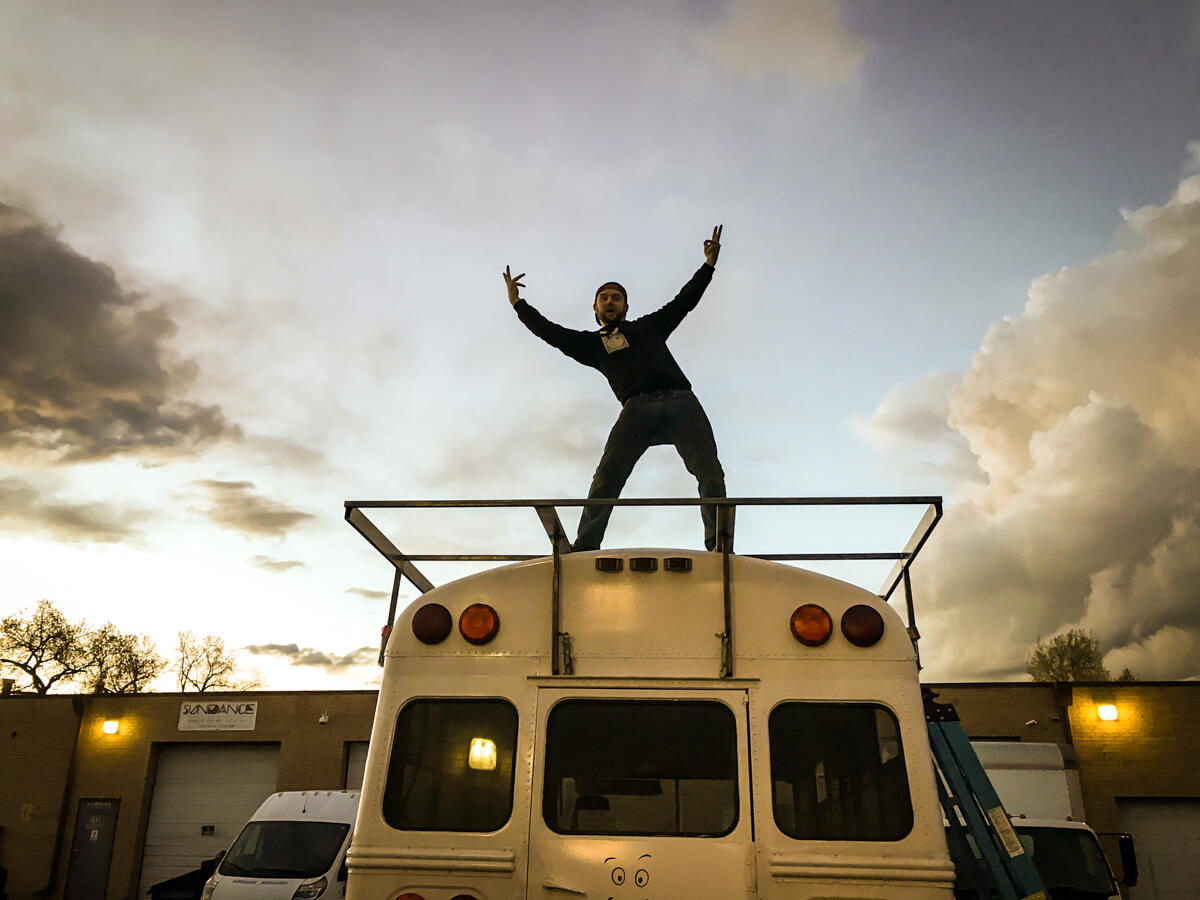 Here's the deck in use at Pike's Peak.. very similar pose.