Guys, I've been having a great time the past few days traveling all around New Mexico. New Mexico? Do you guys ever wonder what Old Mexico is like? Because New Mexico isn't exactly shiny and new looking… I'll have to add that to my list of things to ponder when I get tired of trying to figure out "who's a good boy?"
Anyways, it all started the other day when we drove down this road called the Turquoise Trail when we were leaving Santa Fe. There were lots of things along the way that looked pretty enough to sniff. We made our first stop in Cerillos where we bought some local fresh eggs from a girl on the side of the road.  She said I was super cute. I winked. Then we trekked down the road to the best place of all, Madrid. I got to walk all over town and then we went to this place called The Hollar for lunch, and guess what guys – they had a doggie menu!!!!!! Obviously, I had to order some tacos since we're in Mexico and I've heard that's where tacos come from. OMG you guys, the bowl was as big as me! Naturally, I ate every last bite of it, well except for a few beans – I'm just not really into beans.
Here are some more pictures of us goofing around.
It may have been the best day of my life except after lunch my humans stopped at Tinkertown Museum and I wasn't allowed inside, so I had to sit all alone and sad in the bus FOREVER while they got to see all the neat things inside.  They didn't even get me a souvenir – how rude!
From there we made our journey down historic Route 66 until we made it to a town called Santa Rosa (they sure have a lot of Santa's in New Mexico, I bet they get lots of Christmas presents).  Here we found a place to camp near a really big lake. It was hot there but luckily I could just lay in the water and cool off. Mom kept talking about how dirty I was and I was worried I was going to have to get a bath but I eventually convinced here that the lake was making me clean instead of dirty and she gave up.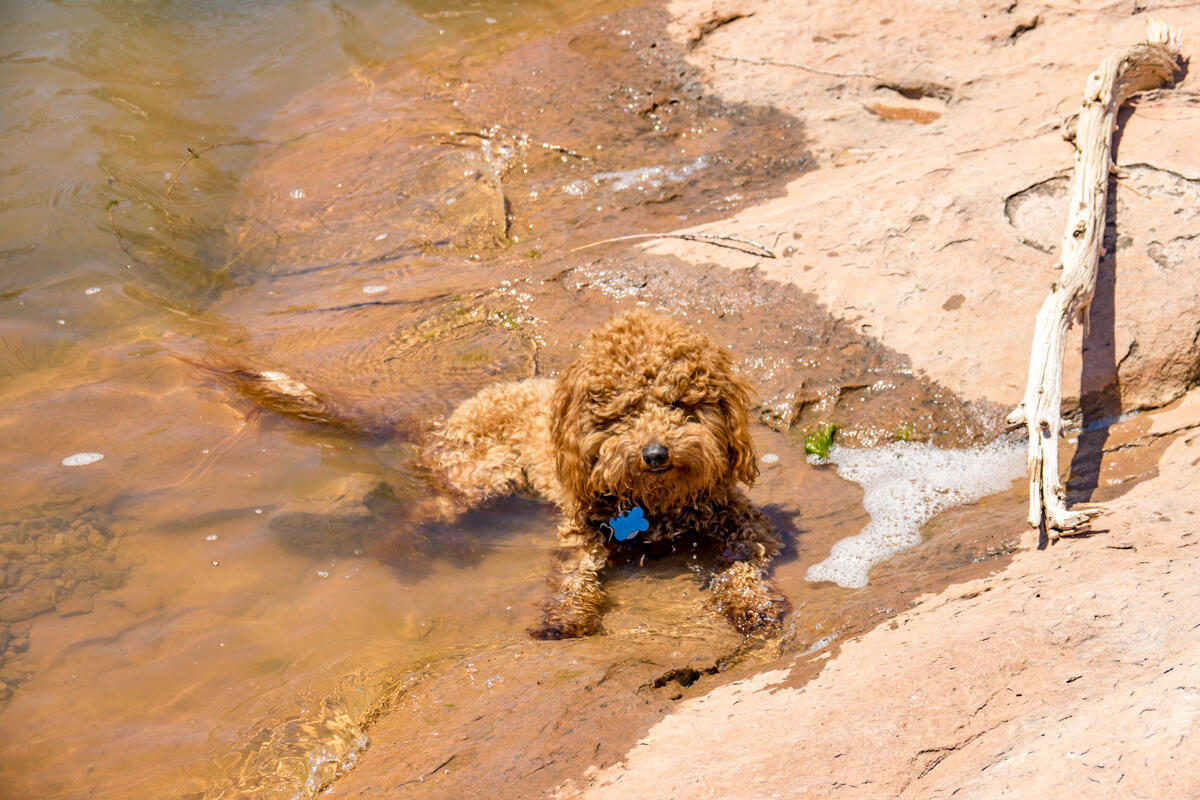 We went and visited another small lake in town too, The Blue Hole. It was really deep and cold so I didn't go in (not because of the no dogs allowed in the water sign), but daddy and mommy both jumped in like the crazy people that they are. I instead made friends with some funny talking people who were traveling on motorcycles all the way from England.
The next day we did a lot of riding in Vicaribus. We stopped in this town that had aliens everywhere.  I didn't get it – how come none of them have puppies? Mom and dad must have also been confused because we didn't stay long before heading off to our next stop which was a winery.  The winery was the best – I got to wander around and make friends, eat all the treats and sample the wine. The humans settled on a bottle of Cab because it was my favorite.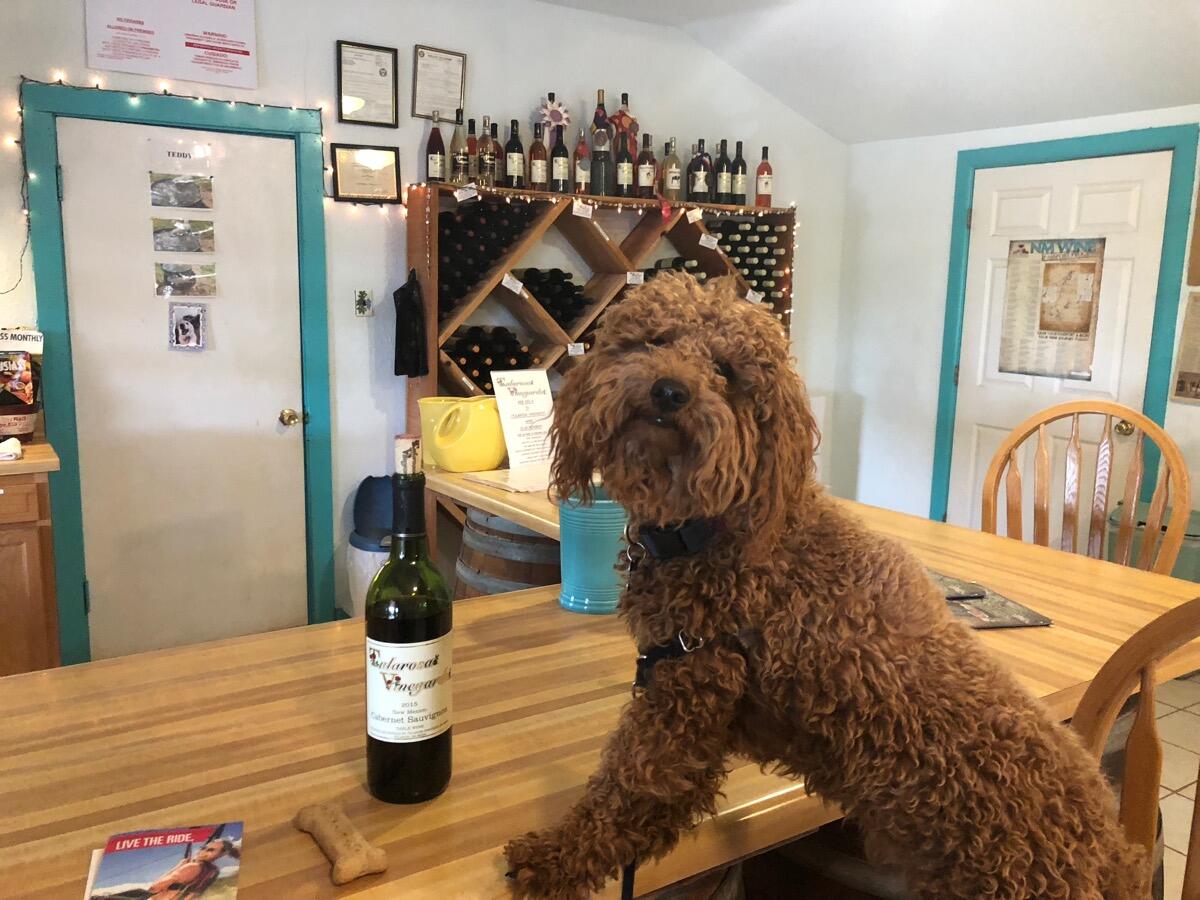 The next day we set off on for adventure again. I don't know where we were going, but soon we stopped by the biggest pistachio I had ever seen in my life! (turns out it was the largest in the world) Naturally, I was really excited – I love pistachios. Did you know pistachios grow on trees?? Well they do, in pistachio orchards which we got to tour around in. Want to know the best part of the tour???? Mommy gave me some of her ice cream – it was delicious. I threw it up when we were hiking up in Cloudcroft later, but it was totally worth it.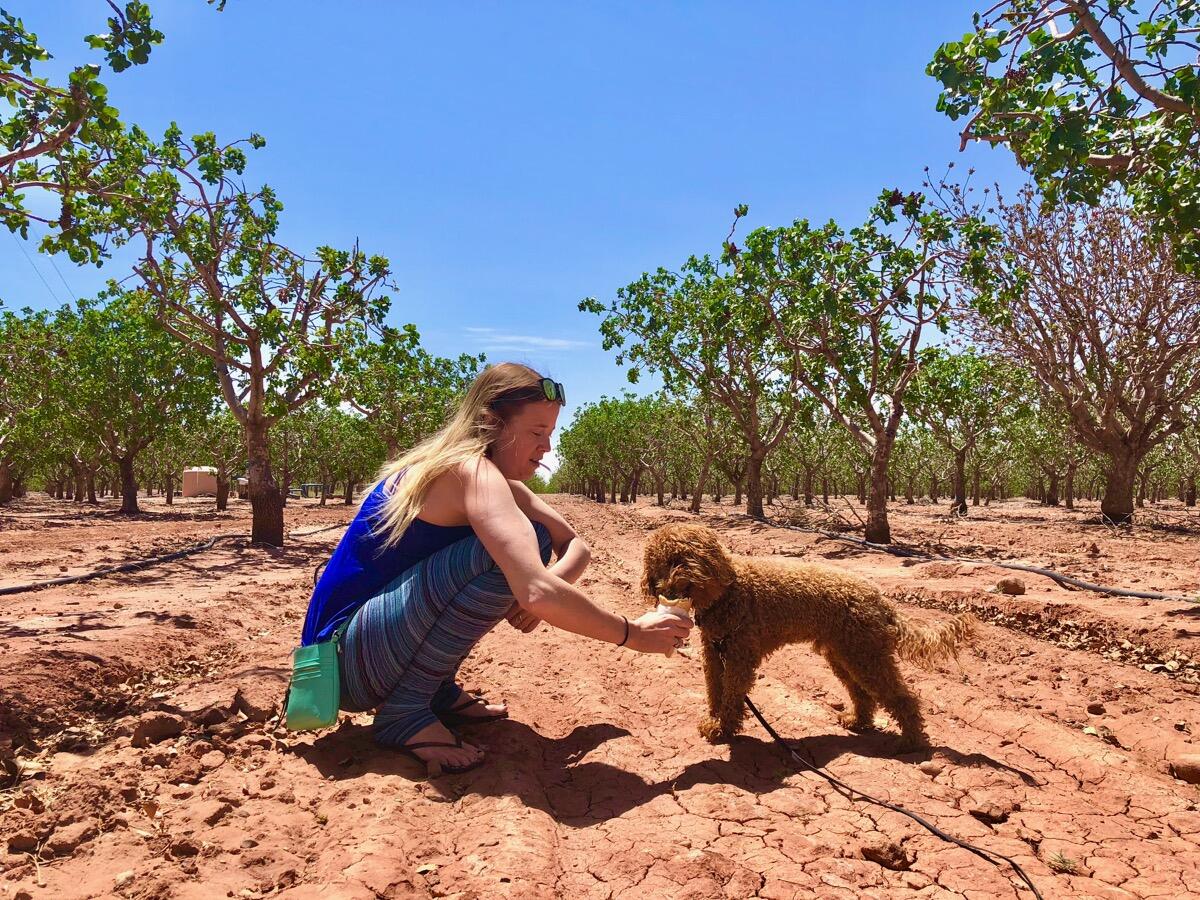 Loving bus life so far, can't wait to see what's next!
P.S. My dad asked me to add the latest stats:
We hope you enjoyed reading this post and now feel more like you too know what it's like to live in a bus. If you would like to keep feeling this way, subscribe to our email updates and we will let you know when we make new posts for your vicarious pleasures. Just full out the form below and click subscribe!