As of yesterday, we have officially been living on the road for three months.  It feels like we started forever ago and yesterday all at the same time.  Overall, we feel like we are really getting the hang of this and have worked out a bunch of kinks since we started traveling.  Though, we still have plenty to learn and work on at the same time.  We figured now was a good time to reflect and celebrate the areas we've improved and to document the things we want to work on so we can be held accountable.
Things We've Gotten Better At
Living in a tiny space:
Over the last three months we have organized and reorganized every inch of the bus.  We now have a much better idea of what we need and use everyday that needs to be easy to get to and what other things can be buried deeper.  Also, we are constantly getting rid of stuff.  When we packed the bus we had a "well it fits so lets just bring it" mentality. Now that we've lived in a tiny space for a bit, we've changed that to "do we really really need this?" and if the answer is no it doesn't get to stay in the bus anymore.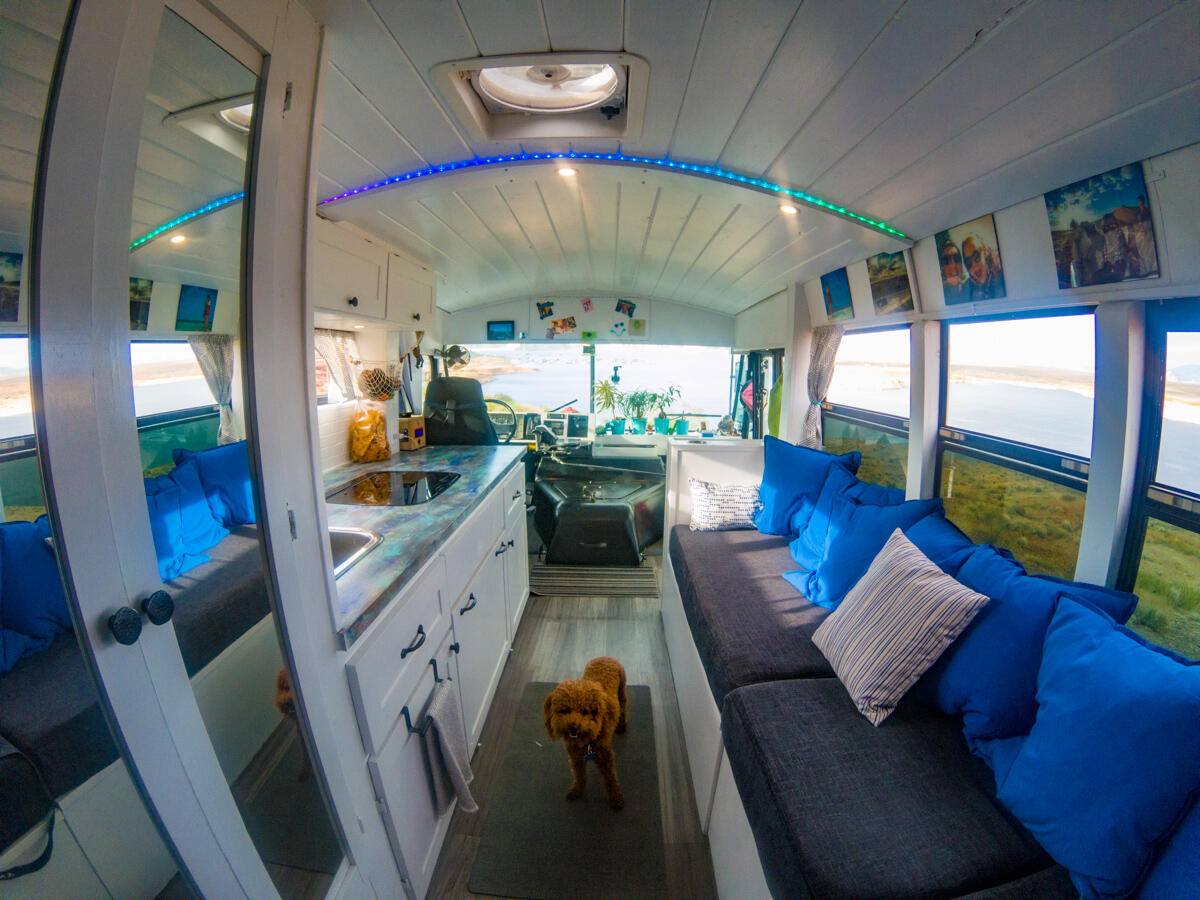 Managing our water consumption:
We only have a 24 gallon fresh water tank – it is very easy to blow through that quickly if you don't think about it.  After shifting to a conscientious water saving effort, we can now make that last almost a full week. This allows us to stay in more free and cheap camping areas, as well as stay away from the crowds.
Choosing the best places to go instead of trying to go everywhere:
Nick and I both suffer from some serious FOMO (fear of missing out) when it comes to traveling.  We want to go EVERYWHERE and see EVERYTHING.  The problem is, that is a very easy way to get burnt out.  We are now better at picking a few of the places we are most excited about seeing and spending a little more time in each place rather than trying to go to a new place everyday, but we still probably should slow down even more.
Getting more efficient at blogging, video editing and social media:
None of this is our area of expertise – Nick is a software developer and I am a physical therapist. Nick at least knows how to build a website, so he is the blog master. And, I can now make blog posts and new pages without his help.  Social media has been a real fun learning process and we are still open to any tips you have for getting our story out to the world.  Also, does video editing ever get faster?
Things We Need To Work On
Slowing Down:
I touched on this in the things we are getting better at, but it is still a serious struggle.  We are hoping to visit 8 different states (and one of them is California) in just 8 months this year.  It is impossible to see it all, but we want to.  We are trying to work on picking less places and exploring the ones we do pick more deeply.  We can always come back to see the rest right?  Additionally, we are trying to plan days where we have nothing to do so we can hang out and enjoy our awesome campsites or have time to work without the stress of needing to do something else in the same day
Eating healthier:
We both just stepped on a scale for the first time since starting traveling – it was not pretty.  We are used to our tiny kitchen now and know how to cook in it, now we need to start making better choices.  Please send any healthy (but still super tasty) recipes that don't require an oven or microwave!
Establishing more of a normal daily routine:
With living on the road and being in new places all the time it's really hard to have a routine.  It's almost like when you go on vacation and do none of the stuff you normally do and just save it all until you get home to worry about. Except, we're not going home, this is our home. We still haven't figured out how to fit in working out and cleaning and even struggle with when is the best time to work and the best time to play.  We end up putting everything off for a few days or more and then catching up on everything at once.
Getting Miles to bark less:
Since we've started traveling Miles has started barking significantly more (lots of new noises, new sights, new smells, new insecurities – we get it).  BUT, nobody wants to camp next to a barking dog and we don't want to camp with a constantly barking dog.  He's getting better at not barking at every person that walks by, but anybody on a bike is guaranteed to set him off!
Overall we are doing great! We've traveled 4 states so far, explored amazing place after amazing place, and lived in 120 square feet without wanting to kill each other.  Sounds like a win to me!