Roadside assistance is usually one of those things you get and hope you never have to use.  That is unless you are a bus conversion, then you are fairly certain it's not a matter of if you will use it, but when.  We opted for a plan through Good Sam which is one of the top providers among RVers.  We have the RV Standard plan which costs $90 per year.  We have now used their service twice and here's how it went, you tell us if it's worth it or not.
Roadside Breakdown Number One: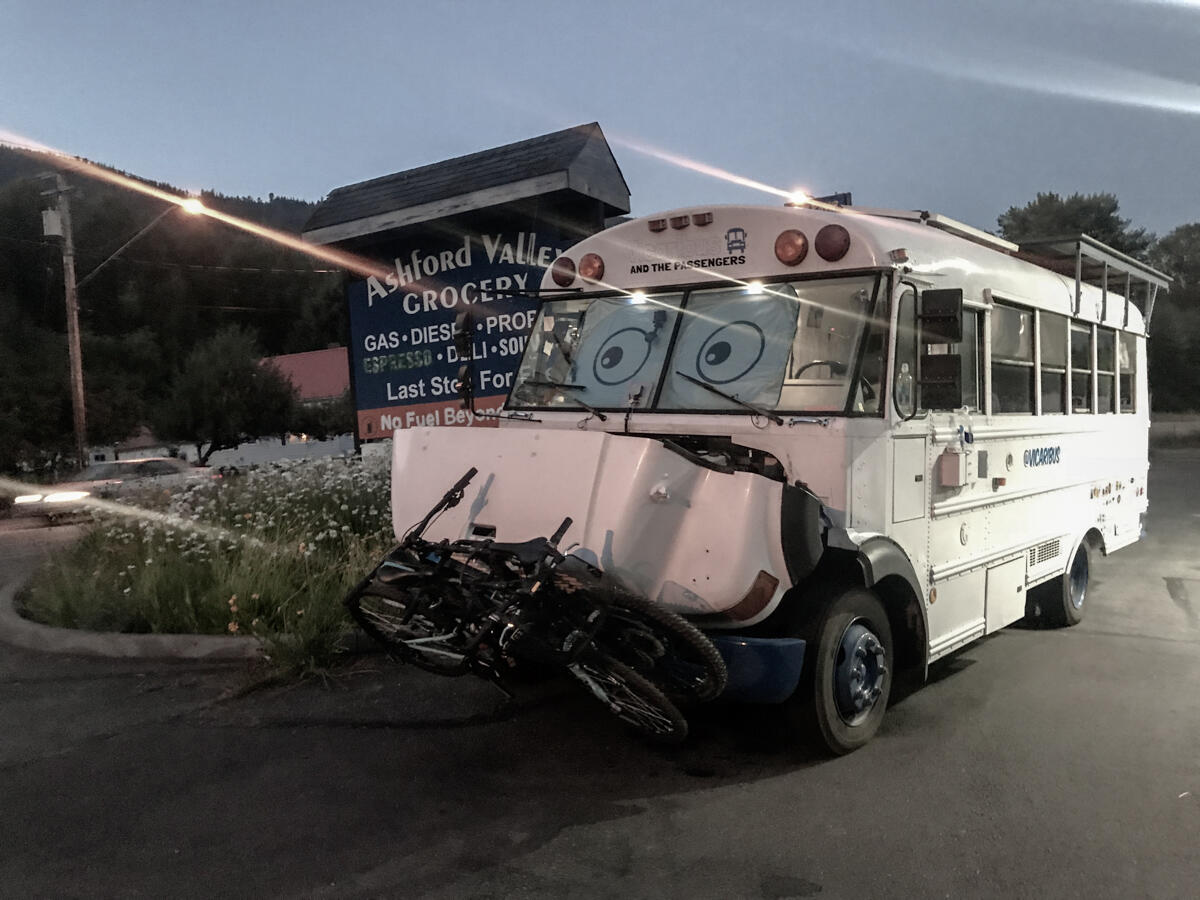 The Breakdown:
Our first tow-worthy break down happened in the middle of nowhere a few miles outside of Mount Rainier National Park in Washington.  We were driving down the road when we smelled burning oil on the exhaust. We pulled over to confirm that we were, in fact, spewing oil.  Nick thought it may have been something he messed with a day earlier and tried tightening that up. We went about 2 miles before stopping in a gas station to find that, unfortunately, oil was still leaking everywhere.
Calling Good Sam:
It was about 4:30 pm when we first called Good Sam and were told call volume was very high and a representative would call us back in an hour.  We waited almost 2 hours without hearing anything before calling them back again.  The representative tells us not to worry because we are on the list awaiting tow approval and to not call them back for another 1.5 hours.  After waiting the 1.5 hours we call back again to find out we were never on the list!!!!!!!!!!!!  This representative takes pity on us and gets manager approval to skip the "needing to be approved to be towed" part of the process since our problem obviously sounds like it isn't going to fix itself roadside.  We are then instructed to send pictures of our rig to the RV tech.  We thought we were sending pictures so they would know what they are towing seeing as we're a bus and not a standard RV.  However, it turns out we were sending pictures to prove we were an RV and if we didn't have a kitchen and bathroom they wouldn't have towed us at all (they do not request any of this information when you sign up).
Once we received confirmation from the RV Tech (over 4 hours after making the first call), we thought we'd get the ball rolling on actually getting towed.  Well, Good Sam will not tow you unless they know where they are towing you to, and they want to decide that themselves by calling shops in the area- which aren't open at 8 pm.  So even though we had already called everyone and picked out the preferred place we would like to be towed, they couldn't approve it.  It was at this point that they told us that since we were in a safe place (a super rural gas station) they would not tow us that night and they would start the process over in the morning.
We called again at 6 am to find they magically had a tow location picked out (we couldn't be towed the night before because of lack of location picking), of course, this was about 30 miles in the opposite direction of where we were trying to head.  We offered them the shop we already researched and they told us they would take us there but we would have to pay the difference (it was 8 more miles of towing).  About another 2 hours later they told us they found a tow company and that their estimated arrival was in 4 hours.
The Tow:
Luckily, the tow company was much more on top of their game than Good Sam and arrived in around an hour. It was then about an hour tow to the repair shop.  The total cost of the tow was about $1100 and Good Sam paid for $800 of it.
The Repair:
It turns out our oil leak was just a worn out high-pressure oil line, so it was a fairly quick fix.  It was just after lunch on Friday when we arrived at the shop and they had the part and had us fixed up and back on the road by noon on Saturday.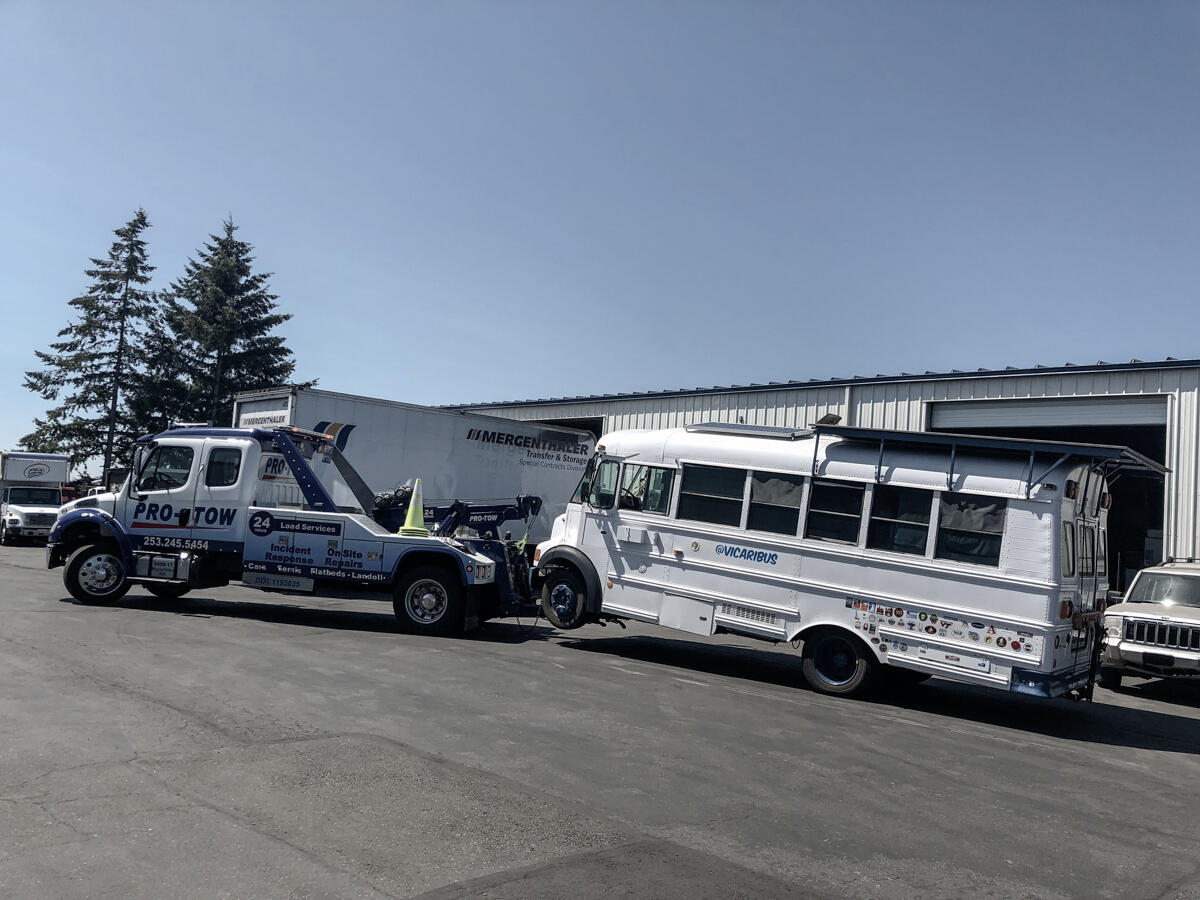 Was it worth it?:
It took us about 18 hours total to get towed, had we contacted the tow company directly it would have taken 2 hours.  We wasted 16 hours and slept on the side of the road, but we save $800.
Roadside Breakdown Number 2: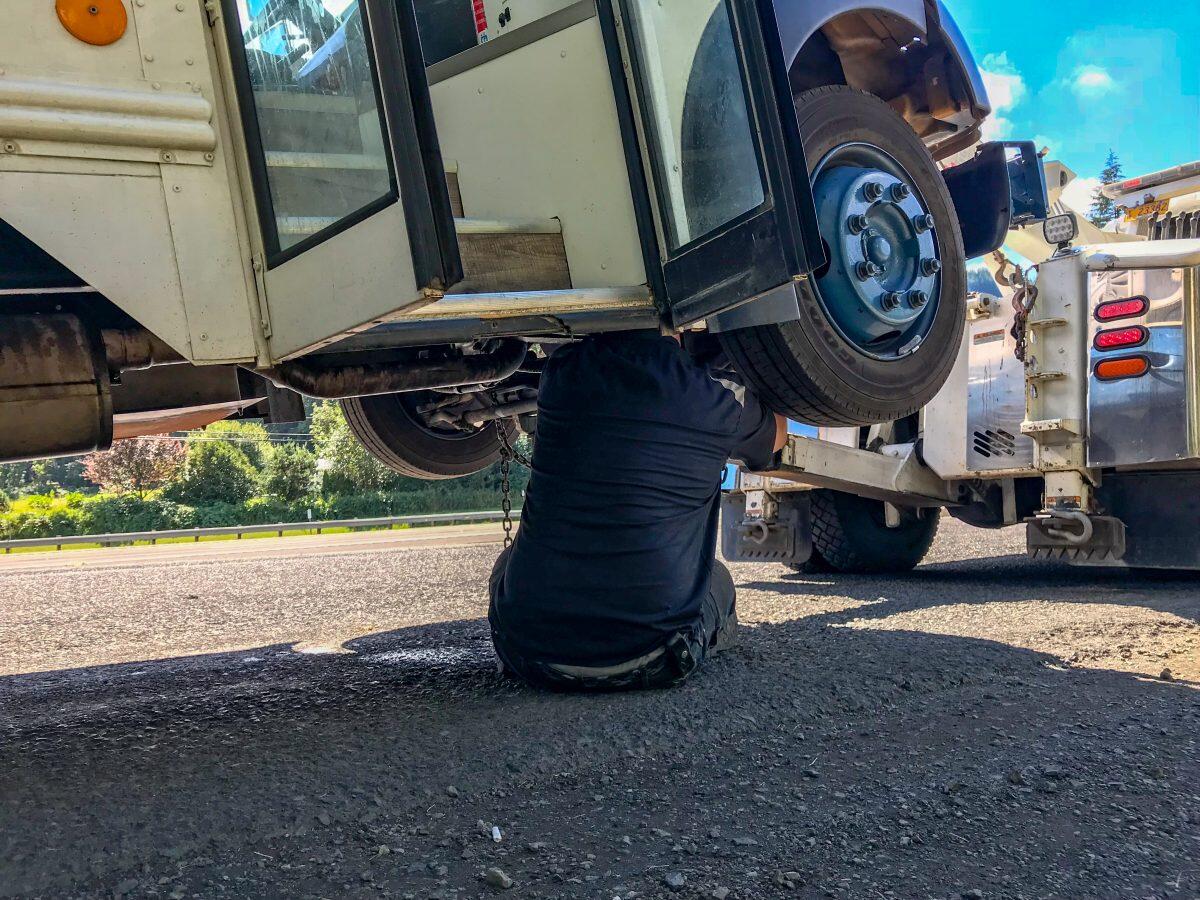 The Breakdown:
We were driving in the Mount Hood, OR area heading towards the coast when we smelled fuel.  Our fuel pump had just been replaced 3 days earlier. We pulled over into a weigh station (conveniently located) and noticed we were dripping some Diesel from one of the new hoses. Lesson learned here- don't try to save money by buying cheap foreign hoses on Amazon.  This is something we can fix ourselves but we need the part.
Calling Good Sam:
We started the process around 10:30/11 am and this time we get to talk to a representative right away.  She tells us that since there is a fuel leak they have to send the fire department out to clean it up before they can do anything else.  We tell her it is a very small leak and there is no puddle on the ground to clean up.  She seems confused but works on finding us a shop and getting us a tow set up.  We are excited since it took us over 12 hours to get to this point last time and this time it took about 12 minutes.
We wait about 45 minutes to an hour to get a text back with the shop they picked out to tow us to- its a body shop.  Yes, they are sending a fuel hose leak to a body shop to get fixed.  We call the body shop to see if this is something they can even do- they say not really.  We had also already called around to see who had the part we needed and knew the Ford Dealership had what we needed (and actually work on these things).  So we called Good Sam back asking to change tow locations, they agreed without a fight since we were going somewhere closer than they suggested. We wait about another 30-60 minutes and get a text with a tow company name and the ETA left blank.  We decide to call the tow company to make sure they know what they are towing and where we are.  They say they are just 5 minutes away but waiting for Good Sam to finalize everything on their end.
The Tow and The Repair:
About an hour later the tow truck shows up, we talk to the guy and they still didn't have everything from Good Sam but thought it was ridiculous to leave us waiting on the side of the road when they knew where we were.  They took us to the Ford Dealership where we picked up the part and fixed it ourselves because Ford said they didn't have time to work on it that day.  This tow cost about $350 and was paid for by Good Sam.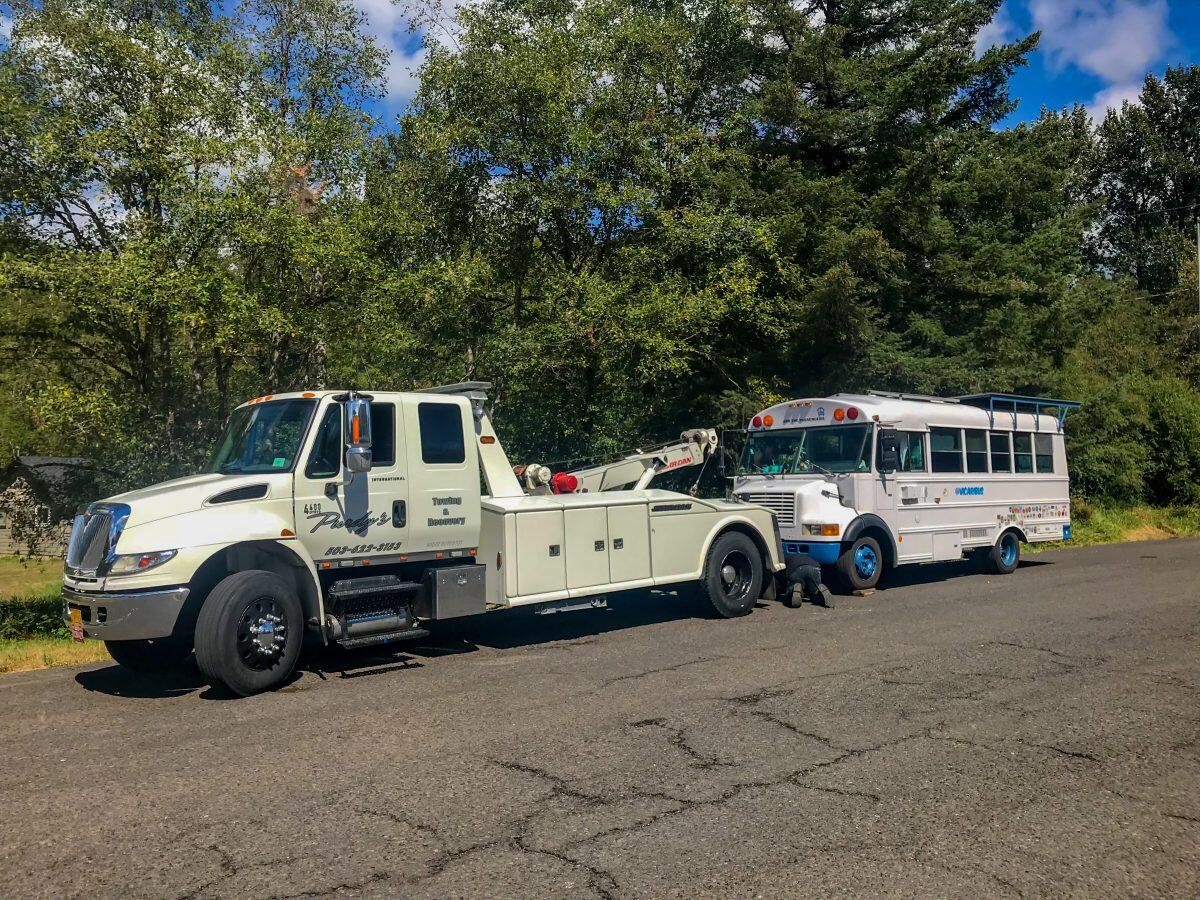 Was it worth it?
We waited about 3-4 hours total to be towed this time to save $350.  However, if the tow company actually waited for everything from Good Sam it would have been even longer.  Since we ended up fixing the bus ourselves, it may have been easier to do the $30 Lyft each way to pick up the part and fix it where we broke down.
Here's our youtube video from our first breakdown:
Overall, we are still on the fence as to whether or not we are happy with Good Sam.  While we have definitely gotten our money's worth of towing out of them it has been a very frustrating and time consuming process each time.  What about you? Have you used your roadside assistance? Did you have a good experience?
Pin this image for later: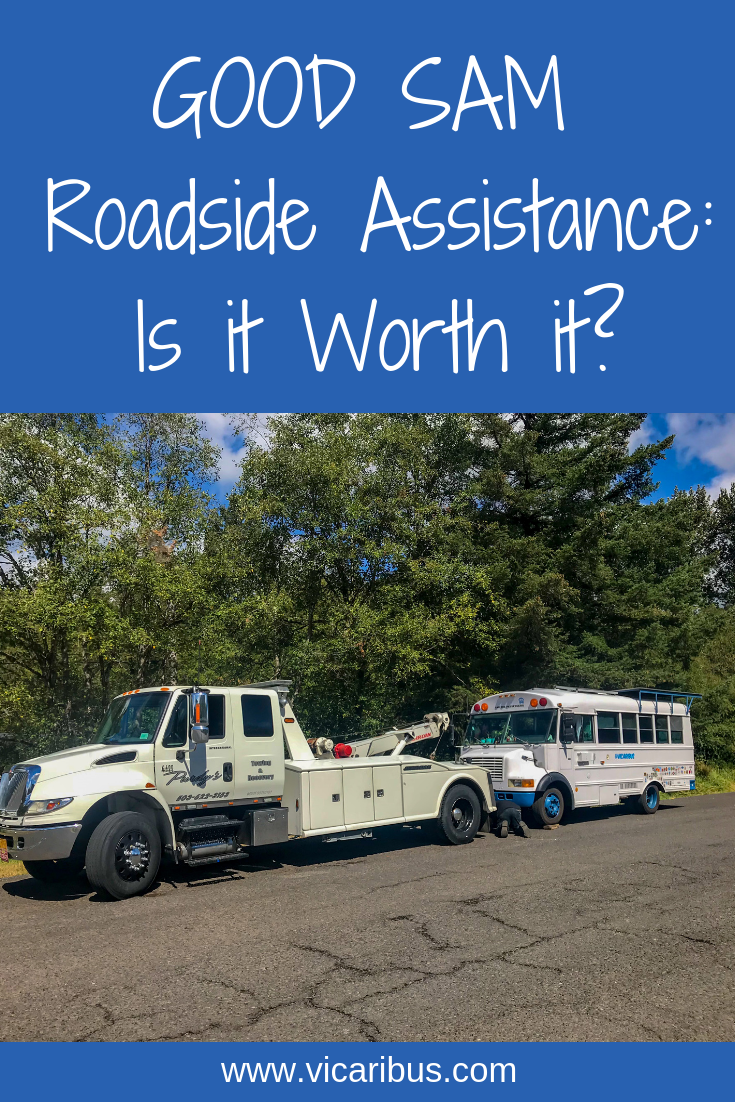 We hope you enjoyed reading this post and now feel more like you too know what it's like to live in a bus. If you would like to keep feeling this way, subscribe to our email updates and we will let you know when we make new posts for your vicarious pleasures. Just full out the form below and click subscribe!