Designing a bus is a lot of work, and one of the hardest parts is deciding which things actually get to the fit in the bus, which parts of the build get precious inches added to or subtracted from them, and which things get eliminated all together. It's all about making the most of the space, and squeezing out every last drop of functionality.
Being that we are all about comfort and lounging, we knew that some kind of "living room" with couch seating had to make the cut. Our couch in our sticks-and-bricks apartment is where we spend the vast majority of our time when we are home. (Check out the picture below and you will see why- it's pretty much like having a bed in the living room – in fact, Nick even sleeps on it most nights.) So we knew we needed a big plush couch with plenty of room for the 3 of us (you'd be surprised how much space Miles takes up) with lots of pillows and soft things to snuggle.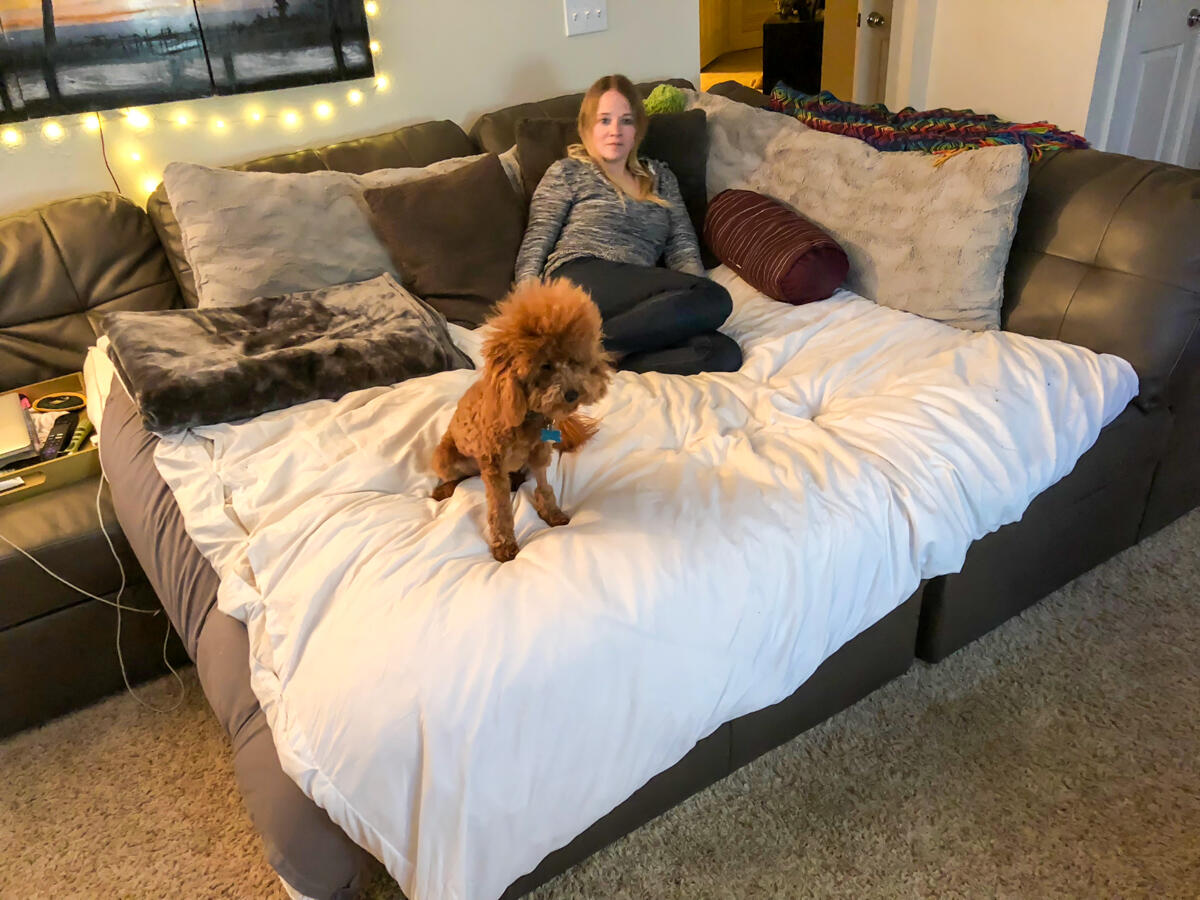 We also determined that even though we eat on our couch/bed/nest on a regular basis, having a table surface to eat on is important, particularly if you are not in the mood to share your food with Miles, or you at least want a chance to eat your share of cheese before he takes over.
Another big thing we need is the ability to be able to work from the bus.  This is most important for Nick, as he is a remote software jockey and "needs" a lot of screen space for the computer (he usually uses three monitors!!).  As for me, having a flat surface to put my laptop on seems like it would be better for my back; only time will tell.  At my usual job I am on my feet all day, but I plan to put that on hold for about 8 months when we start traveling, which will mean more time for blogging and instagram posts!
Lastly, we wanted whatever we built to incorporate as much storage as possible.  In theory, the living room storage will house most of our pantry, cleaning supplies, games, all of miles stuff, all of our electronics, and a bunch of other random little stuff like flashlights and coozies, and maybe even window screens!
All of this in 20 square feet?????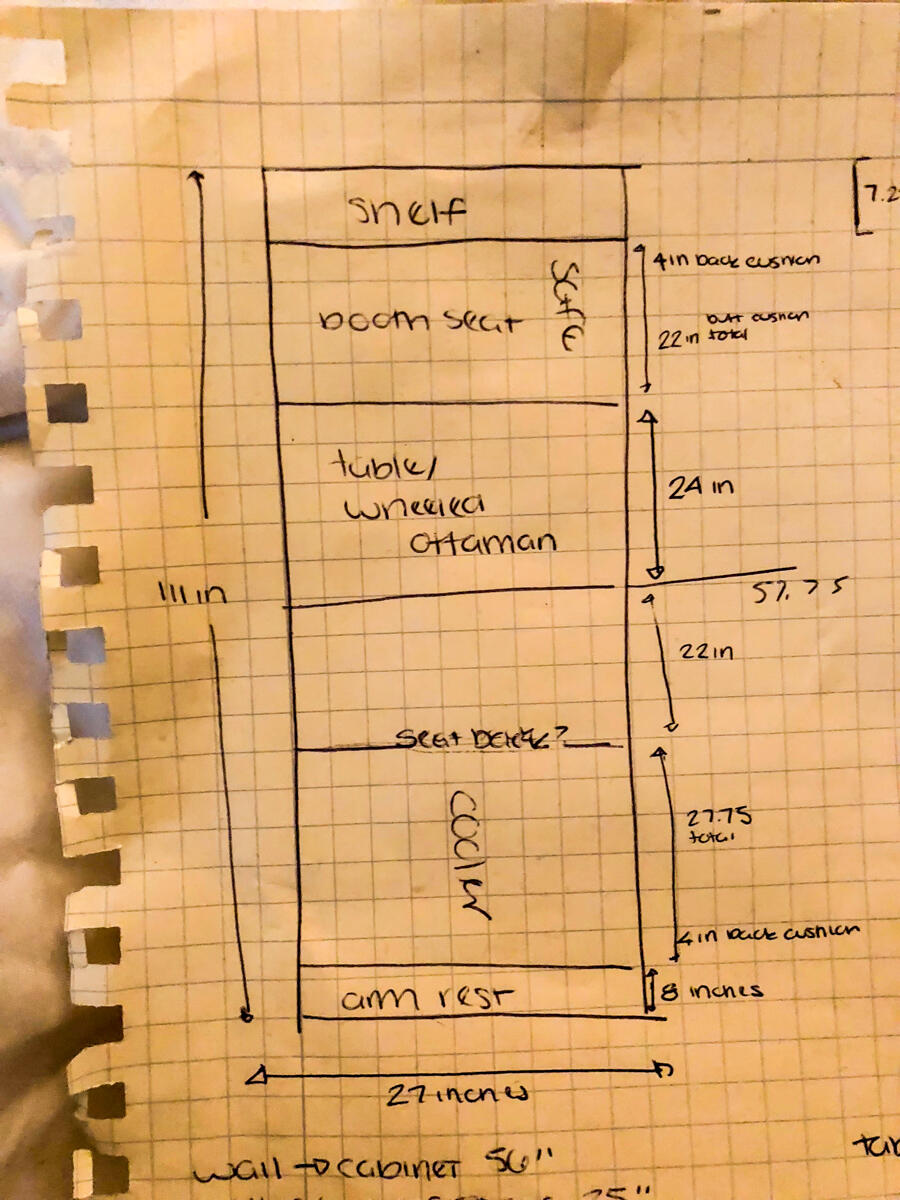 This is what we decided to do.  We built a modular system with pieces that can move and change around.  The two "armrests" of the couch are shelving systems and are purposely awkwardly high so that they can also serve as back rests. The two ends of the couches are stationary and have storage within the seating.
Now for the fun part! The middle of the couch is actually a rolling ottoman and behind it hides a fold out table.  The ottoman can move anywhere along the couch and create more of a chaise lounge, or can sit at the end of the table and create a third seat, or you can slide it back under the table and use it as a footrest (Nick's personal favorite).  With this moveable piece, we are able to turn one long couch into a dining area or an office in a matter of seconds.  And as a bonus, when the ottoman is in line with the couch it is more than tall enough for anyone to sleep on which allows us to have company, or for Nick to continue his tradition of sleeping on the couch
Here are some pictures of the frame of the couch and the fold out table.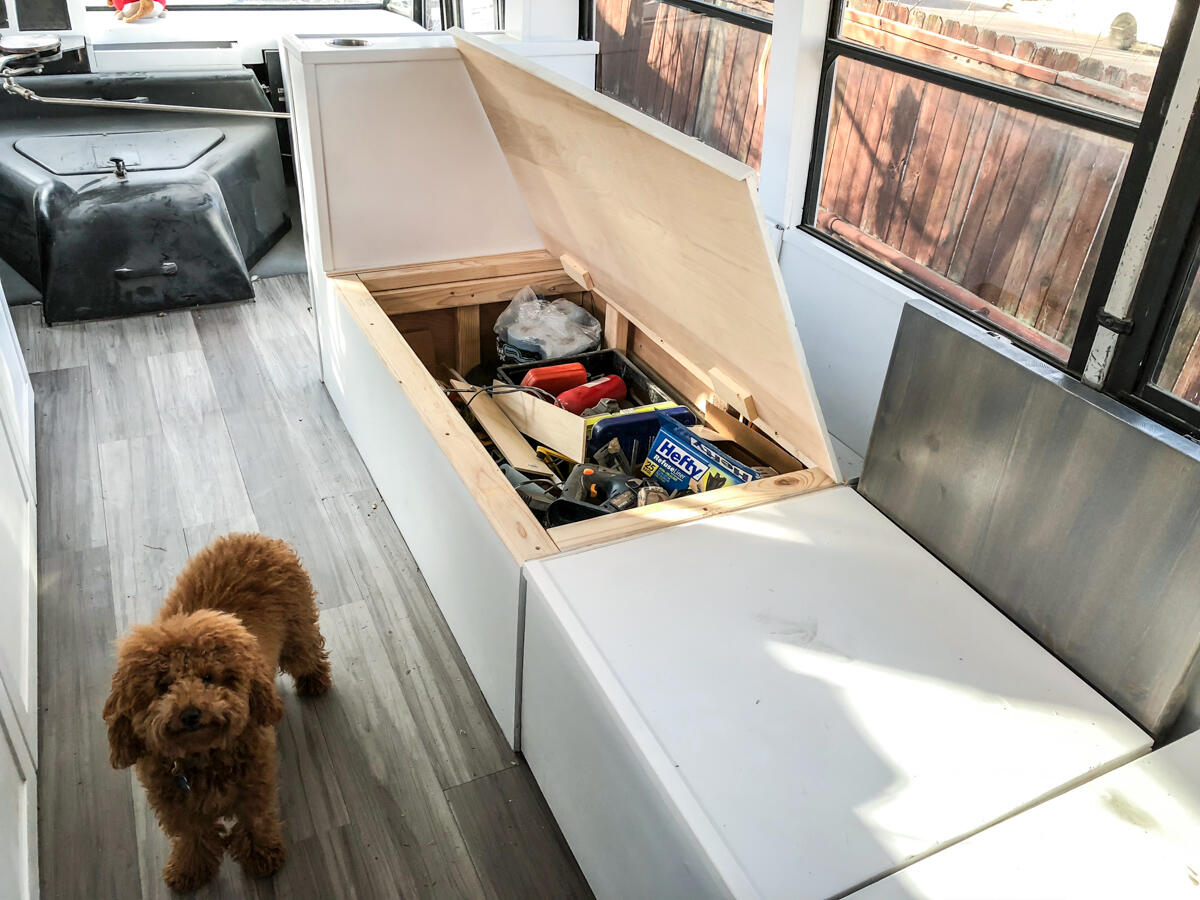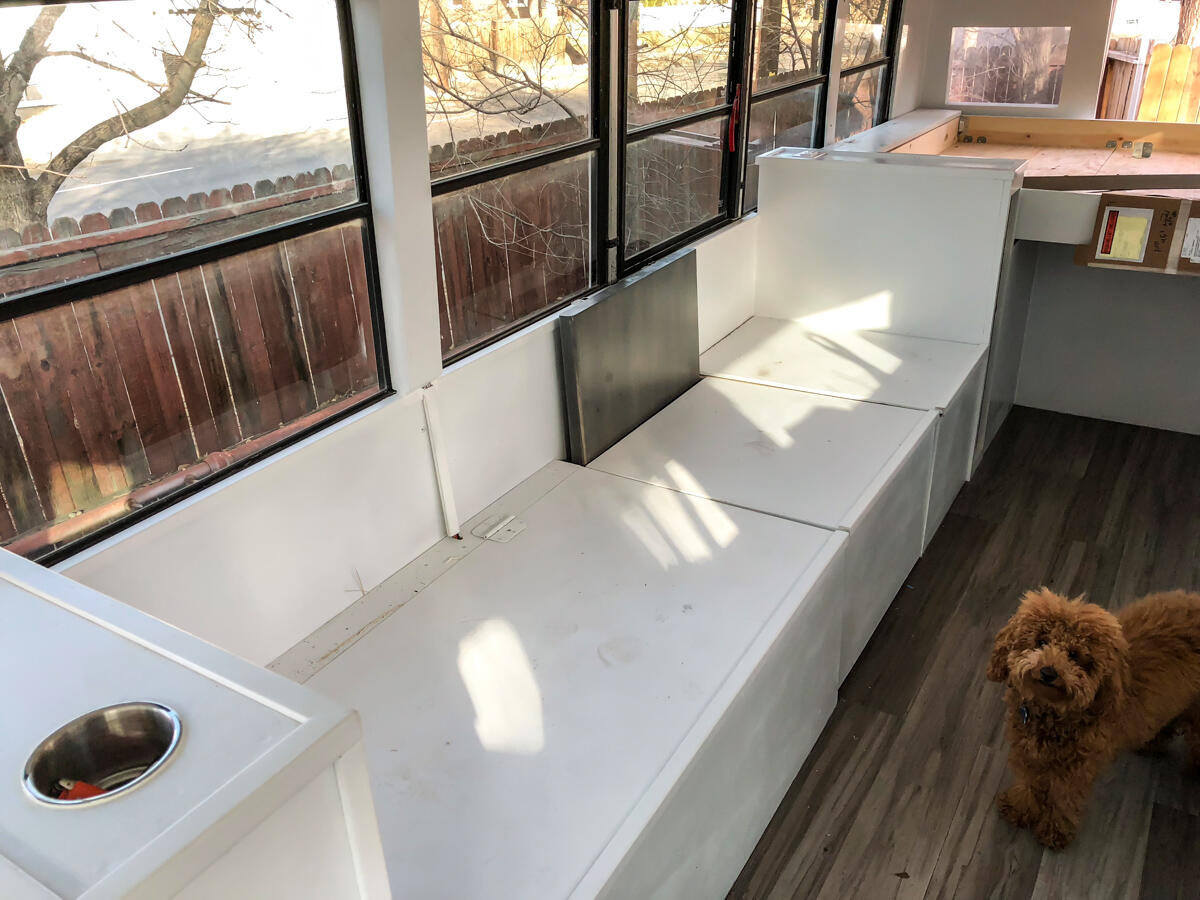 The fold out table is made of a wood slab that we ordered from Amazon and then stained grey.  It is big enough for both our laptops to fit across and is wide enough for us each to have a plate. The hardware that attaches it to the wall and holds it in place when it is folded up was also found on Amazon
Once we got the couch all framed out, we had to figure out how to make it comfy.  We ended up buying a memory foam mattress (also on Amazon – we may have a problem) and using an electric knife (Amazon) to cut it to the size and shape we needed.  We then bought some upholstery fabric and I began reading a lot of blogs and watching a lot of YouTube videos on how to sew box cushions. Somehow I was able to channel everything I learned in middle school Home Ec. class and pull off some pretty fantastic looking cushion covers.  After spending a lot of time and effort on the bottom cushions, we cheated a little and bought a whole bunch of 20×20 pillows and pillow covers at Ikea for the back cushions.  We liked the versatility and portability of having a whole bunch of cushions – that way we can move them around with the difference configurations as needed or have the most epic pillow fight!
Here is how it looks with all the cushions!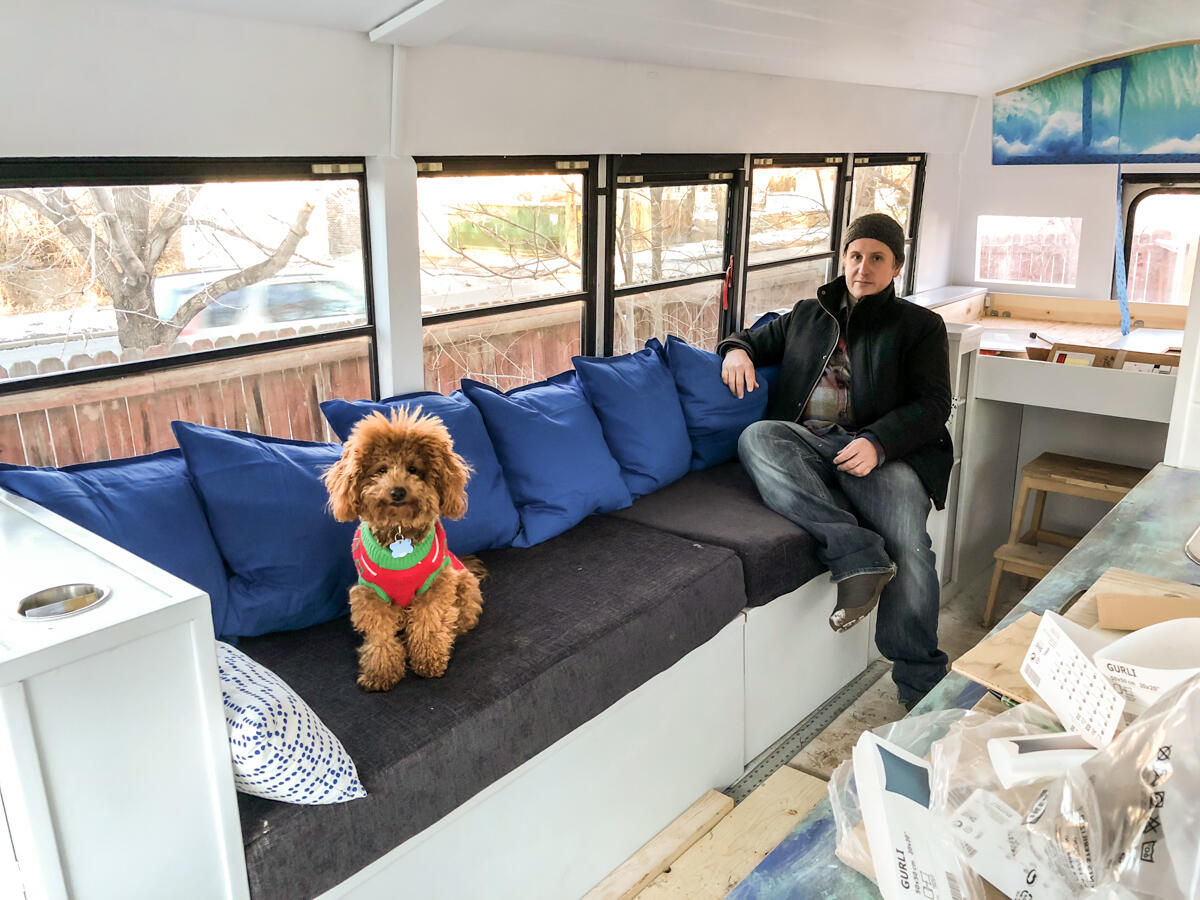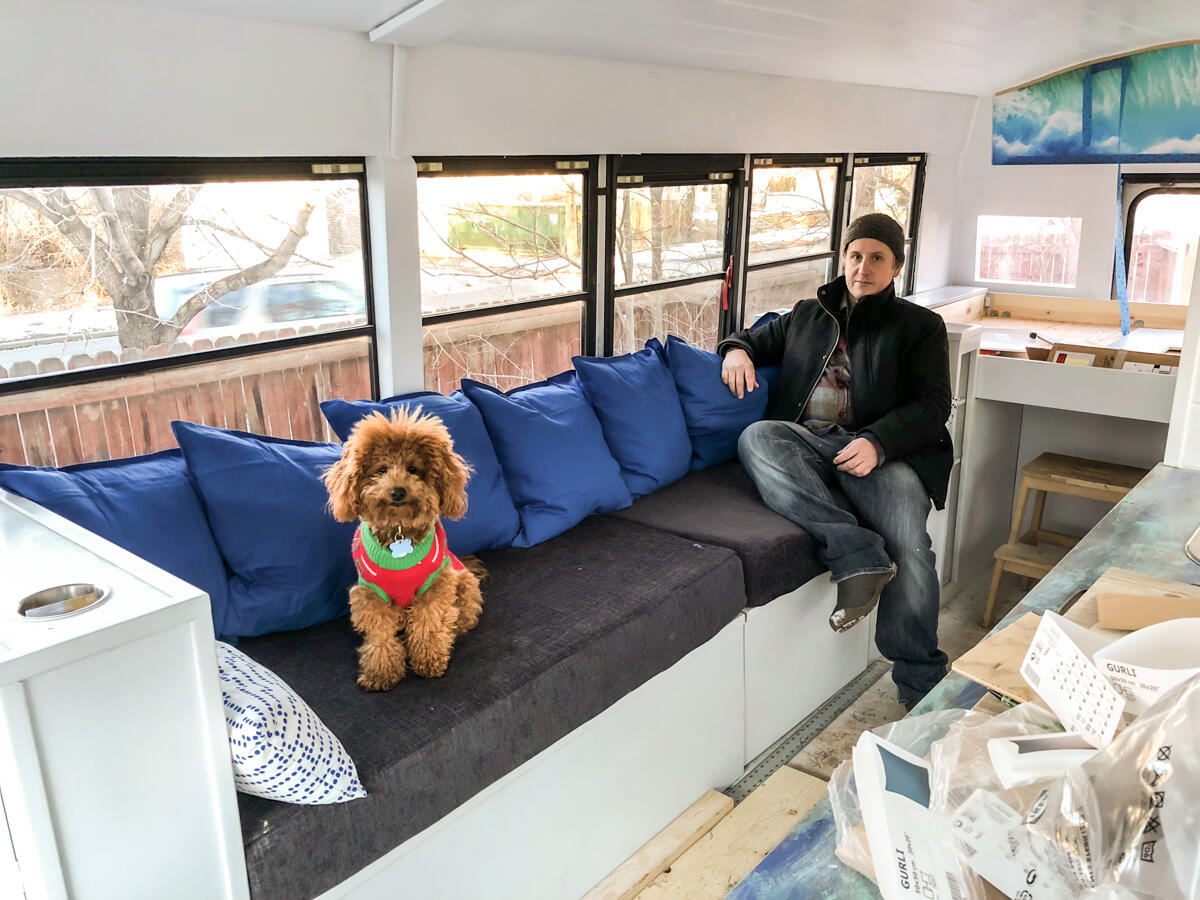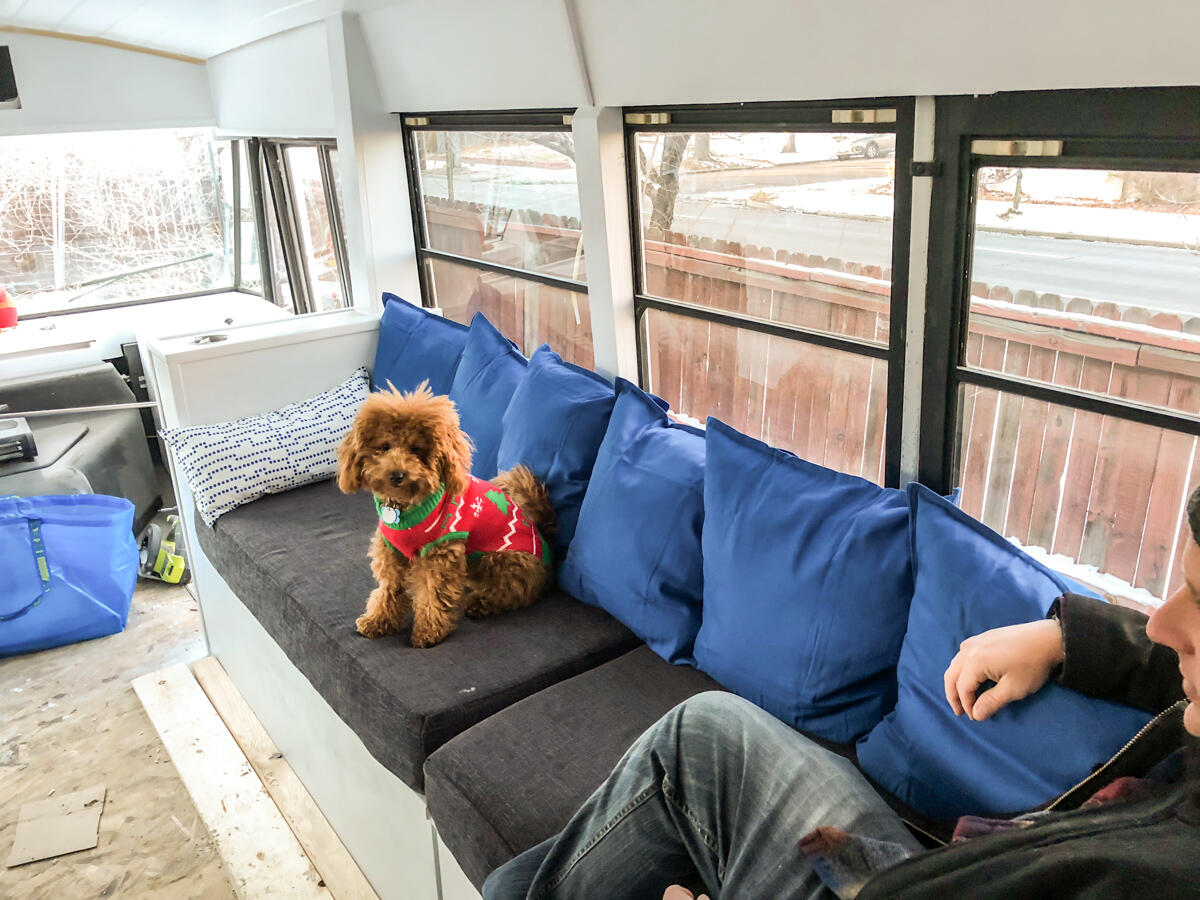 (Turns out the table may not actually protect us from Miles stealing our food)