Idaho is the Gem State, which couldn't be a more fitting name for this hidden gem.  Some folks probably can't even pick out Idaho on a map, and most likely don't know about all the beauty and awesomeness throughout the state. Here are seven reasons you should go to Idaho.
1. Mountains
There are numerous gorgeous mountain ranges in Idaho and we recommend hiking into them to get the best perspective, but many are beautiful to just drive through as well.  We made it to the Pioneer and Sawtooth ranges, which blew us away.  One day we'll come back for the Tetons.
For more photos check out our Sun Valley, ID Gallery
2. Waterfalls
Southern Idaho is covered in waterfalls – including Shoshone Falls which is taller than Niagra and Thousand Springs State Park, where there are so many mini waterfalls it looks like the walls are crying.
For more photos check out our Twin Falls and 1000 Springs photo galleries.
3. Lava
Liquid. Hot. Magma. (Austin Powers Anyone?)  Okay so this is old solid cold lava, but it is still super cool. Make sure not to miss Craters of the Moon National Monument.  We happened to time it perfectly for wildflower season too!
For more photos check out our Craters of the Moon gallery
4. Hot Springs
Idaho has one of the highest concentration of hot springs on the planet.  They have something for everyone from fancy resort style pools, to private bathhouses, to natural springs that requiring a little hiking.  The latter is our perosnal favorite, with Goldbug Hot Springs taking the cake for most picturesque.
For more photos check out our Goldbug Hot Springs gallery.
5. Lakes
It seemed like no matter where we were in Idaho a marvelous lake was nearby.  Some in cities, some at the campgrounds and some that required hikes to find.
For more photos check out our Redfish Lake and Coeur D'Alene galleries
6. Rivers
If there isn't a lake close enough, there is guaranteed to be a river instead.  These rivers have gorgeous crystal clear water, world class trout fishing, and awesome whitewater rafting – what more could you possibly want?
Check out more photos in our Twin Falls gallery
7. French Fries
Okay, so maybe you know Idaho has potatoes and it only makes sense that they know what to do with them. BUT, make sure you go to Boise Fry Company. They have about 8 different kinds of potatoes and 5 different shapes of french fries.  I suggest going at happy hour where small fries are buy one get one free and sampling them all. Plus, they have all kinds of dipping sauces and flavored salts.  Oh, and they have burgers too if you're into that.
Are you ready to visit Idaho yet?
Like this post? Pin this on Pinterest: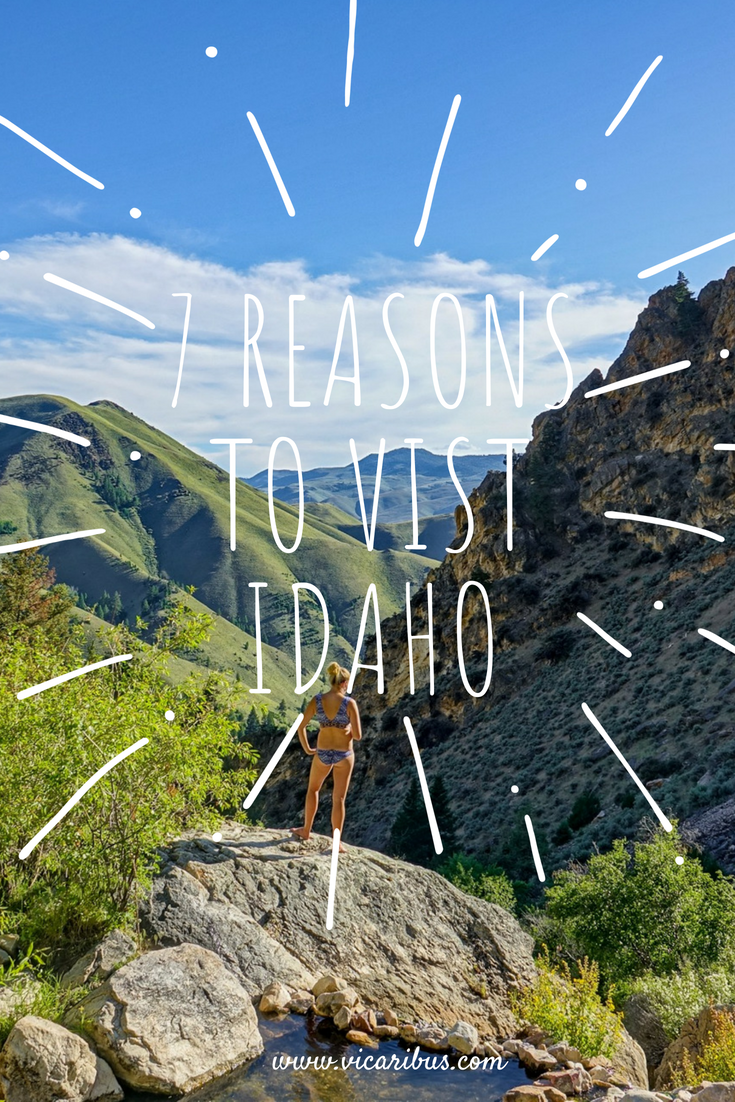 We hope you enjoyed reading this post and now feel more like you too know what it's like to live in a bus. If you would like to keep feeling this way, subscribe to our email updates and we will let you know when we make new posts for your vicarious pleasures. Just full out the form below and click subscribe!