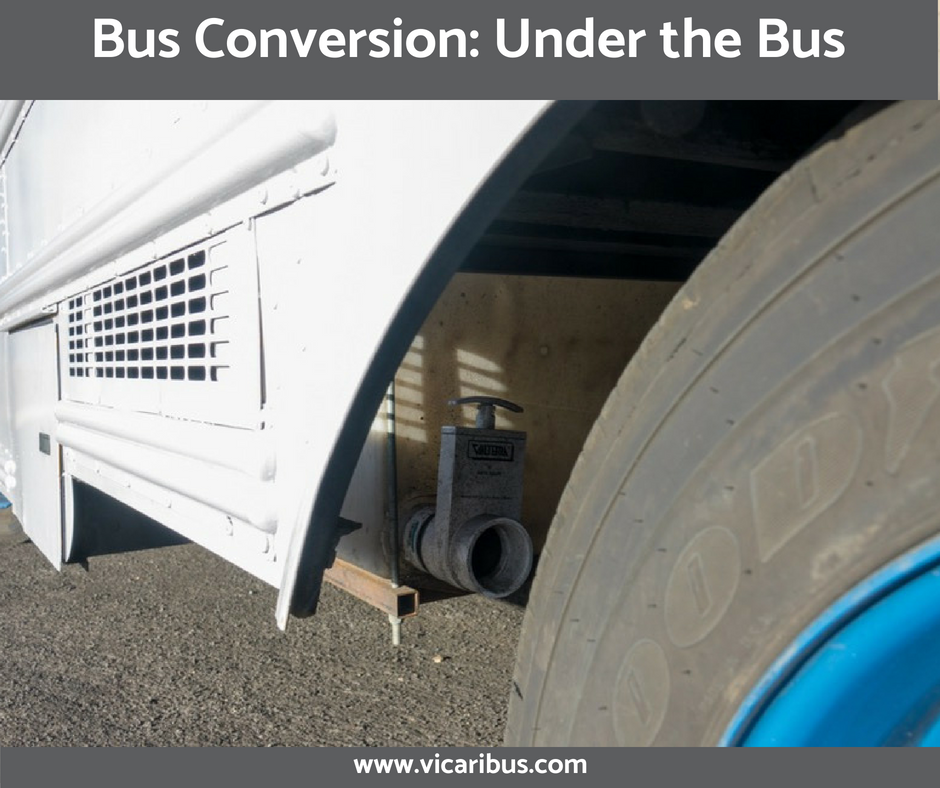 The underside of the bus is something that very few people think about, but it is where a lot of items reside that are vital for our day-to-day function.
Behind the front driver's side wheel we have both of our water tanks.  We have a 24 gallon fresh water and a 24 gallon grey water tank. We ordered the custom made plastic tanks from Plastic-Mart.com.  We then had frames created and mounted by our fabricator friend Chad of C-Squared studios. They then connect to the plumbing that runs inside the bus. Our water tanks are not huge by any means but a full fresh water tank will last us about 2-5 days depending on how conservative we are with our water usage, how many dishes we do, and how thirsty we are.  If we know we are going to be boondocking for a few days we'll bring a back up jug or two of spring water just to be safe.
Behind the back driver's side wheel is our propane tank.  The propane connects to our stovetop and our hot water heater.  We initially bought a larger upright propane tank without realizing that an upright tank cannot be placed on its side.  Then we thought about mounting it on the back of the bus, but that seemed scary should we ever get rear-ended. So, the upright tank went onto Craigslist and we bought a new (much more expensive) horizontal tank instead. Seeing as the propane is used very little since we don't have a heater or anything like that we suspect that we will only have to refill our 12 gallon propane 1-2 times per year. Originally, the side of the bus had a mesh vent like thing in this area, we ripped that part out and added a hinged metal piece instead so that we could easily get to the controls to turn the gas on and off.
On the passenger side, the fuel tank sits behind the first wheel.  We're still not entirely sure of the exact size of the tank. Nick did run out of gas on the side of the highway driving the bus home because the sensor didn't work (which he knew) and he failed at math (which we knew).  Since that unfortunate day, he has been too scared to let the fuel get too low and therefore we usually put 20-25 gallons in at a time. Our best guess is that we have a 35 gallon gas tank.
We considered also putting a storage cubby under the bus as there was still some space left, but ultimately we were able to fit everything inside the bus so we didn't need it!
Lastly, under the bus is Mile's favorite place to hang out!
To return to our Complete Bus Conversion Guide click here.
We hope you enjoyed reading this post and now feel more like you too know what it's like to live in a bus. If you would like to keep feeling this way, subscribe to our email updates and we will let you know when we make new posts for your vicarious pleasures. Just full out the form below and click subscribe!